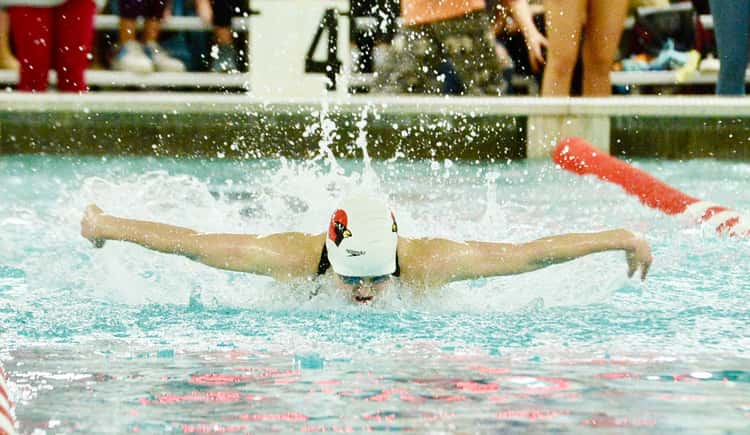 By Paul Silverfarb
In a Fairfield County Interscholastic Athletic Conference championship meet that saw nearly every event go down to the wire, the Greenwich High School girls' swimming and diving team ended the night second overall.
"We were really excited for this meet," said junior Samantha Ennis. "We knew that our team was going to do the best that it could and that's all that we could expect. Everybody gave it their all, so I am happy with how this worked out. We had some insane swims tonight and I thought everybody performed out of their minds."
Big Red took home 303 points during the FCIAC championships. For the first time since 2014, it was Darien High School that grabbed the FCIAC title, posting 335 points. Staples High was third on the night with 288 points, while New Canaan High School took home fourth overall with 241 points Rounding out the top five was Wilton High School with 229 points.
"It was a very competitive meet," said GHS head coach Lorrie Hokayem. "It was fun to have three or four teams in the mix. Hats off to Darien, as they swam a fantastic Trials and came back today and just took over the meet. They deserved it, but I was also really happy with the way that we swam today and dove yesterday. There were a lot of competitive races and a lot of times were best times. I couldn't be prouder of our performance."
When it came to individual events, it was Meghan Lynch and Reggie Frias that led the way for Big Red.
Lynch finished tops in the 100-yard breaststroke, posting a blistering time of 1:04.39, just under two seconds faster than second place finisher Ellen Holmquist from Wilton.
Not to be outdone was Frias on the diving board. During Monday night's FCIAC diving championships, held at Westhill High School, it was Frias who stole the show. After finishing second to recent GHS alum Maddie Muldoon during last year's event, it was Frias that came out on top this time around. Her score of 474 gave her the title of FCIAC champion.
In the 200-yard individual medley, it was Lynch and Trumbull High School's Lauren Walsh that were battling neck-in-neck throughout the event. However it was Walsh that touched the wall mere inches quicker, posting a time of 2:02.21 compared to Lynch's time of 2:02.43.
Also having a solid performance at FCIACs was fellow junior Samantha Ennis, as she netted to top 10 finishes. Competing in the 100-yard backstroke, Ennis took the lead from Darien's Olivia Golden and took home a time of 57.93 seconds. That was good enough for fourth place overall, as Golden finished with a time of 58.01.
"I felt really good out there tonight," Ennis said. "They were hard races and they were very competitive, but I felt good. I was well prepared for this meet and so was the team."
In addition, Ennis grabbed sixth overall in the 200-yard individual medley, grabbing a time of 2:14.51 and again besting a Darien opponent, as Emma Mansourian finished seventh with a time of 2L14.80.
When it came to top five finishes, Greenwich freshman Victoria Liu did that twice. In the 200-yard freestyle Liu grabbed a time of 1:55.74 and that was good enough for fifth place on the day. She just missed out on fourth place, but Staples' Jessica Qi took home a time of 1:55.49.
However in the 500-yard freestyle, the longest event of the night, Liu was able to grab that fourth spot. Her time of 5:09.94 was actually just short of the bronze medal, as New Canaan's Maddie Haley finished with a time of 5:09.92.
Competing in the quickest events in the championship meet, the 50- and 100-yard freestyle, senior Jenna Handali was lights out. She ended the night fifth overall in the 100-yard event, taking a time of 54.07. Handali's time of 25.20 placed her 12th overall in the 50-yard freestyle.
Greenwich's Caterina Li, a sophomore, picked up a pair of top 10 finishes during the FCIAC finals. Competing in the 100-yard butterfly, Li won the consolation heat and took ninth overall with a time of 59.06. She also took to the water in the 100-meter breaststroke and finished ninth overall and first yet again in the consolation final by touching the wall with a time of 1:08.05.
Rounding out the top performances for GHS during the FCIAC swimming finals was Julia Lucey. The sophomore joined Lunch and Ennis in the 200-yard individual medley and finished top 15, as her time of 2:16.55 was good enough for 12th overall.
Joining Li and competing in the breaststroke was teammate June Akpata, as the senior ended the night 12th overall with a time of 1:11:77.
"We had some best times up and down the roster," Hokayem said. "There were a lot of people that had season best performances. I can't be anything but proud of this group. They rose to the occasion and they are now ready to go. I'm excited to see what they can do during the LL meet."
The Cards also fared well during the relay events. During the first event of the championships, the 200-yard medley relay, the foursome of Ennis, Lynch, Liu and Li picked up the silver medal, posting a time of 1:47.25. They were also a few feet away from Trumbull, as they won the event with a time of 1:46.86.
Battling in the 400-yard freestyle relay, the team of Lynch, Li, Handali and Ennis posted a second-place time of 3:34.12.
While Frias took home gold during the FCIAC diving finals, several other GHS athletes stepped up for some key performances. Not to be outdone was fellow senior Saylor Kirsch, as her score of 401.10 placed her sixth overall. Rounding out the top 15 performers for GHS during the diving finals was Javiera Garcia, as her total of 377.20 gave her 12th overall.
Greenwich will have a few seconds to regroup and prepare for the competition throughout the state. On Nov. 16, GHS will travel to East Hartford for CIAC class LL time trials. The championships will take place at Wesleyan University on Nov. 19 at 7 p.m. But the divers take the stage first, as they compete in the CIAC class LL diving championships on Nov. 13 at Middletown High School starting at 5:30 p.m.
"We're ready for competitive meets at those as well," Hokayem said. "Cheshire is a fantastic team, so we are looking forward to another competitive meet like this one was."
The CIAC State Open diving finals will kick off on Nov. 21 at 5:30 p.m. at Middletown High, while the swimming finals will take place on Sunday, Nov. 24 at the Yale University pool starting at 2 p.m.
"I definitely think that we got the energy," Ennis said. "The fact that we didn't get it this time makes us want it more for next time. I think we will be alright."