November 5, 2019
Heartbreak for Cards, Blue Wave Wins in Stunner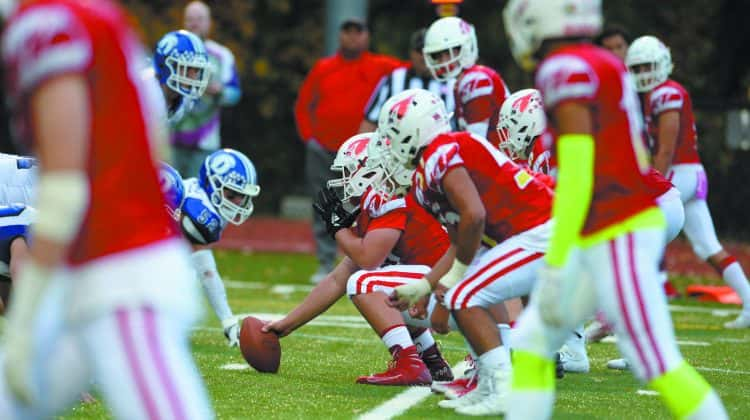 Saturday afternoon's football game deserved a better outcome.
Greenwich High School, ranked third in the state, hosted perennial powers and fourth-ranked Darien High School in a game that was hyped as the best game in the state for high school football in Connecticut this past weekend.
The Blue Wave came out unstoppable and dominated Big Red, taking a 21-0 lead. However, the Cardinals didn't back down and came back, scoring just as the first half ended and mere seconds to start the second half. Trailing 27-21 with two minutes to play in the game, Greenwich marched down the field and was at the Darien 13-yard line with 11 seconds to play and was in position to possibly stun the Blue Wave and score on a game winning touchdown.
However that's when it all came apart, as Greenwich, who thought they picked up a first down was still a yard short and, amongst the chaos on the field, spiked the ball on a fourth down that ended the game and gave Darien the victory.
"Against anybody it's difficult to come back from a 21-point deficit, and Darien is no exception," Greenwich High head coach Anthony Morello said. "They are a great football team and a great football program, and you can't put yourself in bad spots. We put ourselves behind the eight-ball in the first quarter and early second quarter, and we were playing catch-up. I'm so proud of this team and these players for the effort they put in. To be able to come back and put ourselves in a 21-21 tie showed a lot of heart. We just ran out of time tonight. If we played five quarters, it could have been a different story."
The loss was Big Red's first loss of the season. The last time Greenwich was defeated was during the 2017 CIAC class LL championship game at Boyle Stadium, where Darien once again upended GHS 31-22.
"They are a great football team," Darien High School head coach Rob Trifone said. "They have so many weapons and you saw that. Although we somewhat handled [A.J.] Barber, but [Matthew Pilc] killed us and [Kobe] Comizio killed us. They have so many different options to go to that it's too hard to defend. You coach your whole life and you don't get a game like this, back and forth, with No. 3 versus No. 4. I just hope we don't see them again. They are a very good football team."
Early on in the contest, Greenwich was unable to gain any traction. A 10-yard touchdown pass from Darien's Peter Graham to Jackson Peters and a 21-yard reception from Graham to Ryan Mulliken in the first quarter, plus a four-yard touchdown run by Will Kirby early in the second, put Big Red in a 21-0 hole early.
"I think the kids were jacked up, maybe a little too much," Morello said. "This was our first really big game for a lot of these kids. We also came off a bye week, so I think we showed a little ring rust. I think we just didn't start off as crisp and clean as we wanted to. We threw an interception and that put us in a really bad spot. Darien does great stuff. They wanted to stop the run today and succeeded in that. We have to tinker with things for the next games because I am sure other defenses are going to do something similar."
Greenwich needed a break, and that's exactly what they got in the final minutes of the first half.
After the GHS defense stuffed Darien on fourth down and gained possession of the ball, a Darien penalty helped push the ball near midfield. That's when Greenwich quarterback James Rinello stepped back and found Kobe Comizio all alone. Comizio outran the DHS defense to score the 65-yard touchdown with 58 seconds to play in the half.
"We played extremely well in the first half, except for the blown coverage," Trifone said. "The guy responsible for that seam came down in the curl and the result was the TD. You can't give a team like that opportunities. I thought one of the turning points was that when we had them pinned down deep, it was late in the first half and we let them off the hook. There was a penalty, they completed one to [Pilc] and the next thing you know they are at midfield and the next thing you know it's 21-7. That was a big mistake on our part."
Greenwich's special teams fed off the touchdown to end the first half. On the opening kickoff of the second half, Greenwich forced a fumble and Big Red's David Faugno was there to scoop up the loose ball. Two plays later, it was Greenwich's Hunter Clark who rumbled up the middle 10 yards for the touchdown and cut the deficit to 21-14.
"That was huge," Morello said. "Just to get the momentum to swing in our favor. To get that big stop on fourth down by the defense and turn it around and score absolutely gave us momentum going into the half. Our special teams have been great all season and this was no exception. That was our fourth fumble recovery we have had on kickoffs, so that gave us the jolt we needed and we were back in the game. But with a tough first half, that's kind of tough to come back from."
Trailing by only seven, Darien regained control of the ball, however on a third down Edward Iuteri darted through the Blue Wave defense and dropped Graham for the huge sack to force a punt. With Greenwich once again threatening, this time it was A.J. Barber who took over, as he took the pass from Rinello in the middle of the end zone to help GHS tie the game with 3:40 to play in the third.
"You get to the second half and two or three of our best players are cramping," Trifone said. "They had it, too. We were trying to shuffle people. We had a package all set for the second half that we had to shelf because of the cramps. All of a sudden it's a slugfest back and forth."
Darien once again took the lead with a 19-yard touchdown reception, but the blocked PAT made the score 27-21. With the ball and 2:49 to play, Rinello was on fire, completing a 15-yard reception to Barber, a five-yard completion to Comizio and another 21-yard completion to a diving Comizio up the middle of the field.
With the ball on the Darien 21 and just over a minute to play, Rinello called his own number and weaved through the Blue Wave defense for the 19-yard pickup. However, a crushing holding penalty was called and negated the play.
Time was running down and on a third down and 12, Rinello fired a bullet to Muir up the middle for the 10-yard pickup. However, with no timeouts and 15 seconds to play, Greenwich ran up to the line and must have assumed they had picked up the first down. A few yards short of the first down, Rinello got up to the line and, despite the GHS sideline realizing what was transpiring and yelling to the offense on the field, spiked the ball on fourth down to essentially end the game in heartbreaking fashion.
"I think that's the first time I have ever seen a game end on a spike," Morello said. "The kids out there thought it was a first down. We didn't have any timeouts left and they knew we didn't have any timeouts left. They knew if we got a first down we wanted to kill the clock. They knew it was a 10-yard gain, but I think it was a third down and 12 or 13. We're screaming on the sidelines to try and abort it and try and get another play out there and screaming for it, but the kids couldn't hear us with all the noise. It's a tough way to lose, but there's another game next week."
Despite the loss, Greenwich had a bunch of standouts and leading the way was Rinello. Despite being under pressure throughout most of the game, the GHS quarterback finished 23-for-32 for 292 yards and two touchdowns.
"He saw a lot of different looks today," Morello said. "We couldn't run the ball the way we wanted to, so they started teeing off on him a little bit at the end. He stuck in there, gutted it out and took a lot of shots. He stayed in the pocket, showed a lot of presence and poise. I am so proud of him."
Barber finished with five catches for 51 yards and a touchdown, and Comizio also grabbed the ball five times but picked up 112 yards. Pilc finished with 47 yards on five receptions.
"We were ranked third in the state and Darien was ranked fourth in the state, and I think a lot of that was from what we did last year," Morello said. "This game was a real opportunity to see where we measured. When you watched the first quarter, you wouldn't know where we stand. But to see this team come back, fight, not give up, and be in a position to potentially win the game at the end speaks volumes on how these kids have worked. I'll take full ownership for this loss today. Coaches lose games and this one was not on the kids. It was on me. I am still growing. It's still new to me, and I am going to make mistakes. We're all going to learn from this, myself included."