August 4, 2019
Postage Stamp Prevails in American Cup Finale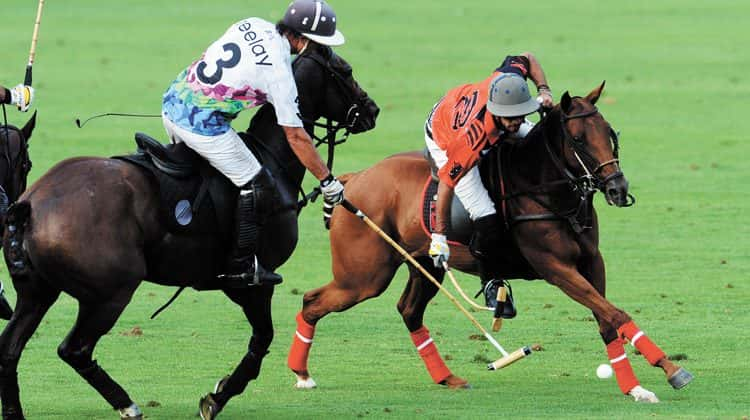 By Liz Leamy
Sentinel Correspondent
Monday afternoon at the Greenwich Polo Club was full of high drama, as two of U.S. high-goal polo's premiere teams, Reelay of New York City and Postage Stamp Farm of Wellington, Fla., fiercely battled it out in pursuit of the inaugural American Cup trophy.
This memorable final match contained all the stuff of an edge-of-your-seat professional sports showdown, as Postage Stamp Farm (PSF), the high-powered 16-goal team lead by its dynamic patron, Annabelle Gundlach, edged out the ever-electric 15-goal Reelay squad, in a close 9-8 finish, to claim the American Cup title.
Right from the start, it was clear this was going to be a heated match. Just 20 seconds into the game, Reelay, led by the two celebrated Argentinian seven-goalers and star GPC players, Mariano Gonzalez and Matias Magrini, knocked in the first goal of the afternoon, putting the score at 2-0.
Reelay, a staunch contender who had placed third in the opening tournament of the season and second in the Monty Waterbury Cup at the Greenwich Polo Club (GPC) earlier this season, continued to maintain the lead, scoring two more points during the first chukker and putting them in strong contention for victory.
During the second and third chukker, however, Postage Stamp Farm began to make a slow and steady comeback, as they knocked in two points to put the match at 4-2.
Reelay, in turn, responded by knocking in two subsequent points for their team, putting them ahead of PSF by four points at 6-2.
During the fourth and fifth chukkers, Postage Stamp Farm, whose roster featured Gundlach; Tomas Garcia del Rio, the renowned eight-goaler; Brandon Philips, the ever-steady Canadian four-goaler; and four-goaler Martin Gandara (who was named Most Valuable Player of the match), continued to rally in firecracker style and hit in four more points, tying the match 6-6.
Just a minute into the final (sixth) chukker, Postage Stamp Farm, in clearly determined fashion, went on to take the lead, with Tomas Garcia del Rio scoring a goal and putting his team ahead of Reelay at 7-6.
Once again, Reelay shot back in fierce championship style and evened the match at 7-7 after scoring a high-flying goal.
Then, these two teams proceeded to each knock in a point, tying the game at 8-8.
In the end, PSF charged ahead and wound up scoring the winning goal during the last 20 seconds of the final (sixth) chukker to claim the American Cup Trophy.
"Reelay was very strong. We worked hard to come back and tried to stay as focused as we could," said Martin Gandara, the stalwart Argentinian player who stands at 6'3". "I'm just really happy. Annabelle [Gundlach] is great, and I love being part of this team. Everyone is just very nice."
His teammates agreed.
"It was a tough start, and we just really tried to concentrate and be calm out there," said Tomas Garcia del Rio, who has been a featured marquis GPC player for several seasons now. "I'm so happy, especially for Annabelle and the whole [PSF] team. It's really exciting, and we all worked hard out there."
Tomas Garcia del Rio's charge, Ciudadana, was awarded the Best Playing Pony citation at the conclusion of this tournament.
Clearly, the GPC community of players, organizers, workers, officials, media members and other individuals on hand seemed to have been grateful to have been present at this exciting event, especially in looking at everyone's interaction with one another following the awards ceremony.
After the match, several dozen members of this community stayed for several hours just sitting, eating, laughing and visiting with one another well into the early evening, indicating that although the sport of high-goal polo is centered around the idea of fierce competition, it is ultimately the dynamic and interaction among everyone on and off the field that makes the whole GPC experience so unique, powerful and special.
Matches are scheduled to resume at the GPC on Sunday, Aug. 18.
For more information, visit the GPC website at Greenwichpoloclub.com
Tags:
American Cup Trophy
,
greenwich
,
Polo
,
Postage Stamp Farm
,
Reelay
,
Town of Greenwich