August 4, 2019
A Trio of Greenwich Rugby Players Named All-Americans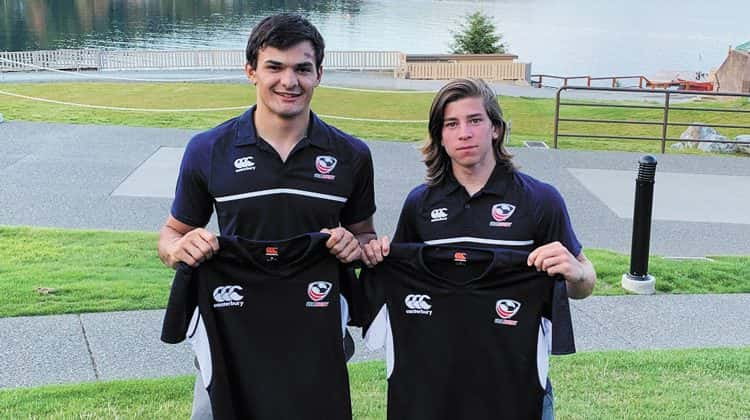 By Paul R. Silverfarb
Sentinel Editor
The Greenwich High School rugby team is used to its success both on and off the field; countless state titles and appearances in the High School Rugby National Championships are a norm for Big Red.
And this year the Cardinals were recognized on a grand stage, as three athletes from Greenwich High were selected to the Boys' High School All-American team: Santiago Thompson, Andrew Nanai and Francisco Liguori.
As All-Americans, the trio were named members of the Team USA team that traveled to Victoria, British Columbia for competition against the best Canada has to offer. However, it was only Thompson and Nanai that competed, as Liguori is still recovering from an injury during May's state championship game against Aspetuck Valley.
"I am incredibly proud," said Greenwich High School head coach, Joe Kelly. "To be selected from thousands of kids from around the country and every state in the Union, and have three of our guys selected, is amazing. Each of them have unique features and qualities. All of them have in common the desire to work hard. We are so proud to see that all that hard work has paid off. It's great to see that if kids are dedicated to working in the offseason, continue to grow with the sport, both physically and in their rugby IQ, and compete with a good program, it brings them to the highest level."
The duo of Thompson and Nanai took to the field in Canada as part of Team USA and helped the Americans dominate, winning all three matches up North.
Thompson started as fullback in the opening match of the series and scored one try and two conversion kicks during America's 24-7 victory. Thompson also competed in the finale of the series as a starter and helped the United States come away with the thrilling 46-43 victory.
Not to be outdone was Nanai, who started as a flanker in the second game of the series against Canada. The Americans won that contest 27-7. He also came off the bench in the opening match and played alongside Thompson.
"It's the who's who of North American rugby," Kelly said. "A lot of the players selected to play in the high school All-Americans were players that were in the national championships this year in Utah. There are some incredibly athletic players there at the high school level. They were strong, fast and big. Some of the best raw talented athletes in the country were there. The sport of rugby's popularity is drawing in top athletes, where in the past it was a peripheral sport. Now it's a mainstream sport where the best athletes are getting out there playing."
And there's no higher level for a player to achieve than an All-American in rugby and playing for their country. Getting All-American status in rugby is more than just a title, it's the highest honor an athlete playing rugby can achieve and only is given out to a handful of athletes.
"In other sports, the All-American status is tossed around quite freely, where there are hundreds of people who are awarded with that status," Kelly said. "In rugby, you only get an All-American status if you represent your country. That means that out of the 2,500 rugby programs in the country, only 30 kids make this team that competes against another country. It's not just an honor like in other sports where there are 40 or 50 kids in the State of Connecticut that are named All-Americans."
According to Kelly, Thompson came out of nowhere. Kelly said that he thought the rising senior was a good player, and then throughout last season he became a standout player. The head coach added that all that offseason work and watching rugby games and learning about the sport has paid off.
And then there's Liguori, who Kelly believes has the ability to easily reach the highest level of rugby.
"He's such a high-performance machine that he's broken his body a couple of times by performing beyond the ability of his body to sustain the aggression within him," Kelly said. "As time goes on when young men mature, their body sustains aggression. He has the mentally of an adult and yet the developing body of a young man. With him, there's a beast within."
Nanai is a state champion wrestler for GHS and has been lights out for the rugby team this year.
"He's the fittest athlete I have ever coached," Kelly said. "He pushes it beyond any limits I thought existed before. You ask him to do 10 pushups, he will do 100. You ask him to do 10 sit-ups, he will do 100. When everybody else is taking a water break and resting, he's pushing the sled with the weights on it across the field just to get some extra work in.
On the field during matches, Kelly said that all three athletes bring something special to the game.
"Andrew is the nicest guy in the world and is such a gentleman," Kelly said. "He epitomizes the proper attitude we have in the game of rugby. He's helping kids that he might have tackled a little harder than usual. He's helping them off the floor and politely congratulates the other players for a good match. Francisco is a beast within and knows everything about the game of rugby because he studies it. He's obsessed with rugby and achieving the highest level.
"Santiago found himself being a smart and clever player," Kelly added. "He's a bright kid and he's figured out how to achieve in the game. He's smaller than some of the other kids in rugby, but he uses his brain in the best way. He's all about hard work and understands the game."
Including the trio of Nanai, Thompson and Liguori, only 13 kids from Greenwich High School have ever been honored as All-Americans. Kelly said that having three All-Americans helps the high school program because it gives credibility to the staff's decision to do things and the methods they use.
"It shows that we are doing the right things, as far as the structure of our program," Kelly said. "We emphasize that our kids take a lot of responsibility for the direction and intention of what they want to do in the program. If we give them the decisions on how they want to play, how they want to practice and how they want to treat the season, the kids take ownership. Giving them the ownership makes them give that extra effort. Having these three All-Americans tells us that giving the responsibility to the kids to make these decisions and supporting their decisions, is probably the right thing to do."
For Kelly and his coaching staff, seeing all the hard work pay off is music to his ears.
"It's a team effort," Kelly said. "All the coaches have brought into what we believe is a good formula and they support the concept. As long as everybody supports the plan, it's more likely to succeed. We are not always 100% right in putting a plan together, but if everybody buys into it and there's very little resistance, even the little mistakes we make get covered up by the support of all the coaches, parents and Town towards our program."
Tags:
All-Americans
,
canada
,
GHS Rugby
,
greenwich
,
Greenwich rugby
,
Team USA