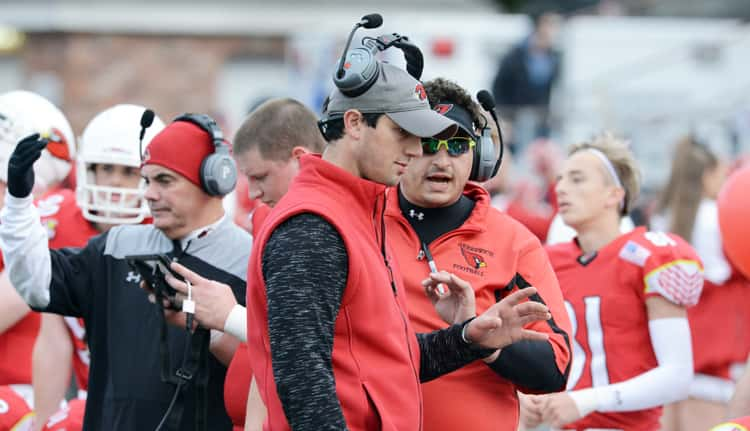 By Paul Silverfarb
Sentinel Editor
The Greenwich High School football program didn't have to travel far to find its new football coach. Anthony Morello, who played for Greenwich High School and has moved up through the ranks with Big Red as an assistant coach for the past several years, has been named the team's new head coach.
"It felt like everything that I have done since I have returned home from college was for a purpose," Morello said. "To have the feeling that meeting people and spending time in the community and never shutting the door at opportunities has helped give me this opportunity, and I am very blessed. I am very fortunate to be in this position and nice to know that being good to people can have a positive impact."
On July 18, Greenwich High School athletic director Gus Lindine notified the public that Morello would replace John Marinelli, who left GHS after four highly successful seasons.
"Through a lot of time, energy and hard work, Anthony has become quite an exceptional football coach," Lindine said in a prepared statement. "As a former Cardinal captain and player, he recognizes and values the strong tradition of our football program and understands its expectations. Coach Morello has a great connection with the players, school and community. He was extremely impressive throughout the selection process, and we are proud to have him as our head coach."
Shortly after Morello accepted the position, he went immediately to his new team to relay the news directly. He wanted to share the news with them and not have them hear about it online or in news organizations.
"Standing in front of them, I told them, point blank, that there's no one more excited to stand in front of them than I," Morello said. "I told them that I would defend them and fight for them and spend every waking second that I can on these guys. It's an amazing feeling. This program has such a great history and there's so much tradition here. Having been a player in this program and knowing what it meant to me as a kid, I think I have a leg up in terms of understanding the mindset of the Greenwich athlete."
For the past several years, Morello has been the running game coordinator for Big Red, and in 2015 was the offensive line coach. He joined the GHS staff in 2011 as the freshman football head coach. As an athlete at Greenwich High, Morello was an All-FCIAC and All-State selection and was one of the team's captains his senior year.
In addition to coaching, Morello is the Executive Director of the Off-Beat Players Theatre Company, a musical theater program designed for young adults with special needs. In the Greenwich Public Schools, Morello is a member of the special education department.
Morello will be taking over for John Marinelli, who left Greenwich High to work on the coaching staff with the University of Arizona. In four years with the program, Marinelli took GHS to a program looking to regain its spot as one of the top teams to being king of the mountain. Marinelli campaigned for Morello to get the head coaching position, insisting that he's perfect for the job. To say that Morello is grateful for Marinelli is an understatement.
"He's been instrumental," Morello said. "I have been fortunate enough to be with a bunch of really great coaches. I played under Rich Albonizio and got my coaching start at Darien. Richie gave me my start as a coach with the freshman team, and I have moved up the ranks since then. Everybody has taught me different things. John taught me how to be a leader, mentor the kids and to learn, not just about how they are as football players, but how they are doing in their home lives or how things are going in school. He also taught me how to communicate to administration, to teachers, media and parents. John has also become a dear friend to me."
And Morello is a firm believer that playing for the Greenwich High School football program during his tenure at the school will be a huge advantage. Afterall, Morello knows Big Red on both sides of the ball, as a standout offensive lineman and later as a top-notch assistant coach.
For any program, the transition phase during a head coach change can be a challenge. Morello knows that and said that during transitions coaches and players often don't know what the practice plan is going to be, the staff usually is in flux and a new head coach may not even know the town that he or she is coaching in too well.
"In my situation, I know the kids," Morello said. "I have great coaches that I am fortunate enough to support me and stay on. I know the town and the community, as this was the town I grew up in and played football for. We have high expectations in Greenwich and always have, but being a former player and knowing what those expectations are, I think it gives me a leg up for sure."
And, the community knows Morello well. One of his biggest fans happens to be the Interim Headmaster at Greenwich High School, Ralph Mayo.
"I have known Mr. Morello for many years and have followed his fine work in the classroom, on the athletic field and in the theater," Mayo said. "I can't think of a better role model for our student-athletes or a better leader for our community. He is an excellent coach but, more importantly, an even better person. We are all very lucky to welcome him as our new head football coach."
For Morello, knowing the kids and the Town of Greenwich is a nice plus, but it's all about the coaches that have made this transition so smooth.
"It's amazing, and I would almost argue that it's more important that the staff is in full support," Morello said. "They are the guys that are going to be in the trenches with me come the start of the season and for years to come. My coaches are such great role models to the kids. We all just want to give back to the sport that taught us so many life lessons. I don't know where I would be without football. It helped me mature into a man and every day that I get to coach football is a day where I get to give back to the sport that has made me who I am today."
Any time a first time a coach is hired to be the person at the top is a huge accomplishment, but it could also be a little nerve-racking. Then there's becoming a head coach at Greenwich High, a program steeped in history. The GHS team finished the past two seasons undefeated in the regular season, played in the state championship game the past two seasons and won CIAC class LL state championship in grand fashion last year by blanking New Canaan 37-0. They finished as the No. 1 team in the state and have lofty goals yet again this year.
But Morello will not flinch.
"I'm sure there will be a little pressure, but for me I am not concerned with wins and losses," Morello said. "I think that building a winning culture comes through positivity, hard work, and the belief in each other. Wins will come with positivity. The key to running a successful program is getting kids that want to be there, want to grow, want to mature. My goal is to turn them into the most well-rounded student-athletes that I can. I want to help them, not just to win games and win state championships, but to help them in life. That way, 10 or 20 years down the road, they can look back and think of the Greenwich football program fondly.
"We have a ton of talent," added Morello. "The wins will come, and I know we are going to be successful. But I don't feel any extra pressure to repeat or go win another state championship. As anybody coming into their first year as head coach knows, even with the weapons that we have and the success we are riding on right now, it's a learning process. I am just looking forward to the challenge."
Helping ease the pressure for Morello is the amount of high-caliber athletes on the roster this year. Morello said that last year, wideout A.J. Barber just started hitting his stride and that it was obvious in the state championship game last year. In addition, two captains, Jack Warren and Spencer Hartley, as well as Hunter Clark, will be in the backfield and will utilize their explosiveness in the running game.
Greenwich is replacing amazing athletes like Mozi Bici, Gavin Muir, Jack Feda, Emilio Camou, Lance Large, Tysen Comizio and several others that were instrumental in the team's success last season.
"We are replacing guys that aren't just great football players, but great men and great leaders," Morello said. "The great thing about replacing those positions, we are having open positions and that makes for some great practices. They are competitive, and I am just excited to strap it on with them and let them go to work. There are going to be positional battles every day at practice. That will make for some better practices than in a year where we have an idea on who our starters are going to be."
Although the first day of practice is still a couple of weeks out, Morello is counting down the seconds until he's able to get out there and help Big Red defend its championships.
"I am ready right now," Morello said. "If the CIAC rules allowed us to practice, we would be on the field today. Honestly, there's so much that goes into being a head coach besides the actual practices with the kids, and I am learning that right now. Coach Marinelli taught me that I need to be more of a mentor and leader now rather than an assistant coach where you are preaching positivity and firing up your position. I'm excited to get things going, and I know the kids are too.
"We had a tremendous turnout to our weight room program," added Morello. "We have 100 kids coming to our early morning workouts, which normally start at 6:15 a.m. twice a week. It's great to see that the potential distraction of finding a head coach over the past month has not deterred the team or the players in any way. The seniors have stepped up and there has been great leadership off the field."