August 26, 2019
GHS Bleachers Are Getting a New Life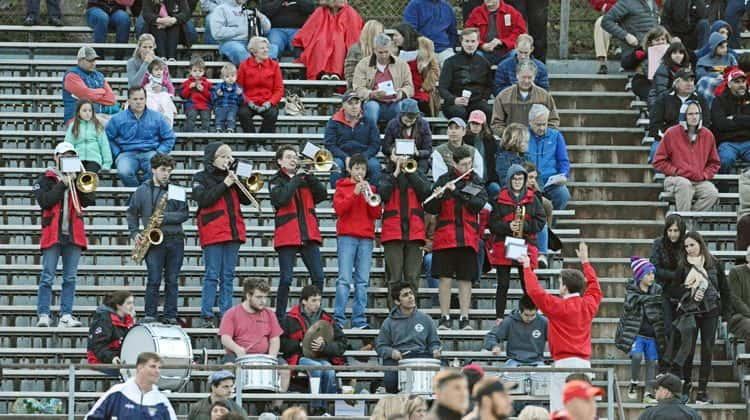 By Paul Silverfarb
Cardinal Stadium will once again be rocking for its football, field hockey, and soccer teams, as the bleachers at Greenwich High School's athletic field are gaining some added support…literally.
Last month the Greenwich Athletic Foundation, an 501c(3) organization that works in cooperation with the Town of Greenwich to improve, maintain and support Greenwich's athletic infrastructure, helped make sure that the GHS athletic teams will have fans cheering them on.
For GAF founder and current treasurer Randy Caravella, as well as board member Rick Kral, working on this project was a no-brainer.
"In our opinion, it was critical to ensure the seniors of this year have the ability to play on their home field and not at alternative sites like Stamford or play all their games as visiting teams because the Town wasn't sufficient in providing adequate facilities for them," Kral said.
In July, the Board of Education unanimously approved a $120,000 gift from the Greenwich Athletic Foundation that would pay to shore up the bleachers at Cardinal Stadium.
"Sports at the high school are an important part of education," Caravella said. "Two-thirds of the students at Greenwich High play sports. Not having a home stadium was a terrible idea and that's why the GAF stepped up and tried to come up with a solution to help them to get this corrected."
But for both Caravella and Kral, it was a priority to make sure that the bleachers were ready to go by the start of this upcoming fall season.
"Seeing as we have the state champion football team, we at the GAF thought it was very important that all the kids had a place to play at home," Caravella said. "It would have been very difficult to see the state championship team not play at Greenwich High School this fall. There was talk that they might not have been able to play at home because of restrictions and no press box. So we took it upon ourselves to come up with a solution to shore up the bleachers to make it possible use them. Our new superintendent was gracious and accepted our offer."
Work just got underway to get the bleachers up to code. The project was contracted out to Waco Scaffolding, which is based out of Cheshire.
"It wasn't the matter of just going out there and welding in new pieces, fixing some braces or something simple," said Kral. "The whole bleacher system needed to be brought up to the current code. In order to do that we needed to shore up the existing columns, put in some addition cross bracing and bring some heavier support under the bleacher seats themselves."
When the Cardinal Stadium bleachers were constructed around 50 years ago and then moved and located to their current site, they were either built to a different code or they just passed code. With the idea of a new Cardinal Stadium floating around, as well as seeing several proposals and rendering out there, concerns about the old bleachers holding up were growing.
So former interim Superintendent of Schools Ralph Mayo had the bleachers inspected to make sure that they were safe.
"The building officials determined that the bleachers, as constructed, didn't meet the code, let alone any maintenance issues or other concerns that may exist," Kral said. "They were only built to 50 pounds per square foot, where they needed to be 100 pounds per square foot to meet the current codes under the building regulations of today."
Kral, Caravella, and the rest of the GAF knew that something needed to be done and there wasn't a moment to spare. They gathered some engineers together to conduct studies so they could see what was needed. From there, GAF contracted the work to the team from Waco Scaffolding.
While there were several thoughts on how to fix the issues surrounding the bleachers, Caravella said one of the first options was to put in new footings and reinforce the bleachers. However soil samples would be needed and both the Board of Education and the Town of Greenwich didn't want to go that route.
"This option has no issue because everything done is going to be on top of the soil and that means no testing has to be done," Caravella said. "This is a solution that made everybody happy. It's a two- or three-week process at the most and was an option that we could just move forward. It was a win-win for everybody."
Kral said that this current plan was really the easiest choice to make sure that Greenwich High School has the proper facilities for fall sports.
"There were some thoughts about removing the existing bleachers and renting temporary bleachers to put in that same location," Kral said. "However the cost was too expensive and the bleachers didn't go high enough where people could see over the athletes on the sideline. There was also no press box and other facilities to support the filming and other activities that teams also want. It would have been an extreme compromise. What we doing now is the only feasible and economical option that provided all of the amenities in its current state to support the fall, and probably next spring sports."
And the origins of the bleachers is quite the fascinating story. They were first assembled for a parade in Washington, D.C. during the Eisenhower administration. Greenwich's Al Morano was a member of the U.S. House of Representatives from Connecticut's 4th Congressional District from 1951 to 1959 and was in the nation's capital for that parade.
"He saw the bleachers on the side of the road he asked what they were to do with them," Caravella said. "Once they said that they weren't going to do anything with them, he brought them to Greenwich. They were placed at the old Greenwich High School in the early 60's and moved them again to the new high school, where they currently sit now. They have seen better days, which is why we are trying to replace them."
While the GAF is currently working on making sure the bleachers at Cardinal Stadium are ready for the opening kickoff to the fall season, the vision of the GAF is that they believe that the best solution to improve Cardinal Stadium in the future would be to have team rooms, concessions and bathrooms under the bleachers.
In addition, Caravella said that the renovated Cardinal Stadium would have better handicap access, an improved press box that has elevators for handicap access.
"We want to encompass it all in the same footprint so that way we are not impeding on any other surface area in the stadium area," Caravella said. "With the experienced guys in our organization that work on buildings and know the process, it's about a 14- to 20-month process to get all the paperwork done at Town Hall. That's why we thought that shoring up the bleachers for a couple of years was worthwhile. This way, whatever plan the Board of Education chooses, we will still be able to use Cardinal Stadium."
Tags:
bleachers
,
cardinal stadium
,
CIAC
,
FCIAC
,
GAF
,
GHS Bleachers
,
greenwich
,
Greenwich Athletic Foundation