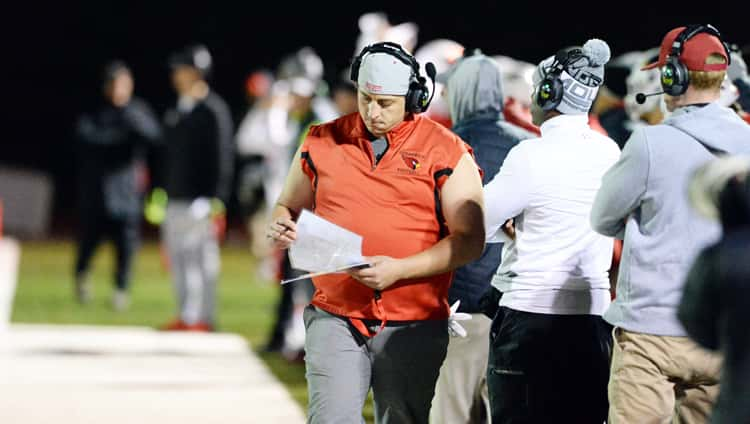 The selection process has concluded and Greenwich High School officially has its new football coach. A familiar face will be at the helm of Big Red when the team kicks off its 2019 campaign, as running game coordinator Anthony Morello has been named the new head coach at GHS.
Below is the press release sent out about the hiring of Morello:
Greenwich High School Athletic Director Gus Lindine has announced the appointment of Anthony Morello as the school's new head football coach, replacing John Marinelli, who resigned in June after four years as head coach of the Cardinals.
"Through a lot of time, energy and hard work, Anthony has become quite an exceptional football coach," said Lindine.  "As a former Cardinal captain and player, he recognizes and values the strong tradition of our football program and understands its' expectations. Coach Morello has a great connection with the players, school and community. He was extremely impressive throughout the selection process and we are proud to have him as our head coach."
Morello began his coaching career at Darien High School, working as an assistant freshman coach. In 2011 he joined the Greenwich High School football staff.  After serving as freshman head coach, Morello was promoted to the varsity team in 2015 as the offensive line coach and in 2016 he became the running game coordinator. The development of the offensive line and the success of the running game played as huge role in the team winning the state championship last fall. Under his guidance, eight Cardinal offensive linemen have gone off to play in college in the past four years.
As a student-athlete at Greenwich High School, Morello was an All-FCIAC and All-State selection. He was also team captain and was selected as a CIAC Scholar-Athlete. Morello continued his athletic career at Union College. During his collegiate career, he was named All-Liberty Conference three times, was a Division III All-East selection, and was the team's Offensive Most Valuable Player.
Morello is diverse in his experiences. He is the Executive Director of the Off-Beat Players Theatre Company, a musical theater program designed for young adults with special needs. He is a member of the special education department for the Greenwich Public Schools as well as the Summer Camp Executive Director for Burning Tree Country Club.
"I have known Mr. Morello for many years and have followed his fine work in the classroom, on the athletic field and in the theater," said Greenwich High School interim headmaster Ralph Mayo. "I can't think of a better role model for our student-athletes or a better leader for our community. He is an excellent coach, but more importantly an even better person. We are all very lucky to welcome him as our new head football coach."