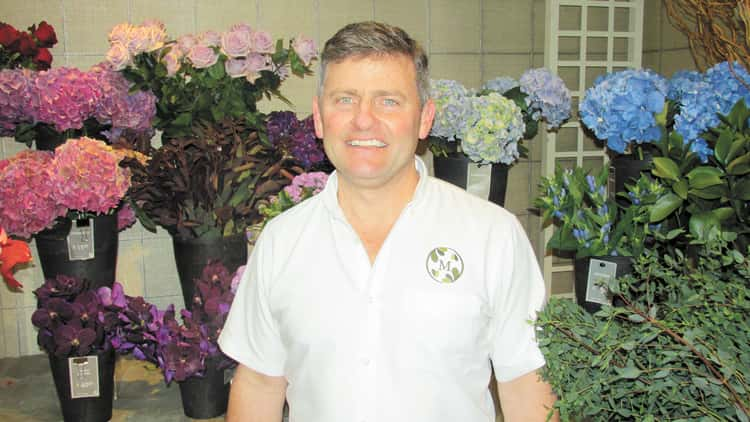 By Anne W. Semmes
Sentinel Correspondent
There's something refreshingly genuine about James McArdle, a man wedded to his vocation, his family and his faith. And, he has a welcoming smile to go with it. James is known as the fourth-generation owner of McArdle's Florist and Garden Center. But, on July 1, James will rise to the 2019 Greenwich Sentinel Award at Audubon Greenwich for his impactful embrace of his hometown community.
James expresses humility regarding this award, which celebrates the many ways he's supported both nonprofit organizations and new businesses. "We're in a culture here," he says, "where you really can't help but want to return what's been given to you."
James inherited a legacy that stretches back to 1910, to his great-grandparents, Mary and James Bernard McArdle, who began their enterprise, the McArdle Seed Co., on Greenwich Avenue. "Eight years later, my great grandfather passed away," James tells, "My great-grandmother [with three children] kept the business going. This is before women could vote. She's the reason why we're having this conversation now."
James' earliest recollection of the family business – renamed McArdle's Florist and Garden Center – was at age eight. "I was sweeping the old greenhouse, going out delivering…." One delivery goes awry. He slips on ice, and downs falls the customer's flower-filled family heirloom. No scolding follows. "There was a lot of grace there."
There was a lot of support from his dad, James "Jim" Benedict McArdle, Jr. "When he was only ten," his father shares, "he also had a paper route seven days a week with over 75 customers, who would often ask him to perform other household tasks for them, and take care of their pets when they traveled."
"James gave us all indications of being business oriented at a very young age," his father continues. James would spend high-school and college vacations "working at the shop." In those full-time working years he would see his son making "changes that he thought were beneficial," such as "computerizing the company." He sums up, "I am so blessed to have a son who possesses such a strong work ethic and commitment to giving back to a community which has supported McArdle's for 109 years."
The fact is James early on "fell in love with plants, trees, and flowers," and at Cornell University majored in horticulture, with a minor in business. He'll never forget his professor presenting students with a glass jar holding a foot-long bare stick to identify. "You'd have to know what that plant was, and everything about it, out of a couple of hundred species. It was crazy!"
Now, having clocked 30 years at McArdle's working with plants, trees, and flowers, the last seven as owner, while continuing as general manager, James puts in 10-12 hour days, six days a week. "We have the opportunity here, to bring beautiful flora inside people's homes, outside people's homes. We offer a product that brings happiness into people's lives in a world bombarded with bad news after bad news."
It's the interaction with customers that James finds fascinating. "I get to interact with so many different people every day," he says, "And a lot of times those conversations go deeper than just flowers. So, it's an opportunity to hear what's going on in people's lives, and perhaps empathize with them."
Empathy is "a guiding value" for James, and his McArdle team, he says. "When we interview people, they need to demonstrate empathy towards others. It's kind of like a doctor's bedside manner – you have to want to be with people where they are and help them. So, you have to be a good listener. You have to empathize with them and ask why are they here.
"Empathy is one of our three "e" themes – empathy, excellence and enthusiasm. We have to be excellent because this is Greenwich! We can be enthusiastic because our product brings comfort or happiness. We're selling something that serves a purpose."
It was James' wife Christine, mother of their three grown children (including James B. McArdle, IV), who serves as human resources director and helps with marketing, who early on in their McArdle ownership saw the need for more empathy being expressed for James' team. "She's full of wisdom. So, we changed the culture. We became decentralized. We have like nine directors, everything from a director of marketing, and merchandising, to floral design director, to an at-home director. We've really empowered people to manage their own department."
What makes the day for James is his McArdle team's morning " huddle." "It's really powerful and yet it's so simple. We gather in a huddle and give shout outs, when someone exceeds expectations. We talk about the goals for the day. But, we end our huddle saying we have a beautiful product today. We have a great team today. Let's make our customers happy."
James feels fortunate for having a team with one member counting 37 years. "Three of my team have been here over 20 years," he adds, "and five people between 10 and 19 years."
He particularly prides McArdle's for "the amount of customization work" that it does. "Customers will come with their indoor or outdoor containers for us to decorate with flowers or plants. Or, they'll ask, 'Will someone come out and landscape this for me,' and we'll start by saying, 'Do you have sun in the morning or sun in the afternoon? Do you have deer, and what colors do you like?'"
There's no question James has made a considerable green footprint in his tenure, not least with the Greenwich Tree Conservancy (GTC), that he has hosted for its annual Tree Party at McArdle's for the last 10 years. "The GTC has raised a total of about $500,000 at its Tree Parties," reports GTC board chair Peter Malkin, "and, with James' help, the GTC has planted over 3,000 trees in Greenwich. Congratulations well earned, James!"
And, yes, McArdle's is credited for planting 100 trees about town to celebrate its 2010 centennial and that of the Boys and Girls Club. James recalls a tree being planted in his grandfather's honor by the Town before the once Greenwich Post Office. There, too, sat the Town bench (now restored and relocated to McArdle's) delegated to his grandfather, signed "McArdle Senior's Second Office," and this is "because later in life he used to sit there and 'smell the flowers.'"
No surprise that the Greenwich Sentinel wishes to celebrate James. He early on recognized the newborn Sentinel as a community-building enterprise. "I was really excited for them because they touched on something that was needed, a real local grassroots paper." It was James who suggested the paper's eye-catching daily online feature:  5 Things to do in Greenwich Today.
But, look beyond tree plantings and startups for James' town investments. Think empathy again, with James having served the last six years on the board of the faith-based counseling Greenwich Center for Hope and Renewal (GCHR). "We're all needy people," he shares. "We all have our baggage. So, the Center really meets people where they are."
It was under the watch of former GCHR executive director the Rev. Dr. Heather Wright, when James joined its board. Wright, now a pastor at Stanwich Congregational Church, describes James as "having a heart for people and healing." She says, "The GCHR has been blessed by his years of service as an active board member, with his awareness of best practices as a business owner, his concern and care for his own staff's personal and professional growth, model leadership excellence for the board, staff and team of the Center."
The bottom line is it is faith that drives James. On his one day off he can be found at the Stanwich Congregational Church, where he's served as Elder. "My faith is in the finished work of Jesus," he tells. "And, in response I want to not only love him but love others with his love. That's really what fuels me."
Rev. Dr. Nathan Hart is Senior Pastor of Stanwich Congregational Church. At first meeting James he recalls "his well-worn Bible, dog-eared and highlighted over years of intense devotion." He relates, "A famous Christian theologian named Charles Spurgeon once said, 'A Bible that's falling apart usually belongs to someone who isn't.'"
James is most definitely spirited, but he's a bit dispirited on the generational decline of gardeners. He cites, "Fifteen years ago, gardening was the number-one hobby in Greenwich and nationwide." He believes that today, "People are missing out. So much can come from gardening in your own yard, the connection with nature – some would say the connection with God. You have an opportunity to do it with your family, with your kids. You're planting something and taking care of it and watching it grow. You're enhancing your property. There are so many benefits that are happening simultaneously. There's something about getting your hands in soil. That's a great experience in itself."