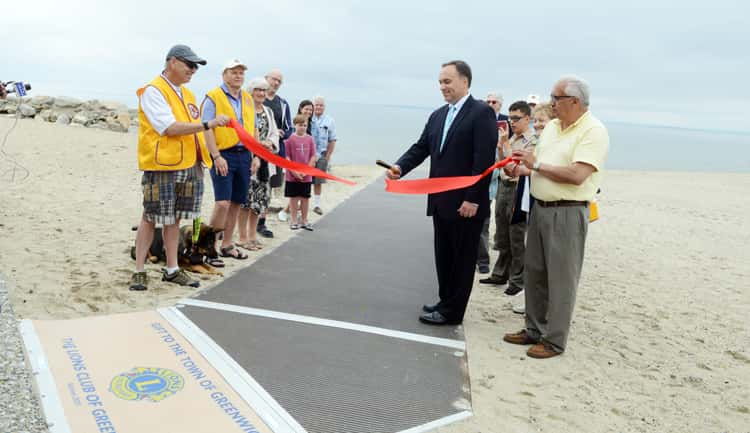 By Paul Silverfarb
Sentinel Editor
A small and simple solution is going to allow a lot more people to enjoy and have access to the water from Long Island Sound along the Greenwich coastline this summer.
Last week, with help from the Greenwich Lions Club, the Town of Greenwich officially rolled out a beach mat at Greenwich Point that will allow residents with disabilities, parents with strollers and beachgoers with carts the ability to travel, sand-free, all the way to the waterline.
"It takes a great team," said Greenwich Lions Club secretary Alan Gunzburg, who also is Chairman of the First Selectman's Advisory Committee for People with Disabilities. "We have a good committee. The committee serves at the pleasure of the First Selectman, who has been an incredible accessibility champion for the Town. I am remarkably proud of the accomplishment. It takes a handful of people that are committed, find issues and look to solve them."
The vinyl mat, nearly six feet wide, stretches from the first concession stand at Tod's Point and goes within mere inches of the water line.
"This demonstrates what the First Selectman's Advisory Committee for People with Disabilities focuses on — inclusion and accessibility for people of all abilities, whether it is someone reliant upon a wheelchair or a cane, or a mom pushing a stroller with her young children," said Town of Greenwich First Selectman Peter Tesei. "This generous donation ensures that any visitor to Greenwich Point will have access to fully enjoy this jewel of the Town's parks system."
This beach mat that is along Greenwich Point has been on the mind of Gunzburg for quite some time. But a random stroll through his Facebook feed helped fuel the fire and got the ball rolling. Gunzburg casually looked on his Facebook feed and stopped at a post from John Ferris Robben.
Robben, a photographer for the Greenwich Sentinel, shared a photo about how a simple beach mat gives people, who normally wouldn't be able to get close to the water, the ability to use the mat that covers the sand and trek down to the water.
"John put a picture up on Facebook of a beach mat and said that it would be great for the Town of Greenwich," Gunzburg said. "I said to myself that it's exactly what I have been thinking about for a long time. I then looked through the reactions that John got on his Facebook post and there were hundreds of likes and hearts. People were saying that we should have stuff like that and that would be awesome to have. I knew that the timing was right because I figured I could try to get this done by the summertime."
So, Gunzburg went into what described as "power mode."
Working with Greenwich Human Services Commissioner, Dr. Alan Berry, along with Parks & Rec. director Joseph Siciliano, Gunzburg figured out where the beach mat would be best located. They decided that placing it next to the first concession stand at Tod's Point, rebuilt after Hurricane Sandy destroyed it, would be the perfect place to start.
Once AccessRec, the supplier of the ADA-compliant beach mat, was chosen, it was time for Gunzburg to look for funding. And, that ended up being easier than he had imagined. As secretary of the Greenwich Lions Club, Gunzburg noticed that the approximately $6,000 mat was within the Lions Club's budget.
"Obviously, we try to spend every dollar that we raise every year," Gunzburg said. "It was in our sweet spot, which meant I didn't have to go out and raise money. I just asked the Lions and they thought it was a great idea. At the end of the day, $6,000 is not a lot of money. We can find that if we go to enough couches in Greenwich and look in the cushions."
One group that will utilize the beach mats a lot during the summer months will be Abilis in Greenwich. Abilis provides services and supports for individuals with special needs.
Amy Montimurro, President and CEO of Abilis, couldn't be more excited for this beach mat.
"Abilis is thrilled with the installation of the new beach mat," Montimurro said. "This past weekend was beautiful. Many of the people we support were able to easily access and enjoy the day at the beach with their friends. This will have a huge impact on the quality of life for many, and we are so thankful that our town recognizes the needs of our community."
The mat will certainly get plenty of use. "A curb cut at the end of a sidewalk helps people with bicycles, people with strollers and people with mobility issues," Gunzburg said. "This mat does the same thing. You will see parents with strollers on it. You will see people rolling wagons using the mat. People will use it that have canes, walkers or people that are simply looking for respite on it when it's 95 degrees and the sand is so hot and all people want to do is use the bathroom. It's such a simple solution."