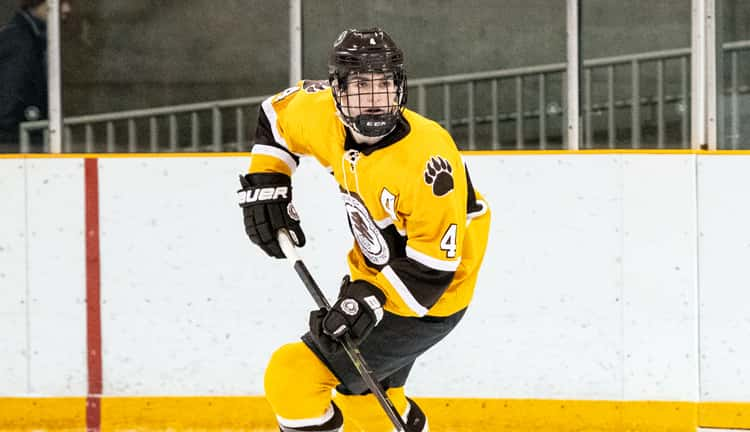 By Paul Silverfarb
Sentinel Editor
Cooper Moore has been putting in the work. Whether at practice gearing up for the start of the ice hockey season or during game action, the recent Brunswick School grad has been fine-tuning his game.
And people are taking notice in a big way. On June 21, the National Hockey League held its annual NHL Entry Draft, and Moore got the phone call he has been dreaming about his entire life. In the fifth round and the 128th overall pick, the Detroit Red Wings selected the standout Brunswick defenseman.
"It was an awesome feeling seeing Detroit draft me," said Moore Tuesday night, after competing in the first day of Developmental Camp from Detroit. "I didn't want to go into the draft with any expectations, so I sat at home and watched the draft with my family. As the draft kind of moved along, I kind of got more nervous."
However, once Moore saw his name flash on the screen while watching the draft, those nerves quickly changed over to sheer joy and excitement.
"My dad jumped out of his seat and gave me a big hug, and then my mom and sister did as well," Moore said. "It was a very special moment and it was a dream come true. You never really think it can happen until you start going through the process and see your name pop up in central scouting or other reports. Then you meet with the team and start to think that this could really happen to me. I could be one of those names calls. To hear your name called at the draft is such a great feeling."
While the Moore family was over the moon on draft night, his other family, head coach Michael Kennedy as well as other coaches and players from the Brunswick School ice hockey team were just as excited.
"Obviously it's a special day for Cooper and his family," Kennedy said. "For our Brunswick hockey program, to have Cooper, who has been such great representative of Brunswick hockey and all that we stand for, be rewarded by being drafted in the NHL is incredible. It's something that we never expected to happen a decade or so ago, but the Brunswick program has come such a long way and that's because of the players that came here before Cooper and set the stage to have success and gain the recognition at the highest level. That was solidified at this year's NHL draft."
Moore is the first player in program history to be drafted directly from Brunswick School. Hugh Jessiman, a 2002 graduate of Brunswick, was drafted by the New York Rangers in 2003 after his freshman year at Dartmouth College.
"It's certainly validation for our program and what we have worked to create here at Brunswick," said Kennedy. "We have had other great players like Kevin Shattenkirk, and John Hayden come through here recently, but it's great to have Cooper, who stuck it out through his senior year, get rewarded like he did with the Red Wings."
While at Brunswick, Moore was a solid defenseman and a pain to a plethora of top attackers in the Northeast. Last year he finished with 13 goals and 18 assists, while playing in 28 games. During his junior campaign, Moore took home seven goals and 14 assists in 33 games, while netting three goals and 15 assists during his sophomore year with the Bruins.
And, while the hockey program at Brunswick holds Moore in high regards, the feeling is certainly mutual for the defenseman.
"It was awesome to play at Brunswick School," Moore said. "It was very nice to live at home and be with some kids that I grew up with. It was amazing to win the Large School championship my junior year. Brunswick really helped my career, last year especially. I made a huge jump and that really helped me take off a little bit. I had a lot of fun on that team and really enjoyed the coaching staff. I think they helped my game a lot. It was a wonderful experience."
While the experience of playing hockey with some of the most elite talent around during the developmental camp with the Red Wings is amazing, that's something Moore will cherish, but there are other priorities.
Moore is committed to the University of North Dakota, an NCAA Division I powerhouse when it comes to ice hockey. However, the former Brunswick defenseman will not start playing at the school until 2020, as he will be in British Columbia starting this fall and play junior hockey with the Chilliwack Chiefs of the British Columbia Hockey League.
"I am really excited to join the Chiefs and for that year of playing in the BCHL," Moore said. "Talking to the coaches, they are very excited to have me there and to help me in my development. I am using next year for my development. I want to be able to develop aspects of my game so I can step into college right away and be a difference-maker."
Kennedy said that it's a common trend among hockey players to take a year of juniors before they head off to college.
"Cooper is still pretty young and was a true senior at Brunswick," Kennedy said. "Time is on his side, and taking an extra year before going off to a program like North Dakota can only help him be ready to go when he arrives there in 2020."
And, to say that Moore is excited to be a part of at top-notch program like UND is an understatement. UND has won the NCAA championship eight times, most recently in 2016, and has appeared in the NCAA Division I Frozen Four a whopping 22 times.
"I am very excited to be a part of such an amazing program," Moore said. "You can tell right away their history of success when you talk to their coaches and staff. Everything is so professional there. They spare no expense there and it's really cool to see. Walking around the locker room and right when you step in you see a hall of jerseys and you see all the jerseys that they used to wear. It's cool to see the tradition there within their program."
Kennedy said that what makes Moore such an asset to the Red Wings and for the University of North Dakota is his phenomenal skating as a defenseman and ability to shoot the puck.
"He gets the puck off harder and quicker than most kids who I have seen at this level or even at the higher levels," Kennedy said. "Those are two skills that you can't teach, and they helped separate him from the pack and gain the attention of college and NHL scouts over the last two years."