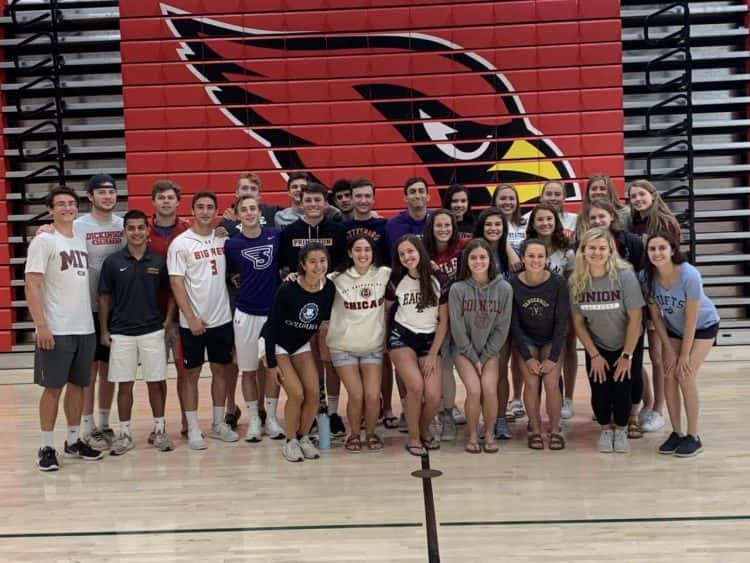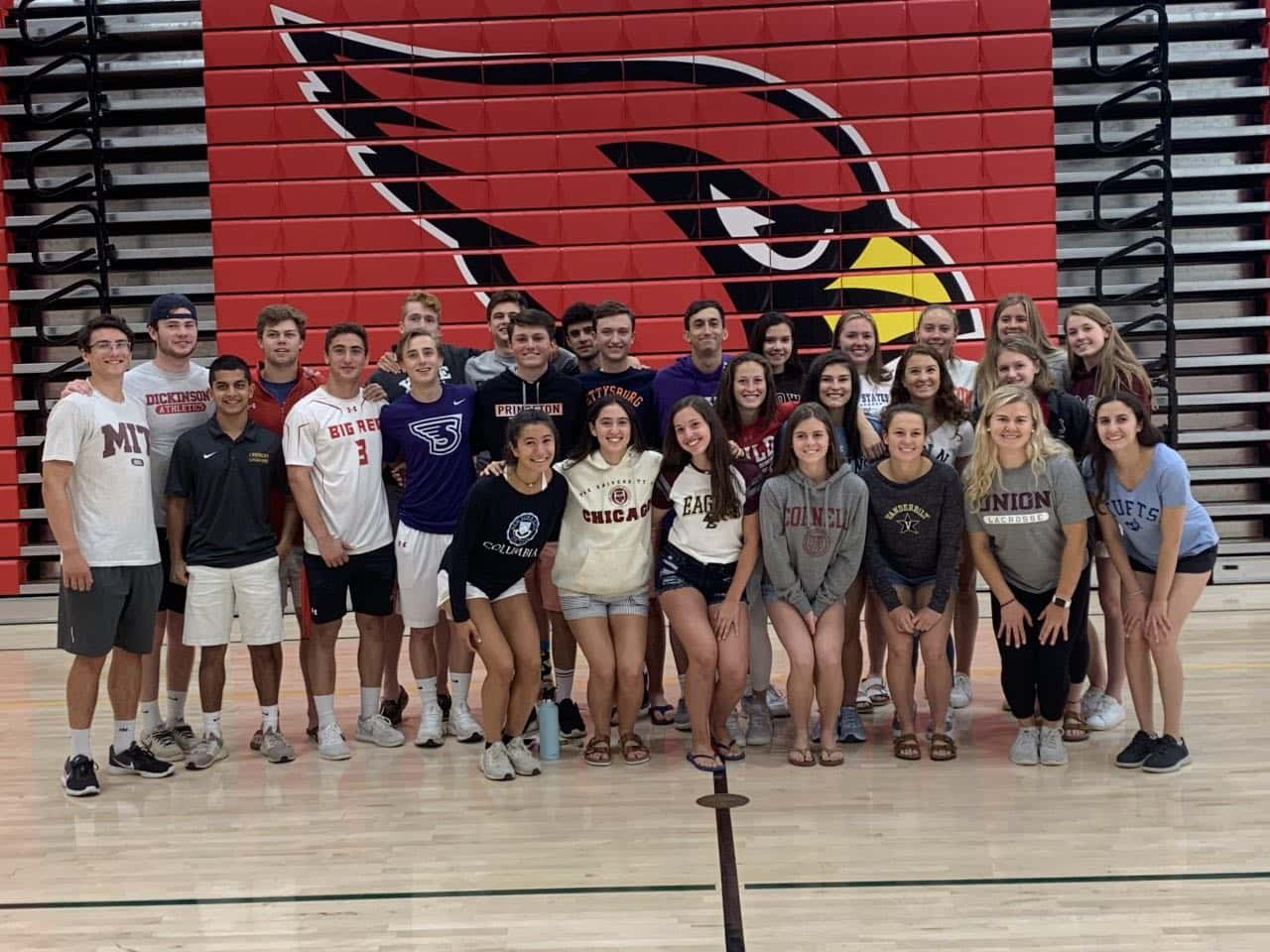 By Richard Kaufman
Last Friday, graduating seniors who will be playing athletics at the collegiate level beginning next fall, were treated to some pizza and refreshments in the Greenwich High School gymnasium, as Athletic Director, Gus Lindine, honored and thanked them for their contributions over the last four years.
Overall, 53 students will be taking their athletic talents to the next level. Many of them contributed to what was another successful school year for Big Red — a year which featured deep playoff runs and several championship teams.
"I'm so proud of them. They're outstanding kids and outstanding athletes. That they've committed to go on and play during their college years makes it all that much more special. We're so proud of them and we really look forward to seeing how they compete playing in college," Lindine said. "We've had a lot of success here at Greenwich High School this year. Championship teams, many individual accomplishments. There's such a tremendous tradition here at GHS. Every year you don't think one class is going to outdo the next, and they find a way to get out there and accomplish great things."
Lucy Koven, who will be attending Princeton University next fall for Crew, said she's looking forward to the challenges that await her. Although Crew is a club sport separate from GHS, Koven credited the school will helping her during her athletic career in Greenwich.
"The high school has been extremely accommodating with the absences and hours that go into being a participant in a competitive sport. That was hugely beneficial for me," she said.
Jackson Fretty will join Koven at Princeton, but he will be playing on the men's golf team.
While he's excited to take the next step in his athletic career, Fretty said the GHS golf family will remain close to his heart
"The golf team here has been a huge part of my life," Fretty said. "[Head coach Jeff Santilli] is probably the closest thing I've had to a second dad. He's meant so much to me. The stuff he's done for me as a player, I'm never going to forget and I'm always going to be indebted to him," Fretty added.
Grace Fahey, who played lacrosse, ice hockey, soccer and cross country during her time at GHS, will head to Davidson College for lacrosse. 
Fahey said she will miss the close relationships she built with coaches and teammates. She believes her experience playing different sports will help her in college.
"Our coaches have prepared us so much, and taught us so much these past four years. I've had four different coaches over the last four years, so I've had four different coaching styles. I've taken bits and pieces form every single coach and taken them to better my game," she said.
Fahey added that playing college lacrosse has always been a goal for her.
"'I've been looking forward to this for so long. I've always known I wanted to play college lacrosse since I was in middle school. This is really a dream come true for me."
Nolan Connerty, a member of the GHS football team that captured the Class LL championship team last December, will play football at Dickinson College in Carlisle, P.a., next fall.
"I think playing in college is going to be a good, more competitive opportunity, especially knowing how good our football team was this year. I'm excited for a bigger challenge. It's going to be sad leaving these guys. I've played with these teammates forever," Connerty said.
Gavin Muir, the quarterback for the Cardinals' championship squad, will play at Dartmouth College.
"The thing I'm going to miss most is the tightness we had on this team, especially our senior class," Muir said. "It was great to accomplish our goals, and now it's on to the next level."
Full list of GHS athletes playing in college beginning next fall:
Jacob Belmont; Salve Regina University, football; Owen Bianchi, Johns Hopkins, track; Allison Brea, Tufts, swimming; Aidan Brock, National University of Ireland, Galway, cross country and track & field; Olivia Caan, Johns Hopkins, lacrosse; Emilio Camou, Union College, football; Zoe Cass, Washington and Lee, riding; Samantha Chabot, Johns Hopkins, field hockey; Ian Colalucci, NYU, baseball; Tysen Comizio, University of Pennsylvania, football; Nolan Connerty, Dickinson College, football; Hunter Cusimano, Villanova University, football; Eleanor Dabney, Naval Academy, crew; Timothy D'Agostino, Fordham University, water polo; Nicolas de la Sierra, Bucknell University, water polo; Charlie Ducret, Trinity College, football and track & field; Grace Fahey, Davidson College, lacrosse; John Feda, Bucknell University, lacrosse; Paige Finneran, Vanderbilt University, lacrosse; Jackson Fretty, Princeton University, golf; Summit Gillespie, Temple University, crew; Charles Grave, St. Lawrence University, lacrosse; Olivia Hoekman, Dickinson College, lacrosse; Jennifer Kelly, Union College, lacrosse; Lucy Koven, Princeton University, crew; Lance Large, Johns Hopkins University, football; Katie Large, University of Chicago, lacrosse; Kyle Laufenberg, Iona College, water polo; Sloane Loveless, Cornell University, lacrosse; Barbara Malone, St. Andrews, Scotland, water polo; Daniel McDermott, Brown University, water polo; Rodane McKenzie, Richmond, The American International University in London, soccer; Zoe Metalios, Columbia University, field hockey; Anna Meurer, Massachusetts Institute of Technology, crew; Gavin Muir, Dartmouth College, football; Madeline Muldoon, University of Pennsylvania, swimming & diving; Natasha Neitzell, Princeton University, crew; Jordan Numme, Boston College, track & field; Sean Pratley, St. Lawrence University, baseball; Ryan Raybuck, Saint Anselm College, football; Ben Ropiak, Gettysburg College, golf; Paige Sangston, Bard College, soccer; Peter Scott, Massachusetts Institute of Technology, crew; Bridget Semenuk, University of Texas, swimming; Michael Steinthal, Yale University, crew; Stephen Todorovic, Boston College, swimming; Toby Turnbull, Stonehill College, football; Shiv Vaid, Oberlin College, lacrosse; Lara Varma, Drexel University, squash; Emily Warner, Claremont McKenna College, swimming; Caroline Webb, University of Connecticut, cross country and track & field; Isabel Wilkowski, Brown University, rowing; Christopher Wint, Castleton University, football.