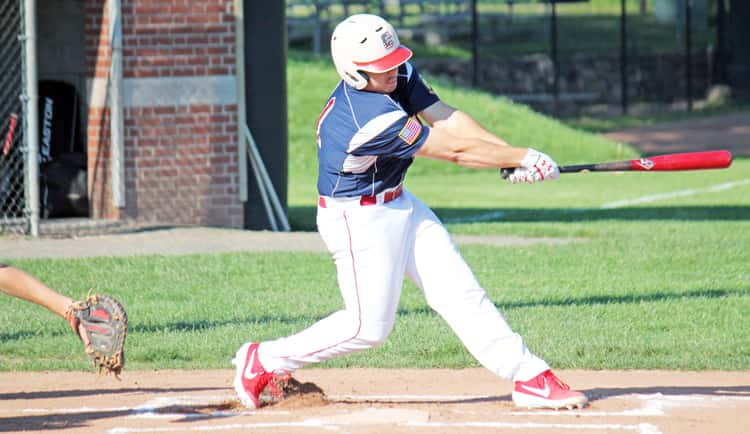 By Paul Silverfarb
Sentinel Editor
When a team is as young as the Greenwich American Legion senior Cannons, it's easy to chalk the season up to a learning experience. However that's not how head coach Mike Abate works.
Abate's Cannons have only one athlete on the roster that will age out after the end of the American Legion season. Despite the youth movement in Greenwich, Abate has the team fighting for a playoff spot with only a handful of games to play in the regular season.
After Monday afternoon's 1-0 victory over Fairfield, the Greenwich senior legion team has won its past four games and had a record of 12-9 as of press time. Currently Greenwich sits third in the Northwest Division of Zone IV, with Stamford cruising at 18-3 and Ridgefield in second with an 11-8 mark.
This year is a little different than in past seasons. The Zone IV has been split into two divisions, the Northwest Division and the Southeast Division, with the two top teams from each division and then the best overall record making the postseason. In the Southeast Division, it's Trumbull leading the way with a 14-4 record, followed by Stratford at 11-12 overall.
"We are in contention," Abate said. "If we could play well for the rest of the season, we can get into the playoffs and hopefully make a run. We need to do a little bit of everything. Pitching has to be dominating. They have to have command and go deep into games. We will get our opportunities offensively, but we need to be strong on the mound and cash in our opportunities when we get them."
On Thursday Greenwich was scheduled to host a key contest against Ridgefield, one of the teams like Greenwich that's fighting for a playoff spot. The game was rained out and will be made up. Greenwich was scheduled to battle Bridgeport today and tomorrow, but with Bridgeport not fielding a team this year, the Cannons have those two days off.
On Sunday, Greenwich will once against host a powerhouse from Zone IV, as they play Trumbull, the leaders in the Southeast Division.
Abate's team ends the regular season on July 17 when they travel up to Fairfield for a game at Kiwanis Field.
"I like to see the boys come out and put everything they have into these remaining games," said Abate. "They know what's on the line and know where they want to be. We do have a lot of pieces all over the place right now. We have guys going away for showcases and a couple of guys going away on vacation. But right now it's a next guy up mentality. These guys want to get to where they want to be, so we are looking for people to step up and have some fun doing it."
The fact that the senior Cannons are fighting for a playoff spot is quite impressive. Abate has one of the youngest squads he's ever coached. Only one athlete, Kyle Woodring, who just finished his freshman year at Trinity College, isn't eligible to return next year.
"We are extremely young," Abate said. "A lot of teams that we are playing this year have a lot of seniors and have a lot of college kids on it. When you deal with youth, you deal with a lot of inconsistencies. We have played games where I would think that we could play with any team in this league and we have played games where we make stupid mistakes and fall behind early. I think this is a good stepping stone letting kids understand what winning is like. Once they understand how to win, they will be even stronger. Next year they will be really strong."
Greenwich's strength has been on the mound this season. The duo of Miles Langhorne and Alex Roath have been incredible on the mound.
"Miles is a rising junior has been great for us this year," Abate said. "He's an overpowering guy with a nice fastball and slider. He's been doing a great job. Alex has really been lights out for us. He's been keeping kids off balance. He's more of an offspeed guy and has a strong curveball. Both those guys have been our main guys this year for us."
Helping close out the game this season has been a plethora of talented hurlers. Leading the way has been Zach Karson, with Abate stating that in a tight game Carson comes in and the team is confident that he can get the job done.
Both Luc Thibeault and Zack Alza have seen productive times on the mound for Greenwich this season.
When it comes to hitting, no one on the Cannons has been as good as Harrison Feinberg. Abate calls him a difference player, stating he has commanding power, but also has speed and is one of the team's most consistent hitters for Greenwich.
In addition to Feinberg, Abate believes that Sean Pratley has been solid at the leadoff spot, stirring things up when we gets on base. Hunter Gruenstrass is the team's No. 3 hitter and has been solid through the season reaching base and getting those extra base hits. Although Woodring doesn't play baseball at Trinity College, he came back to the Cannons this year and has turned it up a notch in the past two weeks and has hit the ball much better.
Defensively it's all about coming up clutch up the middle. Because of his speed and strong arm, Feinberg was moved over to center field. At short as been Chris Genaro and he's been a force in the infield all season. Joining Genaro up the middle is second baseman Pratley.
At the beginning of the year, Abate and his coaching staff wanted a clean slate from the team's high school season this past spring and work on the basics of baseball.
"A lot of these guys had success last summer, but they were playing against younger kids. This is a very talented group, but we are young. We have to deal with that a little bit. I think this year of experience and learning how to play at the senior level, will help them tremendously learning what to do to win at a high level. We have been in a lot of ballgames. We played a couple of games where it could have gone either way."