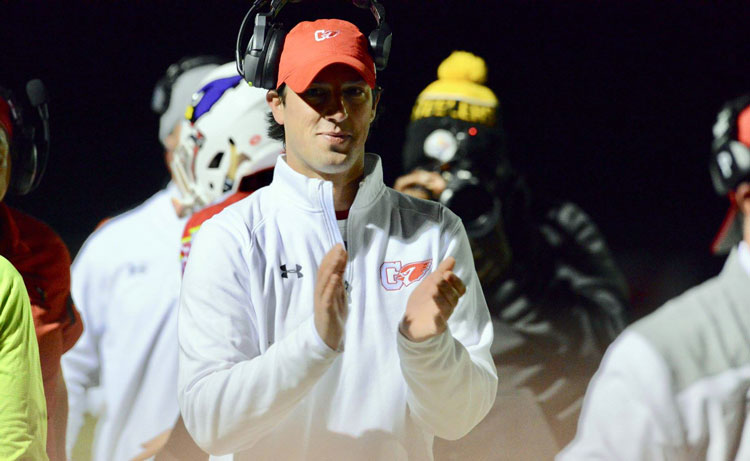 John Marinelli, who took the Greenwich High School football team to an undefeated season and CIAC class LL state championship last year, announced today that he's stepping down as head coach of the football program and will be an assistant at the University of Arizona.
Here is the email that Marinelli sent to the Greenwich High School alumni:
Dear Big Red Alumni,
I am writing to inform everyone that I have resigned as Head Football Coach. I will be moving into the collegiate ranks across the county at the University of Arizona.
I want to personally thank everyone who has made an impact on me, the staff, and the coaches that have been here since 2015 with me. It's been a blast and I hope that we brought a sense of pride and fear back into the state and county.
I love this town and community, and the past four years shaped me. This is a football town, and I was honored to be in charge.
It was a very hard decision to walk away from the program that together we all helped build from the ground up.  The past four years have been the greatest of my life. From day one this community has welcomed me with open arms and embraced change.  In four years we set the bar for how a program should be for the student-athletes. As a high school coach, our role on the field is secondary to a teenagers growth as young people. We always tried to be involved with their academic lives, social lives, and their families. The boys know we care more about them as people than players.
I believe that our staff has the greatest role models for teenage kids, and I want to take this opportunity to thank them. They are my family and they are my support system. There is a special vibe surrounding these men and I hope that you encourage the administration to allow them to stay and continue the unbelievable work we started four years ago together. My recommendation is that Anthony Morello resumes my responsibilities as the Head Football Coach. I will pass this recommendation along to all parties involved.  In the meantime, Coach Morello will run the program until a decision is made, all staff members have confirmed they'll stay in place. All activities remain on as scheduled and I will be around to help with the transition process before I have to report. Anthony is a Big Red Alumni that has the passion and desire to be in this position. I know he'll be great. Please help us make this a permanent position for Anthony and our staff members.
While I'm sure this news hits with mixed feelings, I don't consider this a goodbye. I love this town, community, the people, the alumni, and especially the players that I've had the opportunity to coach. I feel blessed and honored that I was able to lead this program. And I thank all of you for allowing me the opportunity. Greenwich is home, and will always be home to me. I plan to remain involved as much as I'm needed, and help where I am wanted.
Lastly, I want to thank Gus Lindine. Gus has helped shape me and guide me as a young coach. He believed in me and has been at my side for every decision. He's unquestionably the best Athletic Director in the State, a mentor, and the toughest goodbye for me personally.  
Thank you, and God Bless. Please know, I gave my heart and soul to this program. I loved every minute of it.  I know if the program remains in this current staffs hands, it'll only soar to higher heights and make you all proud.
I will be at the Golf Outing, on June 24th. I hope to see many of you there, not to say goodbye, but share the stories and memories we created together over the past four years.
This will always be my home.
Go Cards! Fly.