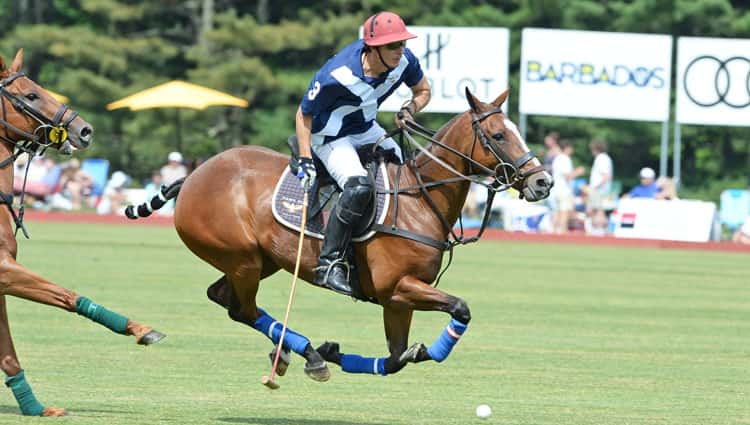 By Liz Leamy
Sentinel Correspondent
Sunny skies and warm temperatures greeted over 4,000 spectators who gathered at the Greenwich Polo Club Sunday afternoon to help kick off its 2019 high-goal season in grand and memorable style.
The members of this high-energy crowd, who filled up the sidelines of the Greenwich Polo Club's massive main field to maximum capacity, delivered the goods in their usual fashion. They were cheering and applauding for the two powerful high-goal teams, The Island House and Hawk Hill, as they faced off against one another in the celebrated Shreve, Crump & Low Cup Tournament, rendering an afternoon that could best be described as unforgettable.
In the end, The Island House wound up defeating Hawk Hill 13-7, with 20-year old Toro Ruiz Jorba, the Argentine seven-goaler (out of a 10 maximum) who is said to be one of the hottest rising stars in the sport, helping to steer his team to resounding victory.
For his efforts, Ruiz, who scored eight of Island House's 13 total points, was named the match's Most Valuable Player. He appeared to be thrilled with how the afternoon had unfolded, especially considering that in addition to his team's win and being named the standout player, his pony, Especial, had been awarded the Best Playing Pony citation.
"It's been great to get out and play with everyone and this is all [a bonus]," said Ruiz. "I love everything about playing."
Ruiz credited his teammates, Peter Holowesko, Santino Magrini, a four goaler and Peke Gonzalez, a five goaler, for the successful turnout of the afternoon.
"Everyone on our team is great and they are some of my best friends," said Ruiz. "We definitely have a good time playing together and I'm looking forward to going out there and playing with them again."
This match, representing the first public game of the 2019 GPC season and part of the first and second-round series of the 2nd Annual Shreve, Crump & Low 16-goal tournament (that features six total teams on its roster), was all about drama and excitement, as demonstrated by the crowd's terrific reaction to all of the action and activity going on.
This contingent, comprised of women donned in colorful and flowy dresses, men in stylish, bright shirts and fitted slacks, and children in classic summer party styles who were either seen walking on the sidelines or situated sitting under tents, on blankets and in the grandstand bleacher area, seemed to be as laser-focused as ever as to what was taking place on the vast Conyers Farm field which made for a terrific afternoon all around.
"I love playing the Sunday matches here more than anything. It's very exciting to have all the people here watching," said Ruiz, a crowd favorite, who also said in an interview he admires his uncle, Matias Magrini, the esteemed Argentinian seven-goaler and member of the Reelay team in this tournament, for his style and way of playing. "Everyone seems to be having a good time and that is the best thing."
Certainly, this appeared to be the case as nearly all of the spectators seemed delighted to be spending a Sunday afternoon watching polo at this famous and beatific club, regarded to be a main U.S. high-goal summer destination and originally founded by Peter Brant, the business tycoon and longtime patron and player of the esteemed Greenwich-based White Birch team in 1981.
"I've never been to a polo match before and this has been a great time in all regards," said Adam Brown of Hartford. "Being here has been incredible. I especially love the sound of the players and horses when they run from one side of the field to another. You can almost feel the ground shake."
For many, this also seemed to be a unique experience comparable to partaking in a vacation at an all-inclusive warm-weather resort, but with world-class polo as the main attraction.
"I've loved everything about what I've experienced here. There seem to be so many aspects about being at [an event] like this," said Brown. "It's so beautiful and it feels like you're stepping into another world."
The next public GPC match will be held on Sunday, June 16 and is slated to start at 3 p.m.