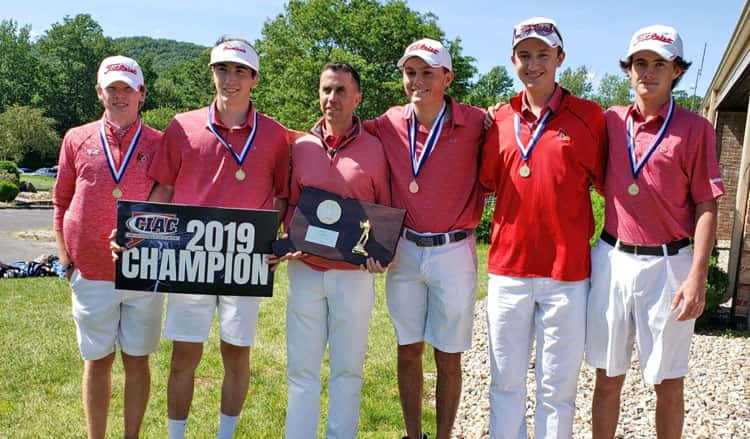 By Paul Silverfarb
Sentinel Editor
The Greenwich High School boys' golf team was at a crossroads in its season. After getting soundly beaten in both the Brunswick Invitational and its host event, the Greenwich Invitational, the Cardinals could have taken the easy way out. They could have just succumbed to the pressure of trying to win back-to-back county and state titles and play out the remainder of the season.
But that's just not Big Red's style. They have worked way too hard to let that happen. So while the Cards bent during the regular season, they didn't break. Instead, they came together and gave Jeff Santilli one of his most memorable runs in his two decades as head coach of the team.
"I had to remind them that it's a process from the beginning of the season to the end and that I was hoping we would get to the point in our games where we were playing our best at the end," Santilli said. "And that's exactly what happened. We got to the last couple weeks of the season, worked on a couple of things, and we started peaking at the right time. From the Holohan tournament until the Division I championships, we had some of the best performances from our top five guys that I have seen in my 20 years coaching here."
After taking the top five spots at the annual Hap Holahan Tournament, Greenwich came back and took care of business at the FCIAC championships in convincing fashion. Then on Monday, Big Red battled the best the State of Connecticut has to offer and came away with the Division I championship.
"I am extremely proud of the team," said senior Jackson Fretty. "I think we focused when it really counted, and we were able to show how good we are. I definitely think that the Brunswick and Greenwich invitationals could have made us get down on ourselves and start to doubt who we were. But, luckily, we were able to take it another way and use those invitationals as motivation and a wake-up call that things aren't going to be handed to us. We really needed to put in some good work and get what we wanted when it mattered the most."
In late March and early April, the Cardinals made the trip to Sterling Farms and the conditions could not have been worse. The course was wet, the golfers were soaked because of the rain, the chilly 40 degrees was far from ideal golfing weather and the balls felt like rocks when hitting off the tee.
For senior Ben Ropiak, it was great to see that all the hard work Greenwich put into the season paid off.
It just validates the hard work," Ropiak said. "You just ask yourself why are you doing this and then you realize that it all builds to something. Hopefully, at the end of the road you win, and we have been lucky enough to do just that. Last year, winning a state championship for the first time was just exciting. This one is just as satisfying. It's a validation of everything."
Coming off the FCIAC championships, Greenwich traveled to Timberlin Golf Club for competition in the Division I State Championship and didn't take its foot off the gas. Finishing with a combined score of 301, Big Red beat Darien for the third time this season, as the Blue Wave took second with a score of 311. Simsbury was third, with a total of 316, and New Canaan netted fourth with a score of 317. Xavier rounded out the top five with a tally of 319.
"We went out there knowing what we had to do, which is just play our best golf possible," Santilli said. "At the end, we just shake each other's hand and be happy and that's exactly what we did. In those conditions, to hit a 301 was an outstanding score. We didn't start off too well and weren't looking great, but I spoke to each kid individually and told them to be patient because it was going to be a high scoring day for everyone."
Fretty took the top score on the team, finishing a 2-over par 74.
"I couldn't have imagined a better way to end it. We played incredibly well at the Holahan and that was great to see," Fretty said. "We were awesome at FCIACs and played really well as a team. We were well prepared for that course and were able to execute there really well. And States was mentally tough because of the conditions, but I think we really proved that we can not only execute but also really hang in there mentally."
Not to be outdone was the duo of senior Ben Ropiak and Tyler Donnellan, as they were both one shot away from Fretty, and each posted a 3-over par 75. Fellow senior Billy Nail made a plethora of stellar shots and finished fourth on the team with a 5-over par 77.
"It's incredibly special for Jackson, Ben and I to cap off our four-year career with an FCIAC and State title," Nail said. "I owe a lot of my development as a player to Coach Santilli. He's the best coach in the state, and it's not even close. His postseason track record, in particular, winning 10 out of 20 FCIACs is unmatched throughout the state. He's been instrumental in helping us develop not only as players but as young men as well."
Santilli said that he thought his team could take the Division I championship, but he knew it was going to be extremely difficult to beat Darien three times and conquer the tough conditions.
"I really think it has to do with the experience of just being there already and having a title under their belts," Santilli said. "The pressure was off. There was pressure to defend, but we played really well. We definitely peaked at the right time."
A few days earlier, Greenwich was lights out during the FCIAC championship held at the Fairchild Wheeler Black Course and defended its title in grand fashion. Big Red took home the FCIAC crown with a total of 292, eight shots better than Darien High School. Ridgefield was a distant third by shooting a 308 and New Canaan took fourth with a total of 313.
Fretty finished tops on the team with an even-par 71, while Ropiak was right on his heels and netted a 1-over par 72. Nail fired a 74 on the day, while teammate Donnellan scored a 4-over par 75. Tyler Sudell rounded out the five GHS athletes with a 7-over par 78.
Ropiak said that repeating both the FCIAC and state Division I championships shows Big Red's togetherness and how unified they were in their goals. But, he also said that it wasn't easy by any stretch of the imagination.
"We knew this was going to be really tough," Ropiak said. "Darien didn't win FCIAC or States, but they are just as talented as us. They are an incredibly great team with a great future. Last year we were cockier, but this year we knew that we had to get down to business because there were better teams out there this time around. The fact that we won again is amazing and a great feeling."
For Santilli, the key to winning both the FCIAC and Division I tournaments this year were two simple words.
"Be patient," Santilli said. "They let it come to them and didn't press. They knew that they had time to make up some wild shots, so being patient and mentally prepared was the huge difference in the past few weeks."
And winning the Division I championships had special meaning for three GHS athletes. Fretty, Ropiak and Nail have been playing varsity golf since freshman year. They have experienced the highest of highs and a few big-time lows. But, they have done it together and that's something special for the trio.
"It was huge to have that core from freshman year," Fretty said. "Ben, Billy and I know each other really well and know how to pick each other up and motivate each other. It was special to see us come together one last time and pull off something very special."
Ropiak said that it's quite a ride with the senior trio and the experiences with them will be etched in his memory forever.
"When the team was first put together as freshmen, we had aspirations of great things," Ropiak said. "There was a steep learning curve. We didn't win anything freshman year and we were disappointed by that. We learned the value of hard work and being a team. I think having such depth and being together for as long as we have is part of the reason we have won back-to-back states and county championships. We know each other and are comfortable with each other and understand that we can pick each other up."
Santilli said that having them play together since freshman year was instrumental to the team's recent success.
"They have been playing junior golf together since seventh grade in the same tournaments outside the circuit and playing high school golf together since freshman year back in 2016," Santilli said. "They all have their own unique personalities, but they have always known out there that they are supported by the other two. If they aren't playing their best, the other two will most likely pick them up."
"From setting the state tournament scoring record of 293 last year to winning our third straight FCIAC championship with a score of 292 this year, Jackson, Ben and I have left a legacy that will live forever," said Nail.