June 13, 2019
Finding Mrs. Royce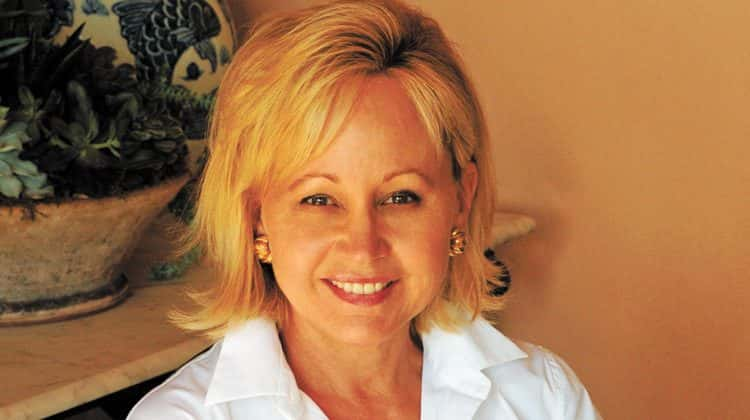 A conversation with Deborah Goodrich Royce about her new novel, Finding Mrs. Ford.
By Icy Frantz & Becky Ford
A couple of years ago the three of us—Deborah Royce, Icy Frantz and Becky Ford—started a writing group with a few friends to meet monthly and support each other. This month one of us goes legit with her first book: Finding Mrs. Ford by Deborah Goodrich Royce. On the eve of publication, we sat down to discuss Finding Mrs. Ford with Deborah—how she came to write it, the plot the process and (not least) how she balances writing with her very full life.
Finding Mrs. Ford is—as Kirkus Reviews recently said, "A compelling, well-written thriller with an effective, twisty plot."—set in two times and places: modern day Watch Hill, RI, an affluent seaside community, and Detroit, MI, where college seniors Susan and Annie find themselves serving cocktails in skimpy outfits in a disco in 1979. Back in Watch Hill the past, it seems, has finally caught up with Susan when two FBI agents visit her in her seaside home. 1979 rushes back with a vengeance at the mention of Sammy Fakhouri, an Iraqi Chaldean and Susan's summer romance from the disco, whom she denies ever knowing. "That's odd," one of the agents says, "because he knows you." And so begins the unraveling of a mystery set in motion that fateful summer.
Icy: Let's start with the book. You've done a lot in your life—artist, executive, philanthropist, mom—why did you want to write a novel?
Deborah: I like to call myself a mature debutante. [Laughs] I tell people that the youngest child left the house and I got the real estate in my brain back. Which is kind of a joke, but not a joke. In all honesty, I've been coming to this for a long time, this story set in a discotheque the summer of 1979.
Becky: The settings are very specific and very carefully drawn. Do they have meaning for you personally?
Deborah: A lot. I grew up in Michigan. I went to college in Ohio. I use things from my life that are pertinent to the main characters. I play with names. My maiden name was Goodrich, my married name is Royce. Susan starts out as Bentley, then becomes Ford. They are all automotive names and I do love Detroit. And I did work in a disco for a summer job!
Icy: Doing what?
Deborah: I was a cocktail waitress and felt exactly the way I described Susan, like I was Margaret Mead going into some distant foreign culture. It was a fascinating world that was the polar opposite to the collegiate world I normally inhabited.
Becky: Susan and Annie are the co-ed protagonists and unlikely friends. Are you a Susan or an Annie or a both?
Deborah: That's really the big question. Look at Gone With The Wind, a book that employs contrasting female archetypes. My character Annie is the Scarlett type and Susan is definitely Melanie. As I began the book, I identified with Susan, but the more I wrote Annie, the more I came to like and relate to her as well. Like Scarlett she's just indomitable. There's a survivor quality to her and an unquenchable love of life. Readers of early drafts of Finding Mrs. Ford would ask me why a nice girl like Susan would follow a crazy girl like Annie into a disco, but I was like that as a young girl. I was dazzled by big personalities. I think a lot of us are. And, in the end, I would say that most of us have a bit of both types of women within us.
Icy: How much research beyond your own experience, life and environment did this book take?
Deborah: I did a lot of research. I had an inbuilt interest in the Chaldean people from when I worked in the disco. There is a large population of Chaldeans in the Detroit Metropolitan area and I was intrigued with their history. And then, exactly when I started writing this book, ISIS was marching on Mosul and the very homeland of the Chaldeans. They were going into that exact region and persecuting those exact people. It all just dovetailed into this story and was the trigger for Sammy Fakhouri.
Becky: You have a very precise, formal voice that gets extended to your characters. How did you develop your voice?
Deborah: My voice is my voice and I've learned over time to have confidence in it. Because of the Avon, I had a relationship with Gene Wilder whom I worshiped and admired beyond description. At one point, I shared a screenplay with him and he gave me some notes and a tremendous amount of encouragement. I think I found my voice by using my voice. I heard Margaret Atwood say you learn to write by writing and I think as you put it on the page and other people give you the feedback that you're not crazy or in some self-deluding vacuum, you find your voice.
Icy: Is there a scene that stands out? One you really loved writing?
Deborah: I loved writing Susan's memories of her husband, Jack. It's no secret to anyone who's ever met my husband that Jack Ford is very much based on Chuck Royce. I actually might get emotional talking about it. I feel like I was able to capture Chuck in a way. Not everything about him, obviously, but there's something of him that was put on the page through this fictional character that I may not have been able to do so easily with the real person. By creating a character modeled on my husband, I was able to pick and choose salient points. Because Susan is both a grieving widow and a woman who finds herself in a moment of real crisis with the past closing in on her, she uses this trick of conjuring up memories to mentally escape her present situation. She gets so deep into those memories it's like she's having an out of body experience. It was really enjoyable to write those little vignettes of him.
Becky: How long did it take you to write Finding Mrs. Ford?
Deborah: From the first word on the page to having a first draft was one year. At that point, I attended a writer's conference where I was able to speak with an agent and an editor from New York. The editor was incredibly helpful. Her analysis of my book at that point was that it was "a layer cake" when what it needed to be was "braided bread." That was a great analogy. The agent was more difficult. I don't think he had actually read my sample. So I pitched the story to him and he was very harsh. But that turned out to be useful too. I mean, you will always run into those people, no matter what you do. It is important to be able to take what is helpful from what they say and keep going. At the same conference, I met and began working with a different editor. Then, a year after that, I got an agent. She loved my writing and the surprises in the book, but she asked me to bring it more into the realm of thriller. The next two years were composed of revisions, submissions, rejections, and more revisions. Then we got an offer—actually two offers! And this last year has been all of the work to finalize the book for publication. That's a total of five years.
Icy: Did you ever totally disagree with your editors or agent?
Deborah: Yes, I did. In the last round, there was a suggested change—and it's stuff I can't really reveal because of the nature of the plot—but there was something. I think of my book as structured like a roller coaster ride. You go up up up, then crash down, then you do it again. Had I made the suggested change, it would have been more like the scrambler ride. I made my case, I was heard, and the structure stayed as it was.
Icy: What is your process like? When do you write?
Deborah: I don't have a regular schedule because of my commitments. Most writers say they write at the same time every day, but I can't do that. So I go forward in my calendar about three months and I block off 3-6 hour chunks almost every day. Once those time slots are on the calendar, they are sacred. And I don't take my phone into my writing space!
Becky: You're an artist who doesn't have to be in the mood to write? You just sit down and do it?
Deborah: Mostly, yes. I'm going to be the poster child for this later post-children stage of life. This has been such a creatively rich period. If I could say anything to younger women it's that there's a tremendous shift in the mid-fifties that's really liberating. Your time becomes more your own. Also, because of my age I've felt a sense of immediacy in that I wanted to get this done. I have written plenty in the past that I have set aside for later. Later does not always come. I don't want to do that now.
Icy: Can you speak to the importance of a good title and cover?
Deborah: I had several working titles of Finding Mrs. Ford. Most of them had to do with social mobility—Mrs. Ford certainly rises in the world from her humble beginnings and I wanted to allude to that. It was my stepdaughter, Wesley, who was a book editor for some years, who first suggested Mrs. Jack Ford as a title. I played with versions using Mrs. Ford then it just kind of came to me. Finding Mrs. Ford says it all because that what it's really about—finding this person. My agent wanted to call it Watch Hill—which is a great title because it is the name of the place but it also has an ominous something-is-coming side to it, like Cape Fear.  But Chuck thought we might get kicked out of town! [Laughs]
Icy: And the cover. It's so striking!
Deborah: I love the cover beyond words. As you know, I worked with you, Becky, and Cassandra Tai-Marcellini, a graphic designer, to come up with the concept. The beautiful looming hydrangea, the weirdness of the question mark necklace snaking through the flower petals and the unsettled feeling from the partially obscured title. It is all there, beauty with discomfort, serenity with suspense. Let me just say that the public's reaction to this cover is overwhelmingly positive. It draws readers to the book for the exact reasons that they will enjoy what is inside.
Becky: You have a very full life: the Avon Theater, your various hotel restorations, the boards you serve on, causes you champion and a young, energetic and multi-limbed family. How do you balance all of that with writing?
Deborah: I've seriously cut back. I dropped off of boards. I stopped playing bridge. I don't go to lunch. My writing time is sacred. I sometimes don't travel with my husband. The way I do it all is I don't do it all. Let me repeat that. I REALLY do not do it all. I have given up activities to fit writing into my life.
Becky: Do you have any advice for aspiring writers?
Deborah: I think joining writing groups is one of the greatest things I've ever done. Writing is such a solitary pursuit that sometimes you have no idea if what you're doing relates to other people. Not that you need to be a slave to people's opinions, but over time it helps to get a feel about what you are writing from those people whose opinions are meaningful to you. And know that if something is true for you it's going to be true for someone else. Your people will get it.
Icy: What's next? Is there another book?
Deborah: Yes! I'm working on a book called Ruby Falls, which is more gothic, like Daphne du Maurier's Rebecca. But for now, I want to honor Finding Mrs. Ford by doing the book tour and book clubs and all the events we've scheduled. It's really exciting.
Please join us to celebrate the publication of Finding Mrs. Ford on June 26th at the Christ Church Bookstore at 254 E Putnam Ave in Greenwich from 6:30-9:30pm. Deborah will do a book talk at 7pm then join us for a disco dance party from 8-9:30. Light refreshments will be served and plenty of books will be available. RSVP: www.christchurchbooksandgifts.com
Support local authors and bookstores!
Tags:
"A compelling
,
"because he knows you." And so begins the unraveling of a mystery set in motion that fateful summer. Icy: Let's start with the book. You've done a lot in your life—artist
,
" one of the agents says
,
a book that employs contrasting female archetypes. My character Annie is the Scarlett type and Susan is definitely Melanie. As I began the book
,
A couple of years ago the three of us—Deborah Royce
,
a graphic designer
,
a year after that
,
an affluent seaside community
,
an Iraqi Chaldean and Susan's summer romance from the disco
,
and Cassandra Tai-Marcellini
,
and Detroit
,
and more revisions. Then we got an offer—actually two offers! And this last year has been all of the work to finalize the book for publication. That's a total of five years. Icy: Did you ever totally
,
and the structure stayed as it was. Icy: What is your process like? When do you write? Deborah: I don't have a regular schedule because of my commitments. Most writers say they write at the same time
,
beauty with discomfort
,
because of my age I've felt a sense of immediacy in that I wanted to get this done. I have written plenty in the past that I have set aside for later. Later does not always come. I don't want to do th
,
Becky
,
but I can't do that. So I go forward in my calendar about three months and I block off 3-6 hour chunks almost every day. Once those time slots are on the calendar
,
but I was like that as a young girl. I was dazzled by big personalities. I think a lot of us are. And
,
but not a joke. In all honesty
,
but over time it helps to get a feel about what you are writing from those people whose opinions are meaningful to you. And know that if something is true for you it's going to be true for someone els
,
but she asked me to bring it more into the realm of thriller. The next two years were composed of revisions
,
but the more I wrote Annie
,
but there's something of him that was put on the page through this fictional character that I may not have been able to do so easily with the real person. By creating a character modeled on my husband
,
causes you champion and a young
,
energetic and multi-limbed family. How do you balance all of that with writing? Deborah: I've seriously cut back. I dropped off of boards. I stopped playing bridge. I don't go to lunch. My writing tim
,
exactly when I started writing this book
,
executive
,
formal voice that gets extended to your characters. How did you develop your voice? Deborah: My voice is my voice and I've learned over time to have confidence in it. Because of the Avon
,
has finally caught up with Susan when two FBI agents visit her in her seaside home. 1979 rushes back with a vengeance at the mention of Sammy Fakhouri
,
I attended a writer's conference where I was able to speak with an agent and an editor from New York. The editor was incredibly helpful. Her analysis of my book at that point was that it was "a layer
,
I did. In the last round
,
I got an agent. She loved my writing and the surprises in the book
,
I had a relationship with Gene Wilder whom I worshiped and admired beyond description. At one point
,
I identified with Susan
,
I met and began working with a different editor. Then
,
I shared a screenplay with him and he gave me some notes and a tremendous amount of encouragement. I think I found my voice by using my voice. I heard Margaret Atwood say you learn to write by writing
,
I want to honor Finding Mrs. Ford by doing the book tour and book clubs and all the events we've scheduled. It's really exciting. Please join us to celebrate the publication of Finding Mrs. Ford on Ju
,
I was able to pick and choose salient points. Because Susan is both a grieving widow and a woman who finds herself in a moment of real crisis with the past closing in on her
,
I was heard
,
I worked with you
,
I would say that most of us have a bit of both types of women within us. Icy: How much research beyond your own experience
,
I've been coming to this for a long time
,
Icy Frantz and Becky Ford—started a writing group with a few friends to meet monthly and support each other. This month one of us goes legit with her first book: Finding Mrs. Ford by Deborah Goodrich
,
in the end
,
ISIS was marching on Mosul and the very homeland of the Chaldeans. They were going into that exact region and persecuting those exact people. It all just dovetailed into this story and was the trigger
,
it seems
,
it would have been more like the scrambler ride. I made my case
,
Jack. It's no secret to anyone who's ever met my husband that Jack Ford is very much based on Chuck Royce. I actually might get emotional talking about it. I feel like I was able to capture Chuck in a
,
life and environment did this book take? Deborah: I did a lot of research. I had an inbuilt interest in the Chaldean people from when I worked in the disco. There is a large population of Chaldeans in
,
like Cape Fear. But Chuck thought we might get kicked out of town! [Laughs] Icy: And the cover. It's so striking! Deborah: I love the cover beyond words. As you know
,
like Daphne du Maurier's Rebecca. But for now
,
like I was Margaret Mead going into some distant foreign culture. It was a fascinating world that was the polar opposite to the collegiate world I normally inhabited. Becky: Susan and Annie are the co
,
MI
,
mom—why did you want to write a novel? Deborah: I like to call myself a mature debutante. [Laughs] I tell people that the youngest child left the house and I got the real estate in my brain back. Whic
,
my married name is Royce. Susan starts out as Bentley
,
no matter what you do. It is important to be able to take what is helpful from what they say and keep going. At the same conference
,
obviously
,
philanthropist
,
rejections
,
RI
,
serenity with suspense. Let me just say that the public's reaction to this cover is overwhelmingly positive. It draws readers to the book for the exact reasons that they will enjoy what is inside. Bec
,
she uses this trick of conjuring up memories to mentally escape her present situation. She gets so deep into those memories it's like she's having an out of body experience. It was really enjoyable to
,
submissions
,
the boards you serve on
,
the more I came to like and relate to her as well. Like Scarlett she's just indomitable. There's a survivor quality to her and an unquenchable love of life. Readers of early drafts of Finding Mrs. For
,
the plot the process and (not least) how she balances writing with her very full life. Finding Mrs. Ford is—as Kirkus Reviews recently said
,
the weirdness of the question mark necklace snaking through the flower petals and the unsettled feeling from the partially obscured title. It is all there
,
then becomes Ford. They are all automotive names and I do love Detroit. And I did work in a disco for a summer job! Icy: Doing what? Deborah: I was a cocktail waitress and felt exactly the way I descr
,
then crash down
,
then you do it again. Had I made the suggested change
,
there was a suggested change—and it's stuff I can't really reveal because of the nature of the plot—but there was something. I think of my book as structured like a roller coaster ride. You go up up u
,
they are sacred. And I don't take my phone into my writing space! Becky: You're an artist who doesn't have to be in the mood to write? You just sit down and do it? Deborah: Mostly
,
this story set in a discotheque the summer of 1979. Becky: The settings are very specific and very carefully drawn. Do they have meaning for you personally? Deborah: A lot. I grew up in Michigan. I we
,
to come up with the concept. The beautiful looming hydrangea
,
twisty plot."—set in two times and places: modern day Watch Hill
,
we sat down to discuss Finding Mrs. Ford with Deborah—how she came to write it
,
well-written thriller with an effective
,
Wesley
,
where college seniors Susan and Annie find themselves serving cocktails in skimpy outfits in a disco in 1979. Back in Watch Hill the past
,
which is more gothic
,
who first suggested Mrs. Jack Ford as a title. I played with versions using Mrs. Ford then it just kind of came to me. Finding Mrs. Ford says it all because that what it's really about—finding this pe
,
who was a book editor for some years
,
whom she denies ever knowing. "That's odd
,
yes. I'm going to be the poster child for this later post-children stage of life. This has been such a creatively rich period. If I could say anything to younger women it's that there's a tremendous s
,
you find your voice. Icy: Is there a scene that stands out? One you really loved writing? Deborah: I loved writing Susan's memories of her husband
,
you will always run into those people
,
your various hotel restorations