June 7, 2019
Greenwich Native Janis to Debut New Musical Special on CPTV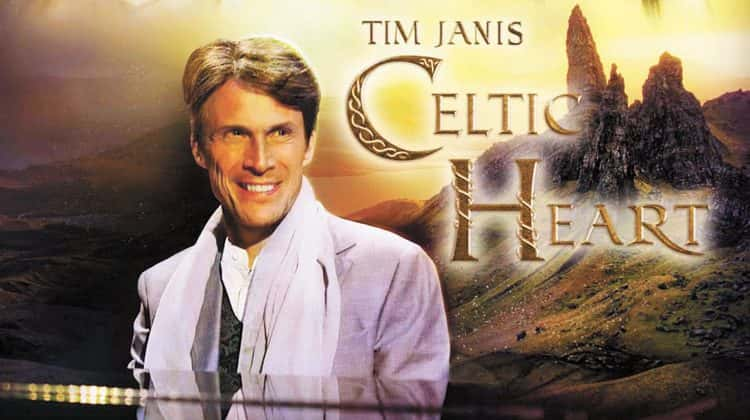 By Paul Silverfarb
Sentinel Editor
Although he has performed all over the world and has picked up quite the following throughout those experiences, Tim Janis hasn't forgotten where he came from.
The legendary music composer, who grew up and calls Greenwich home, is once again giving back to the community that has supported him throughout is musical journey. As part of the Connecticut Public Television annual pledge drive, on June 9 and 10, Janis will help raise money and will also debut his newest special, Celtic Heart.
"I always think that a community is like your extended family, so you kind of support one another," Janis said. "My brother and his family are in Greenwich, and I am so excited with how connected they are to the community. I always feel a part of it, although I have been traveling all over in my life. Connecticut and Greenwich will still feel like home to me."
Celtic Heart will broadcast on CPTV at 5 p.m. on June 9. A day later the music event will rebroadcast on CPTV at 9:30 p.m.
Janis grew up in Greenwich and still has family in town. Connecticut Public Television was where the talented musician hosted his first PBS special nearly 20 years ago. That event was taped at Lincoln Center, in New York, with the American Symphony Orchestra. Having grown up outside of New York, Janis said he felt that would be a perfect starting point.
Since then, Janis has been involved in five other PBS specials, with a sixth one coming out June 8.
"It's great to work with stations across the country, but it's great to be really debuting it in Connecticut, where it all started for me," Janis said.
Janis said that his most recent event for the CPTV pledge week is a special one. It's a concert that was recently taped up in York, Maine, and Janis said that the setting turned out to be absolutely perfect.
"When we did this concert up in Maine, the people there just really loved it," Janis said. "We shot it outside for part of it and it actually was snowing two days before and we had a sunny day for the concert. The scenery just meshes so well and gives a feeling, with the rocks and oceans, that it all blends well with the Celtic theme."
Celtic Heart features two of the original Celtic Women members, Máiréad Nesbitt and Lynn Hilary. In addition, YouTube stars The Harp Twins, Camille and Kennerly Kitt, will be performing. The Kitt sisters have over 580,000 followers on YouTube and have covered classic songs like Led Zeppelin's Stairway to Heaven, Iron Maiden's Fear of the Dark, Guns N Roses' Sweet Child O' Mine, Metallica's Nothing Else Matters, and more. Each one of these songs has well over one million views on YouTube.
Two-time All-Ireland title holder and Irish flutist Eimear McGeown, as well as Ella Roberts, the 2018 Australian Celtic Music Awards Female Artist of the Year, will also perform.
"It's such an incredible group that came together," Janis said. "It's all new and original music and has 19 songs. We also showed visuals from six different Celtic regions, so it's a beautiful musical journey that's very new and very creative. If you love Celtic music, it's perfect. It has all those beautiful elements."
To debut this to the Greenwich community and surrounding areas is very meaningful to Janis. Janis said that his history as a musician has been a very grassroots story.
"I've been on public television and QVC and done all sorts of things," Janis said. "I've performed all over Connecticut for many years, so to display this show in Connecticut is so rewarding. I know it will reach a lot of people that have known me throughout the years. Having that early relationship with CPTV where they showed my first PBS special, I am just really grateful for having this relationship, so that way I can bring this to people that have known my music over the years."
And this certainly won't be the last time to see Janis perform. Coming off the success of creating and directing Buttons: A New Musical Film last December, Janis said another movie is currently in the works. In addition, Janis will be back in the tri-state area on Dec. 8 when he once again travels to the iconic Carnegie Hall for his annual Christmas concert.
"It's such a great place to play as a musician," Janis said. "The hall sounds amazing. The facilities are amazing. Every bit of the equipment is amazing. It's like the Cadillac of theaters. And, we make it a very friendly environment. We bring in a lot of young performers and mix them with professionals. So it has a very family feel to it during that show."
Tags:
CPTV
,
greenwich
,
PBS
,
Tim Janis
,
Town of Greenwich