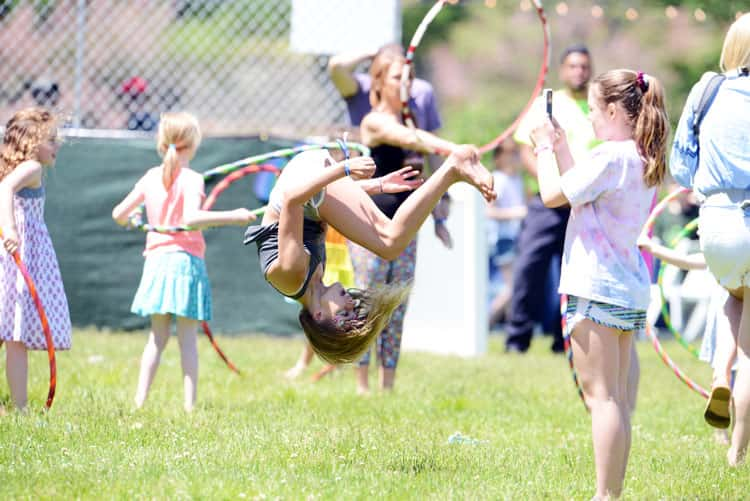 By Liz Leamy
Sentinel Correspondent
This past Saturday, over 6,500 people packed the Roger Sherman Baldwin Park on Arch Street to celebrate the start of the warm-weather season at the 2019 Greenwich Town Party.
This annual, and wildly popular, community-based event, initially formulated by Ray Dalio, the prominent American investor, hedge fund manager and philanthropist, back in 2010, was a resounding success on all fronts, as spectators socialized with one another, relaxed and enjoyed the music of such legendary Rock and Roll Hall of Fame musical acts as Lynyrd Skynyrd and the Beach Boys, as well as Buddy Guy, the blues legend and five-time Grammy winner; Caroline Jones, the Greenwich native who was touted by Rolling Stone Magazine in 2018 as a "Country Artist to Watch;" Grammy-nominated Trombone Shorty; and the 8Track Band, an area rock band, all of whom played on the big stage.
Other musicians playing at this event included, among others, the Greenwich High School Jazz Ensemble, the Rock Ensemble of the 102nd Army Band-Rip Cord from Rockville, Connecticut, and Charlie King & the Next Big Thing, of Greenwich.
"This event has been absolutely incredible, and we are so fortunate to have something like this," said Carolyn Arcuri, owner and manager of Carolyn Dempsey Designs, an event and party-planning business based in Port Chester, NY, who lives in Greenwich with her husband, Gino and their three children, Sherlynn, Tigin and Sam. "I've been coming to the Greenwich Town Party since its inception and I've always had a ball."
Others agreed this was definitely a day to remember.
"This has been a magnificent day," said Stephanie Dunn Ashley, a Greenwich resident who has been attending the GTP since 2010 and who helped coordinate the Greenwich Hospital Foundation's Under the Stars event, held at Riverside Yacht Club several weeks prior. "The weather has been beautiful, the musical talent has been incredible and there are so many people here who have helped make this such a remarkable event, which is a testament to the Dalios and everyone else involved."
In addition to the extraordinary musical lineup, this year's GTP featured an extensive array of food vendors, including Aux Delices, Bella Nonna, Bobby Qs, Burger, Shakes and Fries and a Chipwich truck.
"The music has been great, and we've been enjoying visiting all of the different food vendors," said Sarah Nethercott of Rye Brook, NY, attending the GTP for the first time. "I especially liked the Chipwich stand, which was fun because it was entirely dedicated to all things Chipwich."
At the same time, vendors with material wares were also a big draw, with the GTP merchandise area being an especially heavily-trafficked area for spectators buying items such as tee shirts, hats, water bottles and other memorabilia emblazoned with the logo marking this memorable event.
"We've had such a great time here with everyone," said Silvani D'Agostino, owner and manager of Party Staffers and proprietor of the GTP merchandise venue who has been running this vending area for the past five years. "Everyone has been so awesome. We've had great weather, the music has been fantastic, and it's just been an incredible time all around."
From the start of the GTP until 2 p.m., there was an area offering activities for children that included demonstrations by magicians, bouncy houses, hula hoops and face painting, among other things.
"This was one of the many big events here today and you could see that everyone was having a great time," said Kerri Ryan, who helped coordinated and manage the 150-member volunteer contingent at the GTP this year. "I thought this year's Greenwich Town Party was really special. It was a beautiful day and everyone seemed to get along and work so great together. This was an event that I'll always remember."
Without a doubt, the GTP seemed to be the main stopping ground for many last Saturday, and the crowd included prominent political figures such as Greenwich residents Governor Ned Lamont, Richard Blumenthal, the U.S. Senator from Connecticut, and Fred Camillo, Connecticut State Representative for the 151st District.
Scott Weicker, a Greenwich resident who has helped coordinate the GTP for many years, and whose father, Lowell Weicker, is a former Connecticut Governor and U.S. Senator and U.S. Representative from Connecticut, was also there.
An online auction was held all week through Sunday to help raise funds to support the sustainability of the GTP. This auction included such offerings as Wings Air Helicopter tours, tickets to the U.S. Open, a Roar Africa eight-day South African vacation and a Panerei Luminor Marina Logo watch from Betteridge, among other things.
This year's GTP, in its usual fashion, featured a big faction of non-profit and community partners, including the Town of Greenwich, Audubon of Greenwich, Greenwich Historical Society, Greenwich Hospital, Abilis, Boys and Girls Club of Greenwich, the YWCA and YMCA, Bruce Museum and Family Centers, among other organizations.
All day, the buzz among everyone seemed to be that this was a runaway hit on all fronts, as the weather was excellent, the entertainment was amazing and the food was outstanding. "This is a great community event where you see so many people and it really brings everyone together," said Camillo. "It's always good being here, the bands are great, the food is excellent and everyone seems to really be enjoying themselves, which is the best thing of all."
Extraordinary Musical Acts Bring Together the Crowd  
The extraordinary musical lineup of this year's GTP, in typical fashion, exceeded its usual superior standard.
In fact, the superb musicianship of this year's roster of performers seemed to bring the entire crowd together, who sang, tossed beach balls around, laughed and applauded the talents and skills of these entertainers throughout the entire day and night.
During the afternoon, Caroline Jones, the esteemed pop country singer and songwriter from Greenwich, who has been the opening act for Jimmy Buffett and most recently Kenny Chesney, among other superstar musical groups and players, wowed the crowd.
"I loved watching Caroline Jones perform; she was just great," said Stephanie Dunn Ashley, who said Jones was the star performer at the Greenwich Hospital's Under the Stars event in 2018. "She is so talented and accomplished and it's wonderful to see her."
Later that afternoon, the Beach Boys, the high-energy, American-based band who took the world by storm during the 1960s and 1970s with their songs about the Southern California teenage culture of cars, girls and surfing, rocked the crowd with their gold and platinum-record tunes.
Lead by Mike Love, one of the original Beach Boy members, the group sang such classics as, "Surfin Safari," "Good Vibrations," "Help Me Rhonda" and "California Girls," among other classics, and were a huge hit with the GTP audience.
"I grew up listening to the Beach Boys," said Carolyn Arcuri. "Their music is timeless and it was amazing to see them here today. They were so much fun."
Lynyrd Skynyrd, the powerhouse Rock & Roll Hall of Fame band who started out in Jacksonville, Fla., and whose extensive list of gold and platinum-record songs include such contemporary American cultural anthems as, "Sweet Home Alabama," "Gimme Three Steps" and "Free Bird," brought down the house and made for a stunning final evening show. This iconic Southern, blues and hard rock band, which announced in 2018 that this performance would be part of their final farewell tour, stormed onto the stage and wowed the crowd as its lead singer, Johnny Van Zant, led the group with his incredible enthusiasm, musicianship and energy.
During this performance, Van Zant held the American Flag up over his head and talked about his respect and gratitude for those soldiers who defended the U.S. over the years.
Van Zant also told the audience how much he appreciated the support of everyone in the crowd and thanked the GTP organizers and Town of Greenwich for inviting his band to perform at the event.
"The bands were fantastic and you can see that everyone has been having a really great time," said Frank D'Agostino, husband of Silvani D'Agostino, who was helping his wife manage and run the GTP merchandise area. "We've had such an amazing time at this event. The music, crowd and energy here have all been incredible."
Members of the Rockville, Connecticut-based group, RipChord, the Rock Ensemble of the 102nd Army Band, who put on a supercharged show during the afternoon, seemed to sum up the GTP perfectly. "This event is a gem in every sense of the word. Everybody has been fantastic and it's been an honor to play here on Memorial Day weekend and honor those who gave their lives for us," said Dave Finn, lead singer of Rip Cord-the Rock Ensemble of the 102nd Army Band. "This has been a perfect venue and a perfect celebration to honor those soldiers who helped give us the freedom we have today."
Finn said he and his bandmates hope to come back to play at the GTP again.
"We have such a sense of pride having had the opportunity to have played here today, and this has been a commemoration of honoring the past as well as the present," said Finn. "I would love to come back again next year and do this all over again."