May 30, 2019
Christ Church Choirs Celebrate 85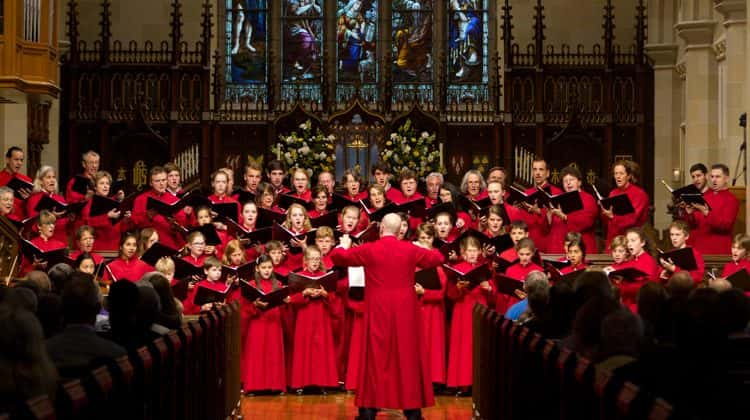 Rejoice! The Christ Church Choirs Are More Amazing Than Ever
"Rejoice!" celebrates 85 years of music-making at the heart of the community for the Choirs of Christ Church Greenwich. The spring choral showcase takes place on Saturday, June 1, beginning at 5 p.m. in the Christ Church Greenwich sanctuary.
"This is an exciting time for choral music fans in our community," says Jamie Hitel, Director of Music, Christ Church Greenwich. "Under new church leadership, Christ Church Music has gone from strength to strength. Its mission of immersing young performers in choral music has never been more relevant, building community and forming an appreciation of artistic endeavor. As a result, our choirs have seen more than 10% growth, as parents and young people realize the intellectual and personal benefits of a unique choral education in their own backyard."
The choral showcase begins at 5 p.m. Everyone is invited to drop in and observe the Christ Church Choirs in rehearsal. Information will be available about opportunities for singing at Christ Church.
At 6:00pm, prospective choir parents will be invited to a reception and Q & A session, while children enjoy will pizza and supervised games.
The event concludes at 7:00pm, with a 45-minute choral concert. The program will include music from across the centuries, as well as a piece for combined choirs written especially for the choirs of Christ Church Greenwich.
All are invited to one or all parts of this choral showcase, and no previous singing experience or religious affiliation is necessary.
Jamie Hitel continues: "Our mission of excellence in choral performance for young people accords with the vision of our new Rector, Rev. Marek Zabriskie, who aims to build on the strengths of the music program to invite new people into our church community. Christ Church Music is already known for its musical strength across the world; our goal with this choral showcase is to re-introduce this rich educational offering to the local Greenwich community. We invite the public to join us for this wonderful time of music-making and fun."
Christ Church Music is a renowned world-class RSCM-certified church music program. A model of the Anglican choral tradition with a rich history and global reach, it offers eight active choirs, concerts, tours, and a vibrant teen scholar program. From enriching liturgy and worship, to training musicians, Christ Church Music creates community and develops musical excellence. Striving to foster and strengthen a lifelong appreciation for music in children and adults, the program offers abundant opportunities for singers, instrumentalists, and listeners.
Christ Church Choirs celebrate their 85th anniversary this year. Since 1934, the choirs of Christ Church Greenwich have been been home to hundreds of girls and boys, providing them with quality musical education in vocal technique, music theory and history, as well as frequent performance opportunities, and a small monetary allowance. In addition, social activities foster friendships and fun, including sports, camp, tours. No previous musical experience or religious affiliation is required.
The Senior Warden of Christ Church Greenwich, George Belshaw, is a parent of two children that have gone through the chorister training program: "Our daughter joined the choir in 3rd grade and is now a choral scholar at the University of the South, Sewanee. The musical education she has experienced is unparalleled in Greenwich. Performing weekly and touring has taught her to be an inspiration to the younger girls and a well rounded young adult. Our nine year old boy recently joined the choir and has already shown great strides in his musicality plus he has made lots of friends. The musical talent and quality of teaching they experience is so impressive."
Christ Church Greenwich recently appointed Jonathan Vaughn as Associate Director of Music. An acclaimed organist with extensive teaching experience, Jonathan's service includes Wells Cathedral and St. Edmundsbury Cathedral in the UK. He is a former organ scholar of St. John's College, Cambridge, and St. George's Chapel, Windsor Castle. Jonathan became a Fellow of the Royal College of Organists at the early age of sixteen and has won top prizes in organ playing.
Renowned organist and composer Philip Moore is Visiting Artist at Christ Church Greenwich, and will be present at the choral showcase to conduct his own music and meet parents of prospective choristers.
For more information, visit christchurchgreenwich.org
Tags:
anniversary
,
Choirs
,
christ church
,
greenwich