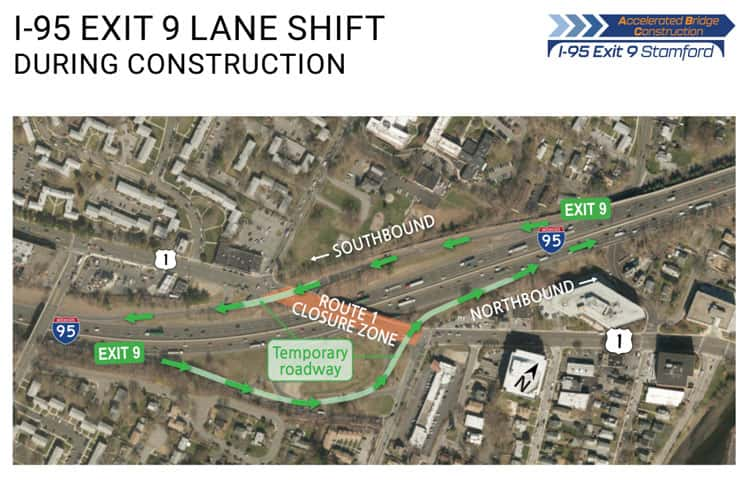 By Paul Silverfarb
Sentinel Editor
Although the traffic nightmare from the I-95 bridge replacement will take place mainly in Stamford, Greenwich will certainly have its share of headaches.
Lt. John Slusarz, Greenwich Police Department's Public Information Officer, is overseeing the town's traffic situation during the construction in Stamford.
"The best thing to do is plan for the worst and hope for the best," Slusarz said. "Obviously, when I-95 gets shut anywhere within a proximity, there are delays. The off ramps are going down to 20 miles per hour, and we expect the delays to back up through Greenwich. So, we are planning for that. Time will tell how much of a delay it will cause."
The closure of I-95 in Stamford at Exit 9 will take place over the course of the next two weekends.
Starting at 6 p.m., on May 31, Exit 9 on-ramps, on both I-95 North and South, will be closed, and Route 1 will be reduced to only one lane in both directions. At 9 p.m., the Exit 9 off-ramps on both I-95 North and South will close, and Route 1 will close to all traffic between Courtland Street and Seaside Avenue.
Two hours later, motorists along I-95 in both directions will be detoured onto two-lane temporary roadways located at the on and off ramps.
That will remain in effect until June 3, at 5 a.m., when all I-95 travel lands and Exit 9 on and off ramps will be open. In addition, Route 1 will be open to through traffic.
The same procedure will stay in effect starting on Friday, June 7 at 6 p.m. and last until June 10, at 5 a.m.
"The Greenwich Police Department continues to work with the Connecticut Department of Transportation and the Connecticut State Police to ensure public safety during this project over the next two weeks," said Greenwich First Selectman Peter Tesei. "While Greenwich Police will have additional staff on duty to assist with traffic flow, motorists who decide to venture out on local roads are advised to exercise extra patience during these two weekends. Traffic backups and delays will be inevitable."
And, if the traffic isn't bad enough coming through Greenwich due to the bridge replacement, several big events will be taking place throughout town, such as the Greenwich High School senior prom, the Greenwich International Film Festival and the Greenwich Concours d'Elegance, which will take place at the Roger Sherman Baldwin Park.
In addition, there will be many weekend motorists on both the I-95 and the Merritt Parkway during this time, traveling to Foxwoods, Mohegan Sun, Newport, Cape Cod, Connecticut beaches and state parks, or other tourist destinations.
"The bridge construction project is expected to have a serious impact upon local traffic," said Tesei. "Town residents are encouraged to conduct routine weekend errands and shopping earlier in the week as traffic along the Route 1 corridor, I-95, the Merritt Parkway and adjacent roads will be overwhelming."
Despite the massive amount of additional traffic that could possibly enter Greenwich, Slusarz said that the town is prepared.
"We can't control the amount of cars that come through our area," Slusarz said. "People are going on vacation, out to the Cape and other locations. The state has done a tremendous job in notifying people through a variety of sources. So we think most people will be aware of what's happening. The next step is to get people to be prepared when they come by."
Whenever there is an event that may result in significant traffic delays, the GPD swings into action. Slusarz said that they plan ahead, so that emergency vehicles can get from where they are to where they need to be as efficiently as possible.
"We have all that squared away, and now we are waiting for game day," Slusarz said.
According to the State of Connecticut website, the bridge replacement, which costs about $15 million, is taking place because the original bridge has reached the end of its lifespan. The bridge replacement project is called Accelerated Bridge Construction and was used to replace two bridges on both I-84 in Southington and on Route 8/25 in Bridgeport.
The website i95exit9.com states that the Accelerated Bridge Construction is a building technique that significantly reduces the amount of time required to replace a bridge. Bridge components are built ahead of time and then fit together during the construction phase.
"If this bridge were replaced using traditional construction methods, the project would take approximately two years," according to the website.
Slusarz said it's vital for motorists to plan on spending extra time getting to destinations. In addition to making sure vehicles are fueled up before coming to this area and are in good shape to avoid breaking down in traffic, Slusarz has some other helpful tips.
"First off, if you don't have to travel through this area, don't," Slusarz said. "There's going to be a lot of delays. If you have to travel through this area and can't take an alternate route, plan for it by giving yourself plenty of extra time. Also, please be patient. That's most important. Everybody on the road has somewhere they need to go. We are all in this together."
Slusarz also said that while the construction will be located on I-95 in Stamford, he believes the Merritt Parkway will see a large increase in cars during the closures. And, for truck drivers looking to shave a few minutes off travels by attempting to hop on the Merritt, Slusarz warned drivers not to even think about it.
"There is plenty of signage out there and enough stuff out there to warn truckers about this," Slusarz said. "It happens occasionally, and we are hoping it doesn't happen this time. We're prepared for it.
Although there is a plan in place for the construction situation in Stamford, Slusarz said that the Greenwich Police Department could tweak a few things if needed.
"During the first weekend [of the bridge replacement], we will figure out what did go well and what didn't go well and adjust our plan accordingly to try to make it better for the following weekend," Slusarz said. "However the same principles will apply for both weekends."