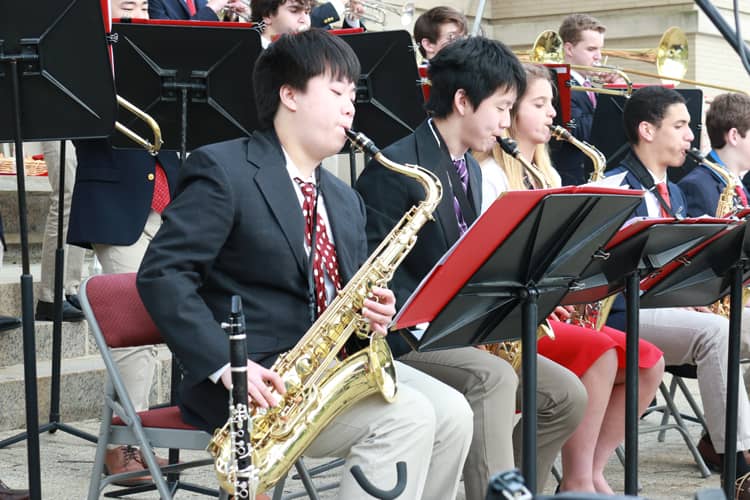 The Greenwich High School Bands will take the stage for their final performance of the year on Wednesday, May 22 at 7:30 p.m. This concert will also be the last one under the direction of John Yoon. A special tribute and reception to honor Mr. Yoon during the evening is planned.
The band community wishes to thank Mr. Yoon, a passionate and talented music educator, for his tireless devotion to excellence, and express its appreciation for his 27 years of service to the Greenwich High School Band Program.
Yoon has won many awards during his career. He was named a Distinguished Teacher (2001) and received a Leadership Award (1997) from the Greenwich Public Schools. Most notably, he received the John Philip Sousa Foundation's Legion of Honor Award (2015). He was honored twice by the State of Connecticut as its Director who Makes a Difference (2005, 2016) and featured in School Band and Orchestra Magazine. A merit scholarship is being established in his honor, which will be awarded annually to a graduating band student who exhibits outstanding musicianship and character.
This concert will include performances by the Concert Band, Symphony Band, Wind Ensemble, Percussion Ensemble, Jazz Lab and Jazz Ensemble. They will take the audience back to the 70's and 80's with pieces from Queen, Journey, and the Beatles, such as Bohemian Rhapsody and Norwegian Wood, play jazz charts like Thelonious Monk's Round Midnight and Cole Porter's Easy to Love, medleys from West Side Story, The Wizard of Oz, Beauty and the Beast, and Pirates of the Caribbean, as well as beautifully complex pieces such as Danse Baccanale from Camille Saint-Saens' Samson and Delilah.
The community is invited to what promises to be a very special evening.