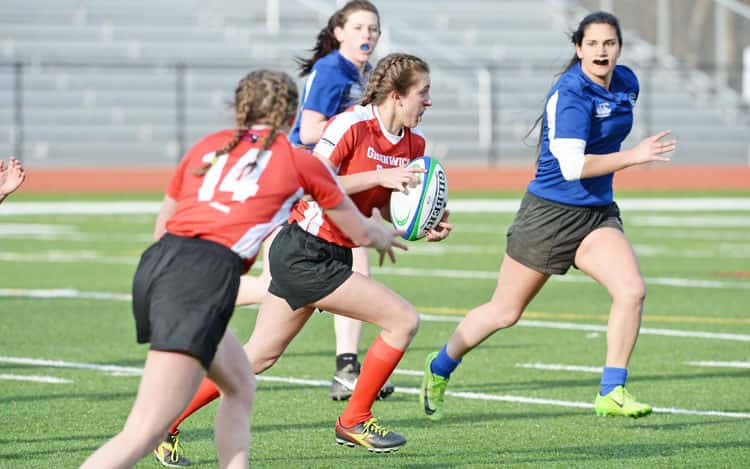 By Paul Silverfarb
Sentinel Editor
Whether it's running drills during a practice or watching her team on the sidelines at Cardinal Stadium, Greenwich High School girls' rugby head coach Erin Martschenko wears a smile that reveals her enormous sense of pride.
And, for good reason. Now a full-fledged varsity squad for the first time in school history, Greenwich High girls' varsity rugby played its first game last week. This is a far cry from where they were just a few years ago when Martschenko started with this rugby squad, at the time just a club sport with a few athletes on the roster.
"They are an amazing group of kids that have a ton of enthusiasm," Martschenko said, prior to her team's practice Monday afternoon on Field 6 at GHS. "They are in."
To say that senior tri-captain Olga Wilson is grateful that GHS gave the girls' rugby program the opportunity to have a varsity team is an understatement.
"It's so exciting to compete against other teams in the state," said Wilson. "I feel like we are very blessed to be making history. The expectations are still pretty high, even if we are the first Greenwich girls' varsity rugby team. I feel like people want us to try our best and kick butt. I hope everybody supports us."
Last season, while still a club sport, the GHS rugby team battled the Fairfield High School combined varsity squad. Fairfield came away with the easy victory. Immediately after the game, Martschenko gathered her flock of Cardinals and told them that the game they played against Fairfield was going to be the norm in terms of intensity and skill level at the varsity level going forward. She then asked the team a simple question and got the exact response she was hoping for.
"I asked if they were in or out and they all said they were in," Martschenko said. "I was able to go to [athletic director] Gus Lindine and say that we were ready to go varsity. We got the full support from the school and decided to go varsity next year. So, from that moment on, we got rid of all out downtime. We don't have time for that. Every second of every practice counts when you're new to the varsity level. When we decided to go varsity, we wanted to do it right and set it up for success from the start. We are giving it everything that we have."
"It's been amazing," said junior tri-captain Janel Codjoe. "I have been playing here for three years and to see that it's finally a big program and we are the first girls' varsity rugby team is incredible. I never thought I would see it."
Martschenko had to take a step back in amazement prior to the first varsity practice in early March. Expecting around 25 athletes to join the team, Martschenko was thrilled to see that she had over double that number.
The coach met her team in the gymnasium for that first practice and was quite honest with them. Some of the girls that were in the gym were touching a rugby ball for the first time. She said that varsity level rugby is at a much different level than the Lady Cardinals were used to playing. She also mentioned that the fitness and contact level was going to be increased.
"And they keep on coming back," Martschenko said. "Not only do they come back, but they come back with more and more enthusiasm. They are sold, and that's amazing. It's a group of girls who have already built their community within the team. It's kind of that culture, and we wanted that culture for them. As far as the rugby is concerned, in three weeks' time we have gone from never holding a ball to playing the No. 1 team in the state and putting up two scores."
Helping Big Red improve each day are captains Wilson, Djuly Fleurant and Codjoe.
"I feel like to have a very solid team, you need that bond of teammates, but also you need to have limits and be very straightforward with your teammates," Wilson said. "Our team is pretty tight, and we have a lot of friendships on this team. If that happens, I think you play a lot better during games."
Wilson is a senior, while both Fleurant and Codjoe are both juniors.
"They are on board with what we want," said Martschenko. "They have high expectations, a strong work ethic, a big commitment to the program and are also understanding the culture of a unified group. They are all great off the field, and that is very important to me. They are a great group of leaders."
Codjoe started with the program as a freshman, while Wilson started last year with the Cardinals and has become a major player for the team.
Fleurant is quite familiar with the rugby program at GHS, as her older sister, Verlkg-keyt Fleurant was a member of the team when it was still a club sport.
"I am so proud here because we made history," Fleurant said. "We are the first ever varsity girls' rugby team, and that is something special. We will continue to work and improve on everything, but I am just extremely proud of how much we have accomplished so far and how much we will continue to accomplish in the future."
In addition to Wilson, other seniors on the roster are Stevie Braverman, Izzy Gutierrez, Dolores Johnson, Falon Nethercott and Maria Do Couto.
Last week, after several weeks of intense practices, both in the gymnasium and outside at one of the practices fields, Martschenko and the rest of the rugby team stepped onto the turf at Cardinal Stadium for its first ever varsity rugby game.
"I have been playing since my freshman year, and back then we were just a club team," Fleurant said. "To be on the varsity level is absolutely mind-blowing because so many previous players who have now graduated have put so much work and pressure for the school to have this happen. I couldn't be more grateful."
Standing in their way was an experienced Southington High School team. No, there wasn't a magical outcome where the newcomers to varsity rugby came out victorious. In fact, as one would expect from the top team in the state of Connecticut, the Blue Knights easily dispatched Big Red. Although the visitors came away with the victory, that's not to say that Greenwich High School didn't have its happy ending on the day.
Greenwich scored twice against an incredibly challenging opponent. In addition, while GHS was on defense throughout much of the contest, the defense never broke down and was strong until the final whistle. Not one Greenwich rugby player stepped away from a tackle.
"We are greedy and hungry and want more, but for them to start and that to be their baseline, I'm not sure we could have asked for anything better," Martschenko said.
Although Greenwich is in its first year at the varsity level, that doesn't mean Big Red doesn't have lofty goals.
"Because it's the first varsity team, a lot of people are looking to us and seeing what we can offer and bring to the table," said Codjoe. "We have a lot of pressure on us, but we are ready to take that pressure on."
With the top four teams in their league advancing to the playoffs, Martschenko and the rest of the Cardinals are looking to finish .500 or better and qualify for the postseason.
"That's minimum for what we would love to obtain," Martschenko said. "I think that's achievable."