March 29, 2019
Brunswick Lacrosse Making a Plethora of Noise Nationally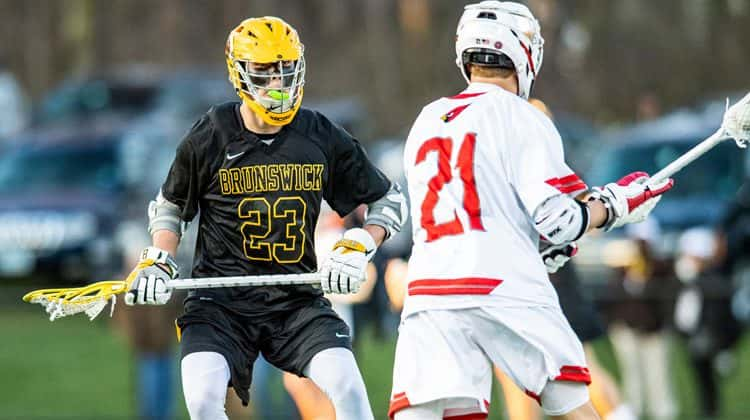 By Paul Silverfarb
Sentinel Editor
Despite graduating over a dozen highly skilled seniors, including some the best lacrosse talent in the country, the Brunswick School lacrosse team is looking to not miss a beat.
To no one's surprise, the expectations at Brunswick School are high. A priority for both the Bruins and Brunswick head coach David Bruce is to win the New England West 1 League, which is never easy. An added bonus would be if the lacrosse team finishes as one of the top 20 teams in the country.
Considering the team has finished as a top-10 team in the country in the past two years, won its league two years ago and tied for the league championship last season, the Bruins have every reason to aim high.
"I think we have the talent," Bruce said. "We graduated, arguably, our greatest senior class ever. Three of them played in the Under Armour All-American Game and one, who was our faceoff specialist, was injured last year and didn't get the nomination, but we thought he was the best faceoff guy in the country when healthy. On paper, we have the players that can put us back to a similar level."
Nevertheless, reaching its goals will be a challenge, as Brunswick lost a plethora of talent to graduation last year. Xander Dickson and Jack Montinaro were two massive keys to the attack, and Jordan Ginder was clutch for the Bruins when it came to faceoffs. One of the top goalies in the country, Patrick Burkinshaw, stepped up his game even further during his senior season.
In addition, Owen Matthews, Jack Ocken, Harrison Caponiti, Greyson Wolfram, Peter Mullen, Hugo Gorman, Matt Restieri, Chris Burdick, Wilson Stephenson, Brennan Troy, Brendan Wise and Sean Amill were all lost to graduation.
"The key to 2018 was that those guys played together and had been starting for so long, so there was this natural chemistry that was there from the start," Bruce said. "Our guys have been on the team for a long time and a lot of those guys finding themselves in starting roles have the ability of doing what players from the last couple of years have done. It's whether or not all that chemistry builds. Right now, they are looking great."
This year's team is led by senior captains Christian Bernard, Christian Ronda and Ian Murray. Ronda, a mainstay at the attack, is in his third year starting for the Bruins. Murray has also started for Brunswick for three years, playing long stick middie, and will lead the defense this year as a close defender.
While this is Bernard's first year starting between the pipes and has some big shoes to fill replacing Berkinshaw, Bruce believes he's more than up to the challenge, saying that Bernard has been the best goalie in his class.
"He's had to wait for his turn because of Berkinshaw and the amazing things he's done over past couple of years, but we are not losing a beat with Bernard in there this year," Bruce said. "He has great reactions and great hands. He's different than Berkinshaw because he incredibly quick and fiery. He likes to also come out of the cage and mix it up a little bit too. He's really talented, and I would be blown away if there's a better goalie out there."
In front of Bernard this year at defense will be Murray, along with junior Logan Darrin and senior Charles Packard. Starting pole will be junior Clayton Ostrover, while junior Issac Sacks and sophomore Colin Mulshine will see a lot of time at the defense.
"On paper they could be as good as last year's defense," Bruce said. "They are certainly a strength for us again this year, as long as our chemistry has evolved with them."
Brunswick will show a lot of faces at the midfield position, as that's where the team's greatest depth is. Leading the way will be seniors Cooper Moore, Michael Gottlieb and A.J. Delgado, along with junior Liam Fairback. The Bruins will have senior Edward Glassmeyer as its solid defensive midfielder.
In addition, seniors Timmy Saunders and Charlie Shaffer, juniors Lucas Delagdo and Brody Firestein, and sophomore Luke Waters, will be there to help out and log some serious minutes.
"There's a bunch of guys that will help out both defensively and offensively," Bruce said. "We are currently playing 10 middies at the moment, which does not include our two faceoff guys."
Koby Ginder and Blake Burchill, both sophomores, will lead the way when it comes to faceoffs. Koby Ginder has had plenty of help taking faceoffs, as his brother Jordan was lights out for the Bruins during his tenure with the team.
"I think we have two of the best faceoff guys around," Bruce said. "Last year I thought Jordan was the best faceoff guy. Now we have two guys we can go to. We're more secure this year with two top-ranked faceoff guys."
When it comes to finding the back of the cage, Ronda will be the main draw for Brunswick. Joining Ronda will be sophomores Jeffrey Matthews and Coulter Mackesy and junior Michael Maurcio.
"We are excited for our attackers this year," Bruce said. "They are talented. We graduated Dickson and Montinaro last year, but at the moment they are playing really well. They are moving the ball well and sharing the ball really well. They know their role and they have been playing better than anticipated, so that's great to see."
Although the wins have been piling up lately for Bruce, he's more pleased with the overall health of the entire program, which is looking stronger than ever.
"The foundation here has been outstanding and that's what we concentrate on," Bruce said. "We're blessed to have a middle school and to be in an area where lacrosse is popular. Given both of those, we are hoping our foundation continue to be strong. The games are obviously won by the guys on the field, but the practices are just as intense. Sometimes they are more intense than the games and that's because of the foundation and the guys that are waiting their turn. The starters here feel that. They feel they can't miss a practice and fight through stuff because they know that someone is right there on their heels trying to take their spot."
And as usual, Brunswick put out a schedule that is difficult. And difficult could be an understatement. In addition to playing in one of the toughest prep school leagues in the country, the Bruins have nationally-ranked competition up and down the schedule.
After coming up victorious in a big way against both William Penn Charter School and Latin Boys School of Maryland, two top teams in the country, Brunswick comes home Saturday to compete in its first league game of the year against nationally-ranked Deerfield Academy.
In addition, New Canaan High School, Darien High School, Salisbury School, Taft School, Avon Old Farms, Everest Academy and Lawrenceville School are on the schedule.
"We put a schedule out there that's nearly impossible to run the table. And we do that on purpose," Bruce said. "The coaches believe that no team should go undefeated without being that conversation for the best team out there. Our goal isn't to go undefeated. It's to provide life lessons and losing is one of those. We are going to go out there and try to win every game and I think we have that capability to beat every team on our schedule, but there are a lot of lot of teams that could beat us as well."
Tags:
Brunswick Lacrosse
,
Brunswick School
,
ctlax
,
greenwich
,
NEPSAC
,
New England West 1