April 12, 2019
Brunswick Tennis Ready for Repeat Performance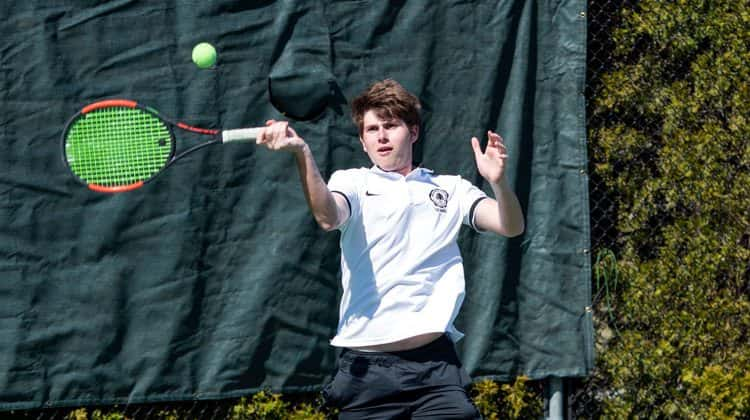 By Paul Silverfarb
Sentinel Editor
It's going to be a tall task for the Brunswick School tennis team to repeat last season's success. Despite going undefeated and taking home two postseason trophies one year ago, head coach Ryan Abraham and the rest of the Bruins are more than up for the challenge this year.
And why not? With two outstanding seniors and a plethora of young, but highly talented underclassmen, there are certainly some high hopes for the Bruins.
"I never want to only go by what is on paper, but we do have a pretty young and strong team," Abraham said. "But, that's not to say that some of the other teams have grown or added some players. We never want to come into one of these seasons thinking we are the overwhelming favorite, because anything can happen, and having that kind of mentality is what loses you matches. We try to keep our guys honest and take it one match at a time."
Something that Brunswick isn't used to is losing. Last season the Bruins ran the table. They stormed through the regular season, took home the Fairchester Athletic Association championship and also hoisted the New England Interscholastic Tennis Association class B championship for the first time since the 2015 season. Overall they finished with a perfect 16-0.
"Although it's something we don't want to focus too much upon, it's still a nice little something to have and see how hard work pays off," Abraham said. "We try not to focus on the streak because it's a recipe for disaster. We don't even talk about it. We just play and if the streak extends, then that's a good thing. So, it's icing on the cake if we keep the streak going, but it's never going to be our goal."
So far, so good for the Bruins, who are a perfect 4-0 as of press time, having recently beaten Avon Old Farms and Hopkins fairly easily, having won a thriller over Hotchkiss 4-3 and on Wednesday took care of St. Luke's School 5-2.
"The goal for this team would be to repeat what we did last year," said junior co-captain Ryan Glanville. "Last year, winning New Englands was a great experience. Our goal is the same this year."
Fellow co-captain, senior Ben Powis, also knows that repeating what happened last year will be a tough act to follow. But, he also believes the team is capable of achieving its goals.
"Last year was the best year of any year that I've been on this team," Powis said. "It's going to be tough to replicate that, but I think we can. We need to take it one match at a time. We have a great team. We lost some of our depth from our seniors last year, but we have a great group of younger guys to fill the gaps."
After Powis, the top four singles players for Brunswick will be a junior, a sophomore and a freshman. In the next five, three of them are freshmen. It's obvious that the youth movement is on; however, the talent those younger athletes bring is top notch.
"There were a couple that we knew were going to be strong as freshman and others where we were kind of surprised," Abraham said. "We're looking forward to seeing the youth grow and the upperclassmen to be just as strong and also lead by example. We have a very positive outlook on this season."
This year's team will be led by captains Powis and Glanville.
"It's a privilege to be a leader here," Glanville said. "We have a lot of young kids here this year. It's great to have them on the team, and to be able to influence them in any way is awesome. Everybody on this team can play, and there's always competition in practice. Any of the freshmen could step up on any given day."
Powis, who played No. 2 singles last season, moved up to No. 1 singles this year.
"It's amazing to lead this team," said Powis. "I've been on this team since eighth grade and it has been awesome to have other great captains to look up to. I want to be a good team leader and good role model for the younger guys. I'm excited to have another great year."
Abraham said that Powis has been one of the most consistent physical and mental players on the team.
"Ben is as steady as a rock, sets a good example on and off the court, and it's going to be great to have him in the No. 1 position, as well as a leader on the team," Abraham said. "He's a wall out there. He has the ability to be aggressive, but is known to find a way to get to these impossible shots from his opponent."
Glanville's experience playing, and succeeding, in big time situations will be beneficial for the Bruins. This season, Abraham expects Glanville to occupy one of the top three singles spots.
"Ryan has been on the team since eighth grade, and it's great to have someone so consistent on the roster," said the head coach. "He has the build and body type to be a big serve guy. His second serve can be just as dangerous as his first serve, which is a great asset to have. He also adds so much experience. When Ryan has his whole game kind of put together, then it makes it nearly impossible to break his serve."
In addition to the captains, Brunswick has a plethora of athletes that will dominate this season. Freshman Evan Lee, who was a contributor for the Bruins in eighth grade, returns to Brunswick this year after playing at a different school last season and will play in one of the top four single positions. Also playing a top four singles slot will be sophomore Aidan Reilly.
In addition, freshman Lorenzo Gunningham will be a key contributor for Brunswick. In fact, Gunningham was the athlete who secured the hard-fought victory over Hotchkiss earlier this season. Fellow freshman Edward Nagler will see some key minutes on the court as well.
For the second year in a row, sophomores Alex Penn and Matt Russell will be playing doubles for Brunswick.
"As a team, we look to have a successful season, just as we did last year," said Russell. "However, we make it a necessity to treat every match as an individual battle, meaning that we don't hold the pressure of last season's success constantly over our heads when we play. Overall, I think this season has the potential to be just as successful as last year's."
Abraham said that keeping them together this year should pay off in a big way.
"Keeping them together will be great," Abraham said. "Alex brings some great strokes and consistency and Matt's got the height for the serves and volleys, as well as an aggressive playing style. They complement each other really well when it comes to doubles."
After two years of playing water polo at Brunswick, senior Christian Hartch returns to the tennis courts this year and will be adding serious depth in doubles competition.
For Abraham, the overall strength of the team is in its depth, talent and camaraderie.
"We had a few of them come on the spring trip this year, and the way that they bonded so naturally was wonderful to see," Abraham said. "They are all good kids, enjoy playing together and representing each other. If there is one guy left on the court, they are still out there supporting each other. It's a good group of kids, both in their talent and character."
While getting a head start to the season with the amount of talent on the roster is a huge advantage for Abraham, the Brunswick head coach also gets to enjoy watching his team from the sidelines.
"Sometimes I feel like they make my job so much easier," Abraham said. "It's great sometimes to be able to sit down on the bench for a few games and leave it up to them for a little bit before I go and check in with them and see how they handle things. I feel very lucky that I get these great players, in terms of both talent and character."
Tags:
Brunswick School
,
Brunswick Tennis
,
cttennis
,
FAA
,
greenwich
,
NEPSAC
,
Ryan Abraham