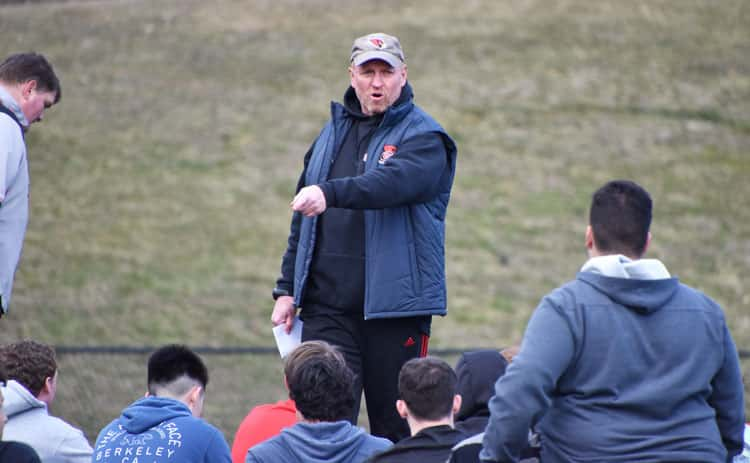 By Paul Silverfarb
Sentinel Editor
Another spring season and another season of lofty expectations on the national stage for the Greenwich High School rugby team.
While the pressure always seems to be on the Cardinals to, at worst, bring home a state championship, head coach Joe Kelly and the rest of Big Red are still a group of cool customers.
"We are expecting to have another great season," Kelly said. "We played our first game against St. Anthony's, from Long Island, and beat them 52-10. We went over a few things and got the butterflies out of the kids. We have started positively, and we expect to go uphill from here."
Assistant coach Glenn Fox couldn't be more excited for the season, saying there's a plethora of promising athletes and that the Cards are extremely deep in both the backs and forwards.
"We got off to a late start because of the weather, but we are happy to be out here and are really looking forward to it," said Fox. "In our first game, our guys were excited to get on the field. There were some nerves and a little rust to shake off, but once we got into our rhythm, we saw the signs of our full potential that we expected this year."
This season, Big Red will rely on five senior captains, as Emilio Camou, Lorenzo Villani, Paul Koullas, Andrew Nanai and Larry DeLuca will be leading both on and off the field.
"It feels good to lead this team," Camou said. "I've been a part of this team for three years now and it's something that's unusual, but it's also a lot of fun. It's been a good time. The goals here are to obviously perform well at Nationals. We don't want to look too far ahead, but that's where our main competition is."
Camou will play the loose forward position, while Villani will be the No. 9 scrum half. Koullas is a second-year starter as a hooker, and Kelly couldn't be happier with his performance.
"We have a lot of depth, but we also have a lot of young talent this year. The juniors are looking good," Koullas said. "They are filling quite nicely the missing spots from last year. We are doing a great job getting the ball out to the backs this year. Once they get the ball out and get the flow of things, they are unstoppable."
Nanai, who was a state champion wrestler for GHS in the spring, played rugby in the fall for the men's club in town. DeLuca, who is a proven winner with the GHS football team in the fall, will be a force as a back.
"Emilio is a hard guy and is as tough as they come," Kelly said. "He never asks anyone to do anything he's not willing to do himself. Lorenzo is incredibly skilled, and he's made many select teams. We're very lucky to have him on our team. We expect a lot from Paul, who is experienced at the hooker position. Andrew played some rugby in the fall and actually started a few games in an adult men's league. Larry was dominant when playing football in the fall and brings his aggression to the rugby field as a back."
Prior to the start of the season, Kelly sat down with the captains and asked them how they want to design the season, talking about everything from style of play to attitudes to how intense the coaches and captains should be during practices.
"They designed the whole thing, and the coaching staff fulfills their desires," Kelly said. "Our thinking is that the captains design it, suggest it and put it forward, and the kids own it. If they ever deviate from what they design, then it's on them to get back on track. The captains have designed a season where they want more discipline. They want people to be on time at practice and push the physical fitness more than last year."
Evan Weigold, who recently returned from Las Vegas where he played rugby with a select side team and also played for a select side team that traveled to Ireland for competition, will occupy the center position. Not to be outdone was Francisco Liguori, who has played for the USA rugby program. Liguori will play the fly half position, while Logan Guerrieri, another standout rugby player for GHS, will battle in the prop position. Another stellar rugby player is Ian Foster at wing, who has put on 25 pounds of muscle since last year.
The strength for Greenwich High this year will be in its numbers.
"We have the largest varsity team that we've ever had," Kelly said. "We have 85 signed up players and in that 85, we have 40 potential A players. That gives us the depth necessary to go to a Nationals, where you have three games in three days, and compete at a strong level the entire time. You need the depth at Nationals. The teams that have done well at Nationals have three varsity teams and have 80 to 85 varsity players. We are following their leads. The numbers are important to have the people on board and training them up the level where they can contribute to the varsity program."
The pressure always seems to be on for the Greenwich rugby program, and it starts well before the team kicks off its season. The end of February is the time when the Cardinals find out whether they are invited to the National High School Rugby Championships.
"There's that one year where I know there will be other teams out there that might knock us out of Nationals," Kelly said. "One year we are going to have that disappointment, and I will have to manage that, but we are enjoying our ride right now. This is our seventh year in a row being invited to Nationals. We are pleased to go to Salt Lake City, Utah, this year and represent Connecticut and Greenwich. The parents, coaches and athletes are so excited for this. It's not easy to pack up 40 kids and head to Utah, but we still love doing it. The kids are so pleased."
And, while Kelly is expected to get that correspondence saying that Big Red is invited to compete in the national spotlight, he doesn't take it for granted.
"I am thrilled every year," Kelly said. "There's a questionnaire that needs to be filled out with some projections on the team, reasons why we deserve to be at Nationals and to list some of our select side players. They once again liked us and we got the invite. I couldn't be happier. I don't want that day to come where I have to face a bunch of disappointed kids, parents and coaches."
And, as usual for Kelly, Fox and the rest of the rugby team, Greenwich has those same lofty expectations.
"The goals are to fare well at Nationals, but we want to improve every day," Fox said. "We want to improve in our training and improve in our fitness and skill level. We need to take it one week at a time and just hope we don't regress. We need to get better each and every week."
It is getting harder and harder for Big Red, as several local programs have stepped up their game and improved significantly over the past few years. Aspetuck has been invited to Nationals for two years in a row. They did well last year in the lower division, and this year they are trying to play in the competitive division. Simsbury has also improved and Xavier is still an elite program in the country. Throw in Fairfield and Fairfield Prep and the competition is starting to get fierce.
"Competition is a good thing and only makes us better," Kelly said. "We love to play teams that are better than us. We are limited as a public school with the amount of travel that we can do."
While Kelly is obviously proud of his squad and how they play at an elite level, it's hard for the coach to hide his smile when talking about his son, Joe Kelly Jr., who recently was rewarded for his outstanding rugby play by signing a contract to play professionally.
"I am unbelievably proud," Kelly Sr. said. "I am so happy to have gone through the youth program with him and then coach him at the high school level and watch him play at college. Watching him go down to Houston for his job, try out for the local professional club and seeing him get a professional contract was so amazing. It's so fulfilling."