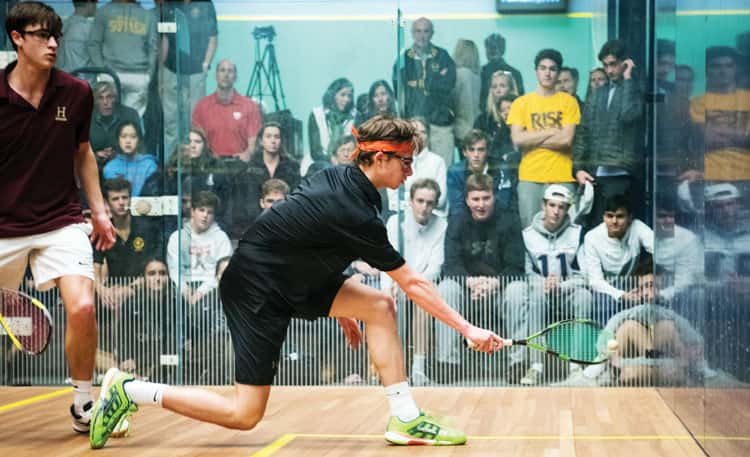 By Paul Silverfarb
Sentinel Editor
Not too shabby for a rebuilding season.
With so many players having graduated last year, Brunswick squash head coach Jim Stephens wasn't sure what to expect from this year's team. The pressure was still on, as last year's team won the New England championship and also took home the U.S. High School Team Squash Championship in dramatic fashion.
So instead of letting the foot off the gas, Stephens and the rest of the Bruins did what has become a yearly tradition at Brunswick. During last weekend's 2019 HEAD U.S. High School Team Squash Championships, held at Trinity College, Brunswick once again hoisted a trophy and added another national championship banner to its collection by beating Haverford 6-1.
"They don't get nervous," Stephens said. "They like the big stage and they like the people yelling and screaming. They like the moment, so that, along with their talent and work ethic, are the reasons why they win."
The U.S. Squash High school National Championship was started in 2004. Since its inception, the Bruins have played in an astounding 12 championship games, winning four.
"We lost a lot more than we won, but no one has that record either," Stephens said. "No one has played in 12 finals. And it's not easy to make it to the finals. If you had a room of 200 people and told people to raise their hands if they have won a national championship, not a lot of people will raise their hand. It's tough to do and each year you have new kids in high school, so it's new to them. I am still there all the time, but it's great to see the excitement for the kids."
And it's that excitement that is easily recognizable on the athletes' faces that makes the goal of a national championship even more rewarding for Stephens.
"The kids were so excited when we won the championship," Stephens said. "I take great pride in that. They know what they accomplished. They know how hard they worked to get there. It was special. We also won 16 New England championships, and that's a big deal too, especially at Brunswick. There are 40 prep schools, and winning that is tough. We dominated New Englands and did the same thing at Nationals. It can't last forever, and we know that. Kids graduate, and you have rebuild your program every year. That's very difficult."
In the championship game against rival Haverford, Brunswick School made the outcome clear early, and after No. 7 player Tad Carney and No. 2 player Brian Leonard won their opening matches to start the championships, the Bruins only needed two more wins to clinch the championships. Carney took care of Haverford's Grady Herbert 11-3, 11-2, 11-4. Leonard battled Haverford's Graham Joyce and came away with the 11-3, 11-4, 11-5 victory.
Having Carney, a freshman, play at No. 7 is a luxury for Stephens. Carney won the U.S. Open this past winter and got to the quarterfinals of the world championships overseas.
"He's a top player in the world and playing No. 7 for us," Stephens said. "He's only a freshman but he stepped up in a big way. In three years, Brian Leonard has never lost a match for me. It's truly amazing. Those two starting for us really set the tone for the day, and it gave the rest of the kids a lot of confidence. When you go up 2-0, you only have to win two more matches, and it relaxes the rest of the team."
Up next were No. 5 Coulter Mackesy and No. 3 Dana Santry. Yet again, it was two more victories for the Bruins, as Mackesy beat Haverford's Yeshwin Sankuratri 11-7, 4-11, 11-5, 11-7. Clinching the team's fourth overall national championship was Santry, who edged Christian Shah 11-3, 11-7, 9-11, 9-11, 11-9.
"Coulter won in four games but Dana won the championship for us," Stephens said. "It sealed the championship for us. It went to five games, and it was touch and go throughout the match. The kid he played really well, but Dana pulled it out with some amazing shots. When he did that, the match was finished. Winning the first four right off the bat was amazing."
Despite clinching the match and the team's fourth national championship, Brunswick was still looking to add more victories to its resume. No. 1 squash player Nick Spizzirri and No. 6 Mac Aube came up next with two more victories. Spizzirri took care of Haverford's top squash player, Spencer Yager, with a score of 14-12, 7-11, 11-9, 11-3. Not to be outdone was Aube, who finished off Haverford's Carter Joyce, 11-6, 11-8, 11-5.
"Although the match was over, they both played their hardest and earned a victory," Stephens said. "They played great against some really tough competition. Haverford had some great players out there and both Nick and Mac played two of their better ones."
Although Brunswick lost the No. 4 match to finish the championship game 6-1, that loss was the only time Brunswick had a loss during the entire championship tournament. Throughout the national championship, the Bruins crushed Taft, Hotchkiss and Deerfield by the same 7-0 score.
"I don't think anybody has ever dominated that tournament like we did," Stephens said. "We lost one match the entire weekend. In all my years that we have had teams at Brunswick, we have never done that. It's been a close 4-3 or 5-2. But this was amazing. And again, this was supposed to be a rebuilding year."
"The national tournament is a public school and private school tournament and it's rare because usually private schools play each other and the same with public schools," Stephens said. "There are 128 teams in the boys' division and 96 teams in the girls' division, and they had close to 2,000 kids playing. This is a true national championship."
While Brunswick might be the tallest and most skilled team in the nation, Stephens said that the team's work ethic was the main reason for this year's successes.
Last year, Stephens took his team during the Christmas break to Spain and then to the England. And, this wasn't a pleasure trip. Brunswick started with an hour of stretching and then they played squash for two hours. After lunch, it was another 60-minute stretching session followed by two hours of squash and another hour of stretching.
"They worked their tails off in the offseason and they wanted to be really good," Stephens said. "While other teams and kids were on vacations with their families and friends, we were on the courts in Spain 12 hours a day. In both Spain and London we trained and stretched and played with some of the best pros in the world. In high school sports, when you spend more time practicing than anybody else, you're going to have better results. And these kids bought into it."
Another thing that helped Brunswick this season was its ability to stay both healthy and injury-free during the national championship tourney.
"A lot of teams that we played had problems with their kids, whether it was injuries or getting sick," Stephens said. "All you need is one or two kids to get sick in squash matches and it takes you right out of the game. For the first time in a while we didn't have any injuries or sickness."
And what made this victory even sweeter for Stephens was that Brunswick had a second team competing in Division I. In fact, they were the only school at the national championship that had two teams in Division I.
In addition to a national championship, Brunswick had two teams in the top 10, as the team's second squad finished seventh nationally.
"It shows the depth of the program," Stephens said. "Overall, they did just great. With 128 schools in the tournament and they finished seventh is an amazing accomplishment. Schools would be thrilled if they could get a team to finish anywhere in the top 10 of the country. We have two teams that are top 10, and it's hard to comprehend that."
The rest of the country is on notice. Coming off a national championship, Brunswick will lose nobody to graduation. The entire roster will be back next season and will be hungry for championship No. 5.
"My top seven guys will all be back next year," Stephens said. "My top four are juniors, my fifth and sixth are sophomores and my seventh is only a freshman. It will be scary for some of these schools next year because this was sort of a rebuilding year. We lost our top three last year. I had no idea that we were going to be this good."