January 29, 2019
Greenwich Native John Sullivan Preparing For Super Bowl 53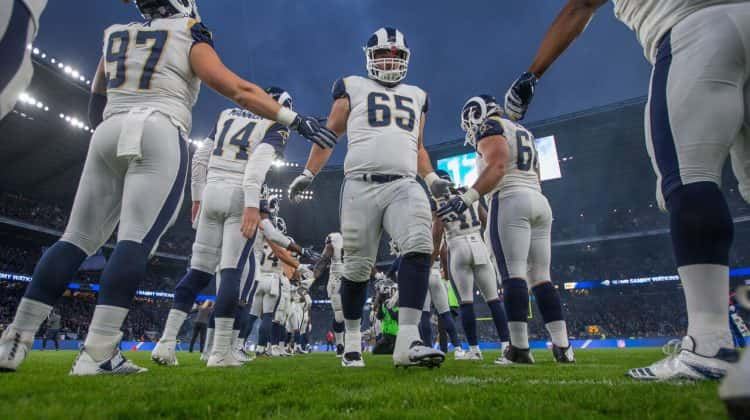 By Richard Kaufman
Sentinel Reporter
The journey to the Super Bowl is long and difficult for nearly every player that laces up their cleats in the National Football League. For John Sullivan, the starting center for the Los Angeles Rams, his road to the big game traces all the way back to his days in Greenwich.
"It all goes back to where you started, right?" said Sullivan earlier this week, ahead of Super Bowl LIII against the New England Patriots. "I started at the Greenwich Youth Football League, and really grew as a player at Greenwich High School playing for Rich Albonizio. My best friends are the guys I played with at Greenwich High. It was invaluable in terms of setting me up on the trajectory I've been on since I was a member of the football team there."
Sullivan said he's kept tabs on the GHS football team over the years, especially this year when the Cardinals captured the state championship.
"I was incredibly proud of them and coach [John] Marinelli and the team they've got there. It was an awesome performance [in the championship game]. I saw all the highlights. I saw A.J. Barber's one-handed catch and touchdown pass. It was fun following them this year, and I'll forever be a Greenwich High School Cardinal," Sullivan said.
From GHS, Sullivan attended Notre Dame, and was later selected in sixth round of the 2008 draft by the Minnesota Vikings. Sullivan spent seven seasons with the Vikings, before going to the Washington Redskins for one season where he was a backup. He signed a one-year deal with Los Angeles prior to the 2017 season to be the starter, and re-upped with the Rams for 2018.  
In LA, Sullivan reunited with his offensive coordinator from Washington, Sean McVay, who became the Rams head coach in 2017. As the youngest head coach in NFL history at 33-years-old, McVay has taken the league by storm, transforming a franchise that had gone 68-139 since 2004 into a Super Bowl contender. In 2017, the Rams went 11-5 and lost in the Wild Card Round. This year, they went 13-3.
"He's a genius. He's a brilliant guy," Sullivan said of McVay. "It's really remarkable what he's done."
A big part of the Rams' success has been their offensive line, which Sullivan anchors along with veterans Rodger Saffold, Andrew Whitworth and younger guys in Austin Blythe and Rob Havenstein. This year, the Rams ranked second in the NFL in points scored and yards.
"We've all worked together for a long time. We have a good feel for each other, we have a good feel for the rest of the offense and really the whole team. This is without a doubt the most connected team from top to bottom that I've ever been on," Sullivan said. "The offensive line, having that continuity that we've had, is unique in the NFL. Injuries happen to everybody, and we've been lucky enough to stay healthy."
Beyond the x's and o's, Sullivan's leadership both on the field and in the locker room has been invaluable to the Rams. Being a veteran is something he relishes. Entering the 2018 season, the Rams were ranked as the fourth youngest team in the NFL with an average age of 25.5.
"That's part of my role here. There's no substitute for experience. It's all about helping guys learn things as fast as possible, making sure we're going about things the right way in terms of our preparation off the field, our time in the meeting room, and once we're out on the field executing at a high level," Sullivan said. "When you're a young player, you need veteran players to kind of help you along, when you're a veteran player you need to make sure that you're doing things for the younger guys if you want to be successful as a team."
When Greg Zuerlein's 57-yard field goal sailed through the uprights in overtime against the New Orleans Saints in the NFC Championship game back on Jan. 20, Sullivan realized the gravity of the moment.
"I couldn't wait to get out on the field and celebrate with my teammates. It was pretty awesome," he said.
Sullivan said it's extra special as an older player to experience the Super Bowl for the first time. Going through all the injuries, practices, games, weight room sessions, has finally paid off.
"You realize that you've been in the league this long, and you've gotten close before, and you realize just how much the success and getting here is a confluence of a team that really works hard, that's really connected, has a lot of talent and is very lucky," Sullivan said. 
"Opportunities in the Super Bowl don't come around every day, they don't come around every year, and it takes a lot of hard work to get there, so we understand it. There's one more to go if we want to have the big celebration that everyone wants. To achieve the goal that we set for ourselves from the start, we have to go win this next game."
Super Bowl LIII kicks off at 6:30 p.m., on Feb. 3 from Mercedes-Benz Stadium in Atlanta, Ga.
Tags:
greenwich
,
Greenwich High School
,
John Sullivan
,
Los Angeles Rams
,
New England Patriots
,
Super Bowl
,
Super Bowl 53
,
Town of Greenwich