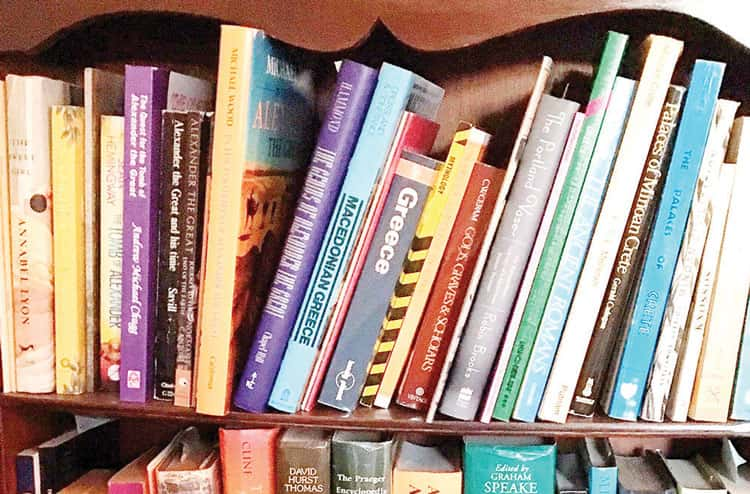 By Anne W. Semmes
Sentinel Correspondent
The name of my game in 2019 is downsize. To help me along, I have an image of the last dwelling place of a dear friend, the late and great actress/dancer Madelyn O'Neil, whose creative husband, Horton O'Neil, gave us the Greek amphitheater in Cos Cob — to be reborn on the campus of Sarah Lawrence College.
From a house filled with Inuit art, sculptures, and a swinging giraffe bone outside her front door, the widowed Madelyn moved to a retirement home near her children in Massachusetts, where I visited. She had one room, with a portrait of her distinguished naturalist father, Dr. John C. Phillips, a couple of brown pieces of furniture, and her smiling, happy face.
So, yes, "Small rooms or dwellings discipline the mind," wrote Leonardo da Vinci.  But what about all that stuff that won't fit into those small rooms? What about those hundreds of books? "Choose ten to give away every day," offered my lets-get-tough son-in-law. Is their destiny to be the Book Swap at the Holly Hill Recycling center, the Byram Schubert Library Book Sale, the Cos Cob Library Children's Book Sale? Or book burning?
So, for Christmas the kids said, "Give us gifts from your possessions!" That was easy enough but surely I'll quickly run out of things they like! And there's all that brown furniture!
Even if its third generation! I'm thinking of opening a "Brown Wood is Beautiful" consignment shop.
It's those books and those files that are hard to part with. I hear the echo of my sister, "Can you live without it?"  Someone savvy shared, "If you don't need it, don't use it, don't absolutely love it, toss it!"  I absolutely love my books, and cherish my work files!
But then I've never forgotten that talk given by a London bookseller who described his visit to a book collector's flat, where he had to weave his way room after room through towering stacks of books.
I was there to hear that expert talk on getting rid of clutter at the Cos Cob Library, and afterwards commiserated with an attendee whose husband refused to let anything go. She was advised to seek therapy help for him.
So when does hanging on to things turn into hoarding? Am I on a slippery slope?
"Clutter," soothed a dear educator friend, "is a free association of creative materials!" Ah, yes, for this writer every book is a source of creativity!
It was George O'Loughlin, a Licensed Clinical Social Worker, who wised me up on the true nature of hoarding. I was led to him in the Town Hall, as director of Case Management in the Department of Human Services.
"With hoarding, there's so much stuff in a space you can't use the space," he tells. "There's stuff on the stove so you can't use the stove. There's so much stuff in the closet you can't get anything out of it." True hoarding is "a mental health condition."
O'Loughlin should know, since the Hoarding Task Force was created in his department six years ago, and is presently dealing with 30 hoarding "situations" in town. "We're dealing with residents with so much stuff, newspapers, significant numbers of vehicles. They hoard animals, and we find them malnourished. Hoarding can be a dangerous situation, a fire hazard."
Hence, it was that town incident of fire and attempted suicide that brought the creation of the Hoarding Task Force. The first responders from the Fire or Police Departments, tells O'Loughlin, often discover the hoarders, or perhaps GEMS "responding to a heart attack. Our concern is for the health and safety of people who are living there, especially with families, where there is no egress to go in and out of doors. We get the person to agree to a significant clean-out." A massive clean-out can cost $10,000 says O'Laughlin. He adds, "We assist low income individuals with limited resources."
What I learned of the Hoarding Task Force from O'Loughlin was just the tip of the iceberg of what his department provides. The list of truly human services is long. "What we deal with is huge, he says. "We're serving 1,200 families on any given day. We're the best kept secret in town."
With this new perspective, this downsizer is more energized. There will be more and more gifting! Neighbor to Neighbor, the Salvation Army, and consignment shops will see more of me. I'll be busy reading, against the clock, my unread to-be given away books. And that desk of mine, it needs to see the light of day, as forewarned by O'Loughlin.
"Did you ever notice how Andy Rooney on "60 Minutes" kept getting smaller behind his desk piled high with stuff. He got beyond clutter. He was shrinking all the time."