January 11, 2019
Greenwich Fire Department Promotes 2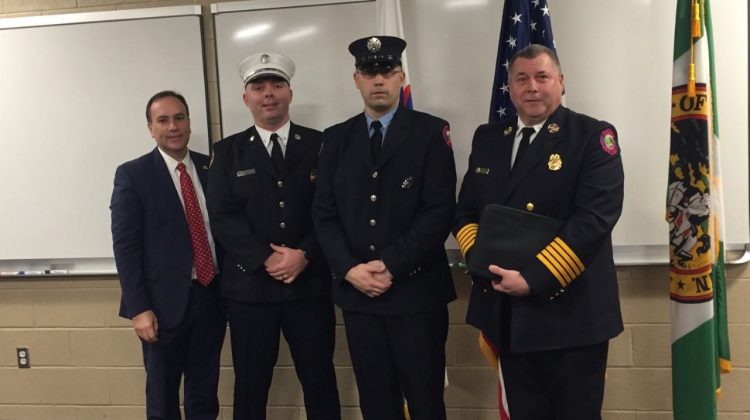 By Richard Kaufman
On Monday morning inside a packed third-floor training room, the Greenwich Fire Department promoted two of its members.
Lt. Shawn Morris was elevated to the position of Deputy Chief Shift Commander, and firefighter George Lattanzi was promoted to take Morris' vacant lieutenant post.
 "In the fire department, we're humbled and we appreciate it every time we have the opportunity to promote from within," said GFD Chief, Peter Siecienski.
 Morris came to the GFD in 2005, and served on Engine No. 4 at the Glenville Fire Station. He was promoted to lieutenant in 2014, and recently worked in Group 2 on the department's new fire truck. Each apparatus is staffed around the clock through different groups of firefighters.
Morris has a bachelor's degree from Central Connecticut State University, as well as a master's degree in public administration from the University of Connecticut graduate school.
 Morris is a certified fire instructor, fire officer and fire marshal, and is also an adjunct faculty member in the fire investigation field at Post University. He's an active member of the Greenwich Professional Firefighters Union Local 1042, and founded the peer support unit within the department.
 Siecienski described Morris as a "consummate professional," and said he's enjoyed watching him work hard and rise through the ranks over the years. Morris is now one of four Deputy Chiefs in the entire department.
 "Deputy Chief Shift Commander is a critical position in the fire department," Siecienski said, noting that the position was established in Greenwich in 2005. "It has evolved to a position where those four individuals have really taken control of the department that runs shifts daily exceptionally well."
 Siecienski said he's looking forward to seeing Morris lead the department in the future.
 "Shawn Morris, I thank you for all you've done to date, and I really look forward to having you move the department further than I could ever imagine," he said.
 Morris said the GFD is one of the best departments in the state and that he was happy to have his family in attendance for the promotion ceremony.
 "[This promotion is] a chance to make sure we advance the department, and make sure everyone gets home safely at the end of the shift," he said.
 Morris said he decided to become a firefighter at an early age.
 "Firefighters saved my grandfather when I was a kid. I decided that sometimes it's more important to be able to help people on their worst day," he said.
 Lattanzi will move into the vacant lieutenant position, and will be joining Group 2 on Engine No. 5 at Sound Beach in Old Greenwich. He came to the GFD in September of 2000, along with 12 other firefighters. Most recently, he was assigned to Group 4 on Truck No. 1.
 Lattanzi has served as acting lieutenant for eight-plus years. He's a certified fire service instructor, fire officer and incident safety officer. He also has technical rescue disciplines in confined space, hazmat, and a background in fire investigation and code enforcement. Lattanzi is also an adjunct instructor at the Fairfield Fire School.
 "George has worked extensively throughout his career, making himself a better candidate for promotion, and making the department and his service to the town of Greenwich just tremendous," Siecienski said.
 Lattanzi has earned several commendations over the years, including one for assisting, removing and reviving an elderly woman from a residential fire several years ago.
 "It's been a very long journey," said Lattanzi in getting to his promotion. "I'm grateful for everyone that's helped along the way."
 First Selectman and Fire Commissioner, Peter Tesei, administered the oaths to both Morris and Lattanzi.
It's one of the most important things that I do," Tesei said. "I get tremendous pride in being able to administer the oath because of the importance that fire and police and EMS have in our community, to protect us and those who are inhabitants of the town."
Tesei said the promotion ceremony, which saw many fellow firefighters in attendance, exemplified the fact that the GFD is one big family. 
 "Today we have the opportunity to celebrate you and your accomplishments, and reinforce the fact that the Greenwich Fire Services are a family that is united in their mission," Tesei said to Morris and Lattanzi. "You are going to be contributing to that as you rise up through the ranks in the leadership that will oversee this department for years to come."
Tags:
GFD
,
greenwich
,
greenwich fire department
,
Town of Greenwich