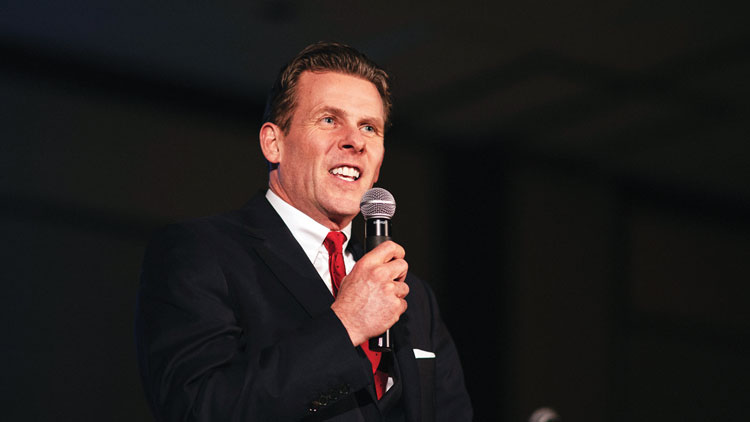 By Anne W. Semmes
Sentinel Correspondent
The Sunday Drew Williams, senior pastor of Trinity Church Greenwich, announced his new election as Anglican Bishop of New England before surely 1,000 congregants in the Hyatt Regency ballroom, he stood before a painted image of a beacon that has proved emblematic in his life. The beacon set on the Connecticut coastline was gifted to Drew 10 years ago on the eve of his departing his native UK, to lead a small and (still) church-building-less Trinity Church in Greenwich. A Google Earth version of that image then showed that beacon shining across the cities and states of New England.
"What is interesting is the Anglican diocese of New England talks about being a beacon, their desire to be a blessing in the wider community, to reach out and grow the church." Also interesting is that Anglican Diocese of New England (ADNE), indeed the Anglican Church in North America (ACNA), came to be in the same year Drew arrived, in 2009. Established by former Episcopalians preferring a church more in the Anglican tradition, that Anglican reach includes over 130,000 members in 1,000-plus congregations across the U.S., Canada, and Mexico, with reportedly a new church being planted every week.
"What I found was a diocese," said Drew, "that was operating under the same values as Trinity. All the things that are important to us are important to them. Everything that I have learned in the last ten years with Trinity, I now get to pour into churches up and down New England."
When Drew is consecrated as Bishop on March 19, it will be in ADNE's cathedral in Amesbury, Massachusetts, the headquarters of his diocese. He will preside over some 63 congregations in Massachusetts, Rhode Island, New Hampshire, Vermont, Maine and Connecticut.
With an area to cover of some 72,000 square miles, Drew predicts he'll be "like a guy on a horse, except it will be in a car," with his intention to preach three Sundays out of four away from his cathedral. His mission writ large is to build a "culture of connection" across those square miles. He cites the pervasive "chronic loneliness in America…triggering a host of negative effects." He wants to "break the grip of isolationism."
Drew spelled out this mission and his overall vision in his application to be Bishop. "I passionately desire to be part of God's renewal in the Northeast of America, to turn the spiritual tide, and to be relevant and impactful in the face of the current culture."
That beacon-light vision was already there for Drew two months before he was approached to apply. He'd met with a Christian life coach who'd "grilled" him on his life's mission. His answer, repeatedly, was "to be greatly used by God in the re-evangelization of the Northeast."
Drew cites New England as "the historic center for Christian ministry and learning…the launch point for global missions." And he's encouraged by the news telling, "New England's liberal college campuses have become fertile ground for the evangelical movement….attracting students in record numbers."
Drew's innovative use of social media – so vital to that younger generation – he will bring with him so developed during his years at Trinity.  "I've already earmarked a room in the diocese house that will make a great audio and video studio!" he shared. How he told the Easter Passion story in three short video devotionals for his churchless "nomadic bunch" made the news. In the first, Drew stands in Grand Central Station – as amongst the moneychangers of Solomon's Temple; the second in Central Park – as the Garden of Gethsemane; the third in a midtown diner echoing Edward Hopper's "Nighthawks," for a setting of the Last Supper.
A $6 million fund drive that brought Trinity's new offices on River Road in Cos Cob included a creative media studio.
"I will definitely be looking for opportunities to use video again, because the diocese is so geographically expansive. Technology really helps us create 'relational glue' with tools like some really excellent video conferencing platforms." How he can be of help to 75 pastors serving in his diocese is on his mind.
Add to that his daily devotional and weekly blog (to 3,000 readers), and the newspaper columns he plans to continue to write to a combined readership he reported of 52,000.
Drew's gifts as preacher and teacher played their part in growing Trinity. He arrived to a committed remnant of 250-300 with one Sunday service.  He leaves a congregation of 1,200, with as many as three Sunday services.  That growth led to the need for ever-larger venues, culminating now in the Hyatt Regency hotel. A new Trinity Darien-based congregation adds two more Sunday services.
Rod Bourgeois chairs Trinity Church's governing Council. He sees Drew as having "strengthened the foundation at Trinity Church" in his years of ministry. "Drew has distinctively exuded a message of God's love and a posture of mercy. Drew and his wife Elena have led Trinity to develop an active prayer ministry in our church community. And, they are leaving in place a talented church staff with a vision to further expand." That vision includes a Westchester County-based Trinity congregation.
Drew's ability to grow small "locally empowered but centrally accountable groups" at his previous parish, St. Andrews Church, Chorleywood, outside of London is what likely brought him to the attention of Trinity.  He had established 40 Mission Shaped Communities as they were called, and wrote about them in his co-authored book, Breakout.
Drew's religious life, which began as a chorister aged seven, has had its dark and light stages. His first real call to faith was as a successful litigator in London soured on the tenor of that profession. Ordained a priest in the Anglican church in 2001, his brother would alert him to that opportunity at St. Andrews. Then came the call from Trinity, and now the call to be Anglican Bishop of New England. "You need to understand," he noted, "You don't apply for a Bishop. I was approached in January of 2018 asking if I would consider being a candidate. I thought that's very kind, but I do believe God is doing something very special at Trinity and I think I have a responsibility to continue to shepherd that. But, let's keep talking."
Drew turned the offer down. The responding outgoing Bishop Bill Murdoch asked him to meet him halfway to Boston. "I entirely respect your reasoning as very noble and very godly," the Bishop led, "But I don't know if you've prayed hard enough about this and I would just simply ask you to go away and pray some more."
"It was a very hard decision to make," said Drew. With support from wife Elena, and their three daughters, he signed on.
Drew's last Sunday service at Trinity is February 10. At present, Drew is feeling "enormously bereaved to have to say goodbye to Trinity." "I do feel God is asking us to do this. I trust that. But we still feel enormously sad. Greenwich has been very good to us and the family, and we have many, many friends here, and those friendships won't end. Somebody wise once told me that the best friends you'll ever have will be the ones that God chose for you. And I think God chose for us friends in Greenwich. They have been the best friends we've ever had. And I don't want to give that up, and I don't think that God is asking me to either. I'm only going down the road."
"Drew and Elena have brought an incredible depth of love and care to our community, and we are going to miss them," said Trinity Council member Jill Conway Marchak. She shares Drew's excitement "for this next step in his career and what it might mean for the changing spiritual landscape of the Northeast."
"This expansion and deepening of community during Drew's ministry" noted Bourgeois, "are occurring amidst a broader faith movement in the Northeast, and it seems Drew's next role as a Bishop can further support this movement."
Drew concluded, "I am looking for the fruit of God's spirit. I'm looking for love, patience, kindness. I am looking for character formation in Christ. I'm looking for how this or that congregation is authentically reaching out with the love of God.  How are they graciously coming alongside their community and sharing the love of God by actually making it a better place to live. How are they are being the salt and light?"