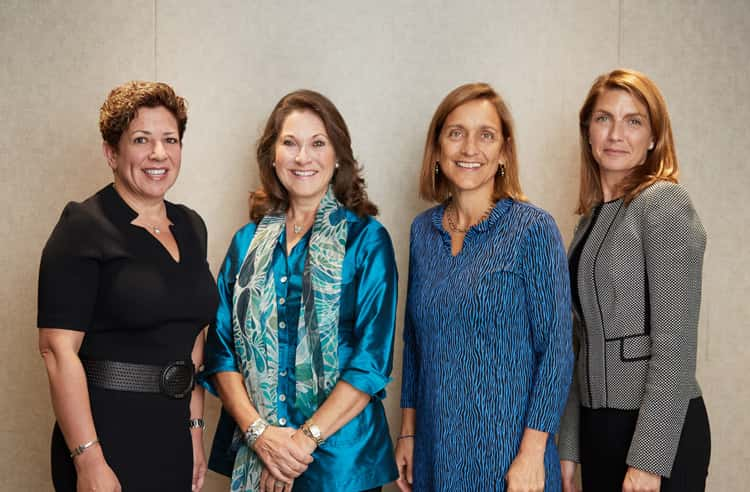 YWCA Greenwich has announced the honorees of the 2019 Women Who Inspire Awards, which will take place at a luncheon on Jan. 25, 2019, at Greenwich Country Club. The honorees are: Stephanie Cowie, Board Member, American Red Cross Metro North Chapter; Janice Trebbi Richards, Board Member, River House Adult Day Care; Stephanie K. Schnabel, Principal and Head of Corporate Development, KPMG LLP; and Dr. Katherine Vadasdi, Orthopedic Surgeon, Sports Medicine, ONS Greenwich.
The Women Who Inspire Awards were established to recognize and celebrate outstanding women who have excelled in philanthropic, professional and volunteer pursuits and enriched the lives of those in our community. "We are thrilled to honor these accomplished and inspiring women who are changing the lives of others, especially women and girls," said Mary Lee Kiernan, President and CEO, YWCA Greenwich.
YWCA Greenwich will also honor two young women with the Women Who Inspire Next Generation Awards. They are Isabel Allard from Greenwich Academy who established "Generation Impact," a philanthropic giving circle for local high school girls; and Sydney Noble from Greenwich High School, who founded, "Picking Up the Pieces," an organization that educates students about living with autism.
Also, the Women Who Inspire Corporate Award is provided to a corporation for leadership in developing a strong culture and practices that support gender equality and women's empowerment. Stamford Health emulates those values and will receive the Women Who Inspire Corporate Award for creating an organization where women are represented at all levels of management, leadership, board participation – including a new, female CEO & President, Kathy Silard, RN. "Stamford Health is committed to empowering women by recognizing and developing the unique strengths that women bring at all levels of the organization," said Silard. "We are proud to be a part of this inaugural event and to be recognized along with all of these inspiring women."
Alejandra Y. Castillo, Esq., CEO, YWCA USA, will be a special guest at the Women Who Inspire Awards Luncheon. In her role as CEO, Castillo represents 210 YWCA associations in 46 states and the District of Columbia. YWCA USA is one of the oldest and largest women's organizations in the nation and is the largest provider of domestic violence services in the country. Castillo has served in two US presidential administrations. In 2014, she was appointed by the Obama Administration to serve as the national director of the Minority Business Development Agency (MBDA), becoming the first Hispanic-American woman to lead the agency. In her position, she helped to secure financing and capital in excess of $19 billion, creating or retaining over 33,000 jobs. As an attorney, Castillo has worked in the public, private and non-profit sectors.
This new annual event will incorporate the best of the YWCA's two signature events, the Spirit of Greenwich and BRAVA Awards. Since the BRAVA Awards were established in 1977 and the Spirit of Greenwich Awards in 1994, nearly 500 women have been honored by YWCA Greenwich for their outstanding professional achievements and commitment to philanthropic causes that have benefitted so many in our community. The decision to combine these events is an acknowledgement of the dramatic changes in society that have led to the fluidity of work/life pursuits for women of today.
Among the organizations that have benefited from the philanthropic efforts of this year's honorees are: Abilis, American Red Cross Metro North Chapter, Autism Speaks, Boys & Girls Club of Greenwich, First Presbyterian Church, Girl Scouts of Greater New York, Greenwich Academy, Greenwich Country Day School, Greenwich Hospital, Greenwich Land Trust, Junior League of Greenwich, Greenwich Public Schools, ONS Foundation for Clinical Research and Education, Sacred Heart School, Trinity Catholic High School, River House Adult Day Care, United Way of Greenwich, and YWCA Greenwich.
The 2019 Women Who Inspire Awards co-chairs are Lucy M. Ball, Sue Moretti Bodson, Laura Weintraub Beck and Susan Bevan. "We are so pleased that these amazing and accomplished women have agreed to chair this year's event," said Kathy Seiden, Chief Advancement Officer, YWCA Greenwich. "Their collective experience and contributions to the community will go a long way in making this inaugural event a success."
For more information about the event and how to purchase tickets, go to ywcagreenwich.org/women-who-inspire-awards