December 21, 2018
FBOG Community Corner: A Little Italy in Heart of Cos Cob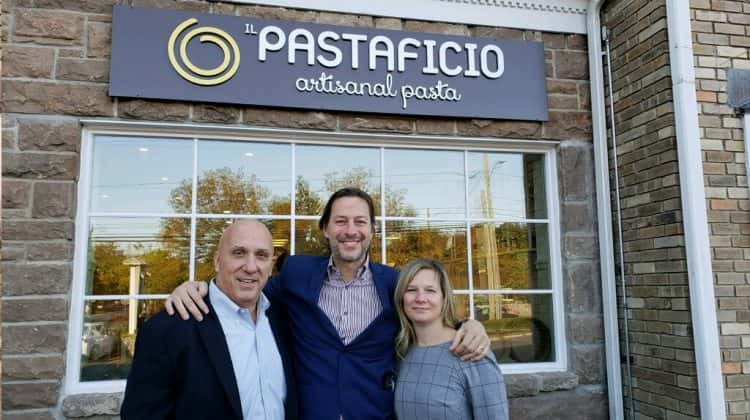 By Richard Kaufman
Ever since he was a young boy growing up in Padua, Italy, Federico Perandin has had a passion for food.
Even though Perandin would go on and get his degree in Economics and establish a successful advertising agency in Italy, food was always on his mind. In 2015, Perandin moved to Greenwich, Conn., opened up another ad agency and finally decided to call upon his Italian roots.
This past September, Il Pastaficio opened its doors in Cos Cob, in the Mill Pond Shopping Center. Customers can dine-in and enjoy an ever-changing menu of handmade, authentic pasta dishes and desserts, or they can take fresh pasta and sauces home and create their own taste of Italy. Perandin also sells fine Italian products, such as olive oil, that he directly imports. 
"When I came here, I looked around and I thought the town needed something like this," said Perandin, who opened the business with his wife. 
All of the pasta machines are imported from Italy, and so is the flour, which Perandin said separates his pasta from others.
"We prefer to use durum instead of double zero flour. Our flour has no preservatives, it's organic, it's super digestible, it's not heavy and it's rich in fiber," Perandin said.
Some of Perandin's handmade pasta offerings include favorites, such as rigatoni, tagliatelle, chickpea linguine, potato gnocchi, rapici, which is made with red beets, and a pasta made with Italian ancient grains, called gigli.
Perandin's menu features fresh ingredients and changes daily. He offers dishes such as tagliatelle with a ragu sauce, fusilli with pesto, and ravioli filled with spinach ricotta, parmesan and nutmeg and topped with butter and sage. He makes two types of lasagna: one with a bolognese sauce, and the other with mushrooms and truffles. 
Desserts, like tiramisu, cheesecake and cannoli, are all handmade in-house as well and change daily.
Perandin offers his customers more than just typical, run-of-the-mill Italian cuisine. He wants his customers to experience something new every week, and offers what he calls "Il Giro d'Italia," or, "a tour of Italy." 
"I want to bring the customer around Italy. Every week they can taste something different from different regions. We have 21 regions in Italy. Every one has a different staple dish," Perandin said.
For example, in October, customers were able to enjoy a dish native to Sardegna: squid ink linguine with bottarga. 
Since coming to Greenwich, Perandin has established a relationship with the First Bank of Greenwich, which helped him realize his vision of opening up an artisanal pasta shop in town.
"We share a passion," said FBOG President and CEO, Frank Gaudio, of Perandin. "He's very passionate about his business, and I'm very passionate about banking. I like to see that passion, I like to encourage it, I like to nurture it, and I like to support it. I wish there were more businesses like this."
Perandin said he noticed a difference in banking with FBOG.
"The big difference you feel between the First Bank of Greenwich and other banks is that they treat you like family. If you need something, they answer you," he said.
Perandin said he's looking into starting up a catering aspect of his business, but right now, he's focused on the shop. You can visit Il Pastaficio at the Mill Pond Shopping Center, located at 213 East Putnam Ave., in Cos Cob.
Tags:
Cos Cob
,
First Bank of Greenwich
,
greenwich
,
Il Pastaficio
,
Town of Greenwich