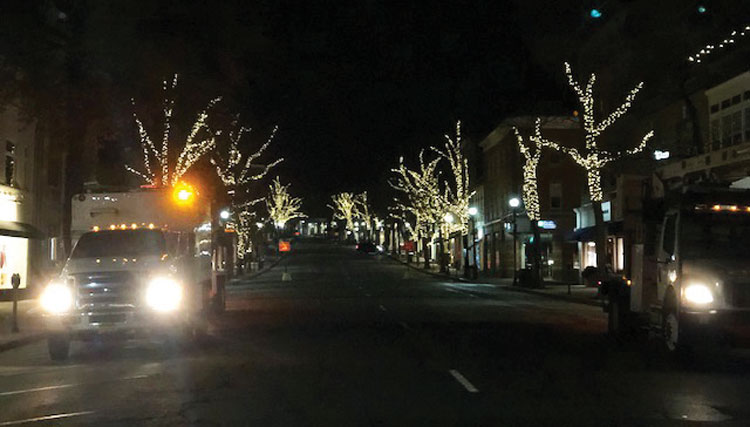 By Paul Silverfarb
Sentinel Editor
The holiday lights that shine bright up and down Greenwich Avenue give local residents and busy shoppers a reminder that it is, in fact, holiday shopping season. What better way to shop for family and friends than to stroll from store to store with some twinkling white holiday lights and hanging plants to keep things festive.
Well, that almost didn't happen this season.
Over the past few years, Greenwich Green & Clean has been in charge of the holiday lights up and down Greenwich Avenue, having taken over from the Greenwich Chamber of Commerce. However, with the costs mounting, Greenwich & Clean voted to stop putting up the lights.
On the Greenwich Green & Clean website, was a statement:
"Having taken responsibility for the program from the Greenwich Chamber of Commerce, Greenwich Green & Clean helped raise funds and coordinate residents, merchants, landlords, businesses and the Town to install reusable lights during the holiday season, for the last three years," the website stated. "Our board has decided that we will no longer be undertaking this endeavor going forward. Following a unanimous vote by the Greenwich Green & Clean Board of Directors, a decision was made to discontinue the challenging task of installing holiday lights on the trees in Downtown Greenwich to focus their energies and our limited dollars on their primary mission."
With time running short, Greenwich resident and owner of K Investments Alyssa Bonomo sprang into action. After talking to several local business leaders and raising the $77,000 needed, the lights started going and now people can feel a little more festive while walking up and down Greenwich Avenue this month.
"Those lights are like a spirit to our community," Bonomo said. "During the holiday time, it's a great way to show what our town means to us during the holiday season. While we are an ever-growing town, we still have that small-town feeling. The holiday décor brings the spirit of the holidays to our residents, and it invites them to participate in our downtown villages and towns throughout the community. It invites them to stroll our streets. It invites them to meet up with friends and have a meal or drinks. It invites them to shop our downtown. It also encourages people to get out and participate and to be a part of Greenwich."
Bonomo said that it was the added help from fellow Greenwich resident Rick Kral that kept the efforts moving forward.
"He is extremely involved in the community in all facets, whether it's from business to sports," Bonomo said. "Between the two of us, we figured out how to get it done."
For Kral, it's all about being a part of community events that bring people together.
"The holiday lights in our town center are like fireworks on the Fourth of July," Kral said. "No matter who you are, where you are from or how old you are, the festive nature of the occasion brings out the best in all of us."
After Bonomo called Town Hall and asked for permission to install the lights, she then sent out bids for tree companies. That's when Kevin Wyatt, Master Arborist at Emerald Tree and Shrub Care, came in and worked with Bonomo.
Around 10 p.m., when most of the cars were gone from parking on Greenwich Avenue, Wyatt said that three or four Emerald Tree and Shrub Care 75-foot bucket truck set up in designated areas along the road. In crews of three, teams began stringing the lights. One person was in the bucket, one was climbing with a rope and saddle and the other person was on the ground passing up the lights as needed.
Wyatt estimated that they put lights up on about eight trees per evening, weather permitting.
For Wyatt, this was a labor of love. Having a daughter, son-in-law and two grandchildren (a third is on the way) living in Greenwich, this was a project he was eager to help out on.
"This is a very exciting opportunity for Emerald Tree and Shrub Care to participate in bringing holiday cheer to the Town of Greenwich," said Wyatt.
In addition to Emerald Tree and Shrub Care, Bonomo get Linda Sigler, who volunteered her time lighting up Greenwich Avenue for the previous few years and is on the Greenwich Green & Clean Board of Directors, to work with Wyatt's team.
However, before the lights went up, the Greenwich Parks and Recreation Department, along with the Greenwich Tree Conservancy, had to come in and prune the trees, making sure they were able to hold the festive lights.
From there, it was all about securing funding for the lights. Raising the $77,000 was actually the easiest part for Bonomo.
"I reached out, in simply an email, to about two dozen business owners in town and 99% of them said yes," Bonomo said. "And that was within one week."
Kral believes that without the lights shimmering throughout The Avenue, Greenwich loses credibility as a community.
"The Town has experienced this in the past," Kral said. "The lights are as important to the residents as they are the merchants. A festive downtown brings the community together and demonstrates a sense of pride in what truly makes Greenwich a great town to live."
For Bonomo, the sense of accomplishment in this endeavor was how the business community came together and said yes within minutes.
"Greenwich has changed over the years, but it has evolved with the changing times," Bonomo said. "But with the lights and the hanging baskets provided by Green & Clean, it shows that Greenwich is still a wonderful place to raise a family and to have a business in."
Bonomo said that her children look forward to the twinkling lights whenever they go downtown during the holidays. She also knows that the Greenwich residents appreciate and enjoy the lights as well.
"With all of our stresses of running around from taking care of our children to our workloads, the lights somehow create this glimmer of happiness that bring a smile to everybody's face," Bonomo said.
Next year and down the road, Bonomo said that residents and business leaders are needed to volunteer their time to take this task and run with it.
"We need someone or some people to come up with ideas because putting the lights up is a very expensive proposition," Bonomo said. "We might be able to accomplish the same spirit in a different way. I ask our community to come up with ideas. One year I put the lights up on the lamp post. It was much less expensive, but a lot of people complained that it wasn't the trees that had lights on them."