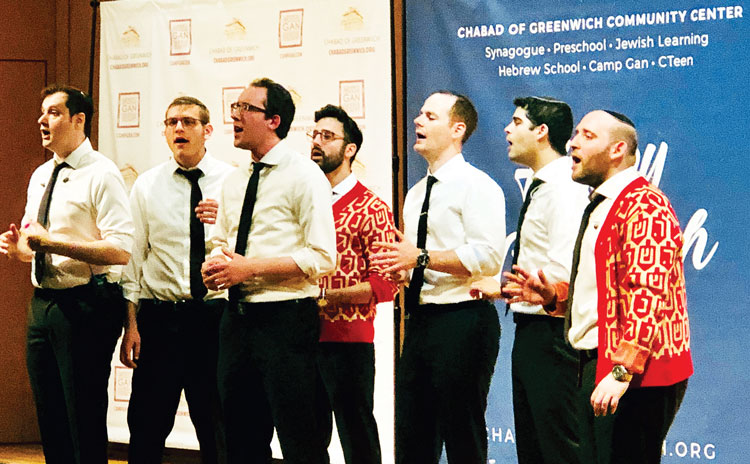 By Michelle Moskowitz
Sentinel Correspondent
This past Sunday marked the beginning of Chanukah, and Chabad of Greenwich kicked off this year's Jewish Festival of Lights with its annual holiday event, featuring a special menorah lighting, a commemorative concert and party where community members rejoiced in song, heart and celebration.
Gray skies and wintery rainfall did not deter holiday goers from filling up the Cole Auditorium at the Greenwich Library, which started promptly at 10 a.m.
Chanukah, an eight-day festival celebrated with a nightly menorah lighting, special prayers, and fried foods, such as latkes and jelly doughnuts (which were offered at the party), glorifies the rededication of the Holy Temple, where just a small quantity of oil was used to light the Temple's menorah, miraculously lasting for eight days.
Festivities were kicked off by the enlivened master of ceremonies, Rabbi Yossi Deren, who over an equally eager crowd of children and adults, discussed the significance of the Jewish holiday for all human kind, despite one's religion or beliefs.
"We are so thrilled to celebrate the spirit that lives inside all men, women and children as we embrace the holiday of light," said Deren," which will last until December 9.
"If you ever get a little cold, or a little sad, look for the oil that resides in each one of us," said Deren, " it's right inside everyone's heart. When you see someone that needs some help, ask how you can make their day a little bit easier."
Deren then introduced the Gan of Greenwich preschoolers and Chabad Hebrew School students, ornamented in blue and white 'Happy Chanukah' t-shirts, who cheerfully sang the all-time holiday favorite, "I have a little Dreidel," accompanied by live dancing Dreidels on stage.
Next, Deren fondly introduced First Selectman Peter Tesei who was asked to not only welcome the crowd, but also to do the honor of lighting the first candle on the menorah, along with the Shamash candle, known as the "attendant", or the public servant, that is used to kindle the other lights.
Deren graciously thanked Tesei for his steadfast partnership with the local Jewish community, particularly in divisive times, as well as with the community-at-large.
"This is a very special town because its leadership makes sure we all live in such good citizenship," said Deren.
"Light does overcome darkness, and my hope is that the warmth that Rabbi Deren talked about will carry throughout each one's lifetime," said Tesei.
"Today, [in the wake of President George H.W. Bush's recent passing], light is illuminating throughout the country in 'a thousand points of light,'" Tesei said, referring to the term Bush used in his acceptance speeches.
"I have spoken of a thousand points of light, of all the community organizations that are spread like stars throughout the nation, doing good. We will work hand in hand, encouraging, sometimes leading, sometimes being led, rewarding," said President Bush at his inaugural address in January 1989.
And, finally, with high-anticipation guests roared for the start of the celebratory concert featuring the well-known Jewish male a cappella group, the Maccabeats, who performed a lively array of Jewish, American and Israeli songs.
The Maccabeats, originally founded in 2007 by a group of undergraduate vocal students at Yeshiva University, in Manhattan, have emerged as a Jewish beatboxing phenomenon, boasting a fanbase of more than 20 million views on YouTube, having performed all over the world.
The group, who attracts both Jewish and non-Jewish fans, has released four successful albums including, "Voices from The Heights" and, "One Day More."
"There are two Jewish groups from New York: one is the Maccabeats, and the other is Simon and Garfunkel. Combined we have sold over 9 million albums," quibbled group member Julian Horowitz, drawing a large chuckle from the crowd.
Weaving in and out of song, prayer, humor and interaction with the audience, the crowd grew consistently cheerful and brought many to their feet.
Big hits of the day included, "Latke recipe," "Candles on the Sill," and "Hallelujah" (Leonard Cohen) which united the audience in flowing sways of lit up phones in solidarity.
"Music is something we use to lift our moods and bring ourselves to a special place," said Horowitz.
Audience member Stacy Friedman, who lives in Stamford and works at Greenwich Hospital, was in attendance with her eleven-year-old daughter, and said she was thrilled to celebrate the holiday in such a festive way. "It is so nice to have this annual event in town that celebrates Judaism and the holiday, as my daughter is always asking me, 'Where are all the Chanukah celebrations?'" Friedman said.
Also, in attendance with her grandchildren was Dale Atkins, author of the book, The Kindness Advantage, which provides everyday ideas for parents and grandparents on how to raise thoughtful, conscientious kids in today's society.
"It's great to have the opportunity to be with family and with our community in celebration of how important it is to shed light in the world," said Atkins.
According to Chabad.org, key take-away messages on the meaning of Chanukah include:
Never be afraid to stand up for what's right.
Always increase in matters of goodness.
A little light goes a long way.
Don't be ashamed to perform mitzvahs (good deeds), even if you feel different. Rather, be like a menorah, proudly proclaiming its radiant uniqueness for all to see.
"One thing that we cannot pray for enough is peace," said Horowitz.
Visit chabadofgreenwich.org and maccabeats.com for more information.