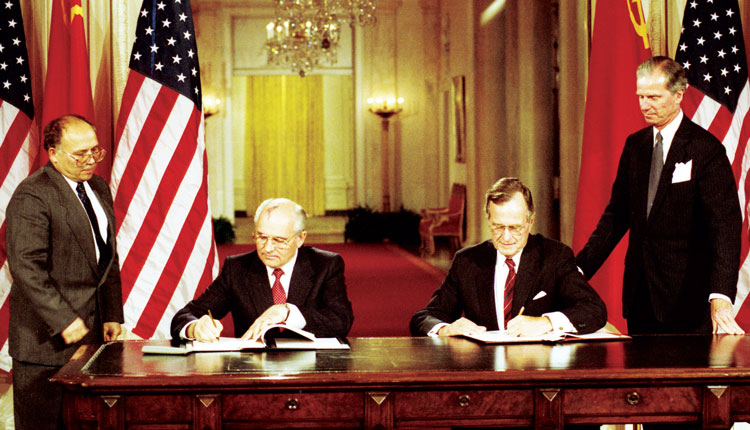 By Paul R. Silverfarb
Sentinel Editor
"The Town of Greenwich, like the nation and the world, mourns the loss of one of its own — a member of the 'Greatest Generation. President Bush was the epitome of selfless service to his country. His modesty and his genuine and dignified character served him well as the consummate patriot, statesman and president. His steadfast demeanor established the high standard of conduct for those who hold our nation's highest office."  — Town of Greenwich First Selectman Peter Tesei
George H.W. Bush, the 41st president of the United States, died peacefully last week at his home in Houston, Texas. He was 94 years old. Although many refer to George H.W. Bush as "41" or "H.W." to differentiate him from his son George W. Bush (or "W"), the 43rd president of the United States, we will refer to him simply as George.
First Lady Barbara Bush died just over seven months ago. George's world is said to have revolved around his wife of 73 years, a life-long love that began when they met at a Christmas party at the Round Hill Club.
In her memoir, Barbara Bush wrote, "It was the Christmas when I was sixteen … I was at a vacation dance in Greenwich, Connecticut, seeing friends I hadn't seen since summer and wearing a pretty, bright, new red-and-green dress. Jack Wozencraft, a boy I had grown up with, cut in on my dancing partner and took me to meet a wonderful-looking young boy he said wanted to meet me, a boy named Poppy Bush … We rode bikes, went to the beach, played tennis, collected sea glass and seashells, and had marvelous picnics. At night, Poppy and I walked on the rocks and watched the moon come up … I can't speak for George Bush, but I fell madly in love. We got secretly engaged."
When George enlisted in the U.S. Navy and went to basic training, Barbara spent the summer working at Lord & Taylor, which was in Greenwich at the time. Theirs was the longest marriage in presidential history.
The Bush family has deep roots here. Prescott and Dorothy Bush moved to town in 1925 when George, the second of their five children, was an infant. His older brother, Prescott, and his wife were known as "Pres and Beth" and were very active in the community and were the last of the immediate family to live in Greenwich.
His first cousin is Debbie Walker Stapleton, married to Craig Stapleton, whose daughter is a founding member of the Greenwich International Film Festival, which routinely involves cousins Barbara and Jenna Bush.
George grew up in a small stucco house on Stanwich Road, not far from the Post Road, and then in a larger Victorian on Grove Lane. He attended Greenwich Country Day School (GCDS) for nine years before heading to Phillips Academy boarding school in Andover, Mass.
Current GCDS Headmaster Adam Rohdie met George Bush in Kennebunkport, Maine in 2009, while interviewing him about his memories of the school. Rohdie said two things stood out during the interview.
"His memories of GCDS were amazingly clear 75 years after attending our school," he said. "He remembered his coaches' and teachers' names, he remembered lessons learned playing football against Rippowam Cisqua, he remembered singing in school choir. It was truly amazing. Second, I was struck by what a kind and humble man he was. He chatted with me like we were old friends. Here I was, speaking to the 41st president of the United States, and he was as interested in me and in our school as I was in him. He was a true gentleman."
Having spent time with George, fellow GCDS alum State Senator Scott Frantz said that he was one of the nicest and most devoted people he ever met.
"With his devotion to military and public service, and his determination to improve the country and its relationships around the world, President Bush helped define the Greatest Generation as an example to follow," said Frantz. "He was a consummate family man and a truly nice person. He will be sorely missed, and I believe his passing marks the end of an era."
After graduating from Phillips Academy in 1942, George enlisted in the Navy, and was at age 18 its youngest fighter pilot. On Sept. 2, 1944, he was shot down over the Pacific, though not before dumping four bombs on his target. He bailed out of his burning Avenger aircraft and was rescued at sea.
News that George was shot down worried the entire Bush family as well as a Barbara Pierce. Word followed that he was alright. George returned to his squadron for more combat action, and when the squadron was replaced in December, George went home. He arrived home to his fiancé on Christmas Eve 1944, a little more than three years after they first met.
He married Barbara Pierce two weeks later, on Jan. 6, 1945. He graduated from Yale in 1948 and, wanting to make his own name rather than follow his father into investment banking, George moved his young family to the dusty, quiet town of Odessa, Texas. There he learned the oil trade. Soon he formed his own business with help from family and friends in Greenwich, and quickly struck oil. He became a millionaire by the age of 30.
His father, Prescott Bush, served in the U.S. Senate from 1952 to 1963. It was only three years later, in 1966, that George was elected to the first of his two terms in the U.S. House of Representatives. After his time in Congress, he was appointed Ambassador to the United Nations, then Chairman of the Republican National Committee, then Chief of the United States Liaison Office in China, and eventually Director of the Central Intelligence Agency, making him one of the most well-rounded politicians in history.
Greenwich resident Russ Reynolds, chairman of RSR Partners, grew up in town and knew the Bush family well. Reynolds, who was Bush's finance manager when he ran for president, said that George H.W. Bush was a star by any measure.
"His loyalty and closeness to President Reagan were exceptional," Reynolds said. "I once told him he was too modest, and he agreed with me and asked me what he should do about it. He was a great communicator. He once heard a rumor that I was concerned about his tax plan and wrote me to keep me in line. But behind his charm, good looks and great reputation, he had drive, ambition, and deep respect for all others. His civility would be a great addition to our current political environment," he added.
"President Bush fathered a great president and a great governor, in addition to everything else," Reynolds said. "It is hard to compare him to almost anyone. His legacy is enormous," he added.
After failing to win the Republican nomination for President in 1980, George joined forces with nominee Ronald Reagan. The Reagan-Bush ticket won 50.7 percent of the vote compared to Carter-Mondale's 41 percent. Reagan and Bush handily won reelection in 1984, defeating Mondale and his running mate, Geraldine Ferraro.
On Nov. 8, 1988, George Herbert Walker Bush was elected 41st president of the United States in a landslide, winning 426 electoral votes, or 80 percent of them, and and 40 states. President Bush managed almost flawlessly one of the most significant transitional times ever experienced in the modern era. He skillfully controlled both the United States and the international response to and support of the fall of the Berlin Wall and he facilitated an incredibly smooth dissolution of the Soviet Union on Dec. 26, 1991, ending the Cold War.
According to Colin Powell, President Bush wanted "not only what was best for the country — what was best for the world."
"And so, when the Cold War ended, and the Soviet Union was falling apart," explained Powell, "he was more interested in what they needed to become a functioning society and a democratic system than anything else."
President Bush would never have referred to the swift victory in the Persian Gulf War as "his" preferring instead that the victory "belong to the troops." Yet President Bush presided over a fierce and rapid defense of Kuwait, one that made it look easy. "This will not stand. This will not stand, this aggression against Kuwait," President Bush warned. And it didn't.
It didn't stand because of the broad coalition he built and the preparation he tirelessly pursued before he sent troops into harm's way — yet he refused to take credit. President Bush also made progress on nuclear disarmament, relations with China, and, here at home, on civil rights and clean air standards.
"What a great life," said Greenwich resident and longtime U.S. Sen. Richard Blumenthal. "George Bush earned deep respect across the political spectrum because of his honesty, decency, and undoubted dedication to America."
Bush began working with Greenwich resident Richard Breeden during his vice presidency. When Bush became president, he appointed Breeden the 24th Chairman of the Securities and Exchange Commission. Breeden believes that Bush's most extraordinary accomplishment in the domestic sphere was defusing and permanently resolving the crisis in the savings and loan industry.
"My fondest memory is having lunch with the President in the White House mess the day before I was to leave the White House staff and take up my new job as Chairman of the Securities and Exchange Commission," said Breeden. "I reminded the President that he hadn't yet given me any marching orders on what my agenda should be, or what I should attempt to accomplish. He thought a moment, and then said that he trusted my judgement, my knowledge and my experience. 'Just be sure,' he said, 'that you always do what you think is the right thing to do, and you'll make me proud.'"
Greenwich resident and former president and CEO of Texaco, Inc., James W. Kinnear, accepted the National Medal for the Arts from President Bush in 1991.
"President Bush was a great American whose life epitomized service," said Kinnear. "I was privileged to call him my friend. In 1991, he did, indeed, present me with the National Medal for the Arts, not however, for my own talent, but for Texaco's sponsorship of the Metropolitan Opera on the radio each Saturday afternoon. In each of his many assignments, President Bush represented the best this country has to offer."
Working with the 43rd president as the United States Ambassador to El Salvador, Greenwich resident Charles Glazer was also the Sergeant-at-Arms at the 2004 Republican National Convention. Glazer currently is the principal owner at Greenwich-based CLG Investment Company, Inc.
"He was a wonderful man and a great leader," Glazer said. "I never spoke with him that he didn't ask about my family. He was the most humble, compassionate man anyone could imagine. That, coupled with his sense of humor, made him a very rare public figure indeed. Our thoughts and prayers are with his family, as the entire nation mourns his passing."
This December, 77 years after their first meeting at Christmastime at the Round Hill Club and 74 years after they reunited in Greenwich on Christmas Eve, the idea that George H.W. Bush and Barbara Pierce Bush will be reunited once again in time for Christmas seems delightful and right.