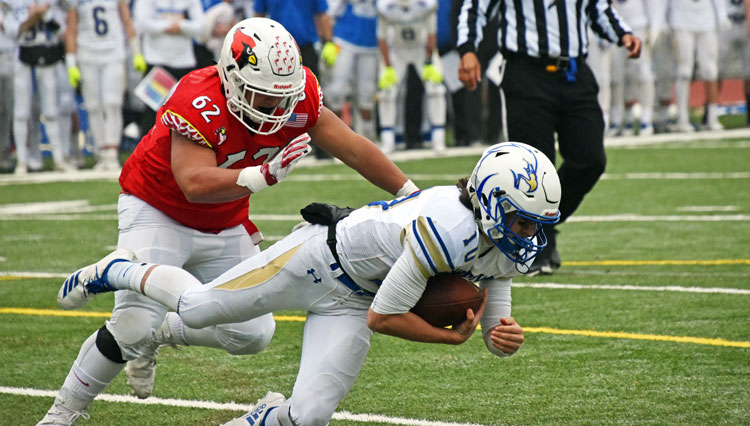 By Paul Silverfarb
Sentinel Editor
The Greenwich High School football team pulled a repeat performance Sunday afternoon. On a misty day at Cardinal Stadium, the Cardinals came away with a 50-0 victory over Newtown High School and advanced to the CIAC class LL championship game for the second year in a row.
Greenwich quarterback Gavin Muir went 15-for 21 for 216 yards and threw for four touchdown. Muir also ran for a one-yard score. Lance Large connected on two of those four touchdown receptions, while AJ Barber took home a touchdown and 83 yards of receiving yards.
Running back Tysen Comizio led the way on the ground and took home 70 yards on 15 carries and found the end zone once. GHS kicker Toby Turnbull connected on two field goals, one a 20-yard field goal and another a 22-yard attempt.
With the victory, Greenwich will play a familiar foe in the class LL championship game, as New Canaan High School bested Fairfield Prep in the other semifinal game. Earlier in the regular season, Big Red upended the Rams 42-14
Below are some photos from the game. For more photos and to read more about the game, check back to Greenwichsentinel.com later.