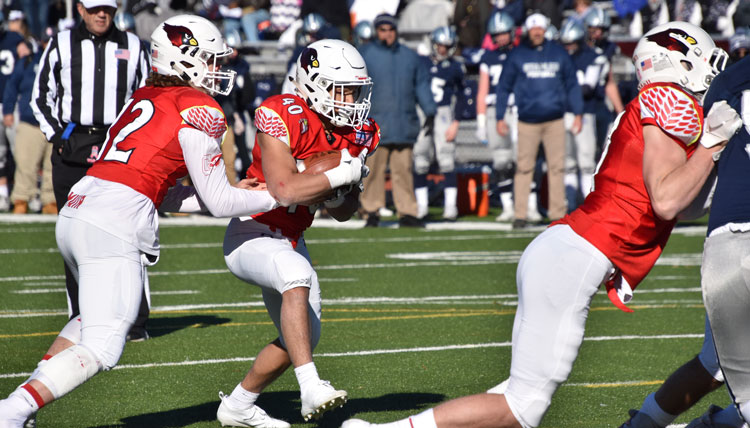 By Paul Silverfarb
Sentinel Editor
The temperature for this year's Thanksgiving Day game at Cardinal Stadium was quite chilly. However Big Red's defense was white-hot. Led by its stingy defense, the Greenwich High School football team dominated its game against rival Staples High School and came away with the 29-0 victory.
"I thought we were out of rhythm in the first half and I think that we had such good field position that I got carried away with the play calling," Greenwich head coach John Marinelli said. "The second half we came back and all three phases played as one. That was my message at halftime. I wanted 24 minutes of three-phase football. I am glad that we preserved the shutout for the defense. Offensively we ran the ball effectively."
Greenwich's Evan Weigold was not to be stopped. In addition to his sack and two interceptions, one of them was a 34-yard scamper to the end zone for the pick six.
"It felt great today," Weigold said. "It was a long week of practice. We worked hard and we knew that they were a great team. Our defense really studied hard and learned all about what they were doing. Our defensive line really did a good job handing it to them. We all play fast and play hard. I felt good out there and got in the end zone, so that was great. It was a lot of fun and hopefully we can do some more of that during the state tournament on Tuesday."
Also having a great game defensively was the duo of Mozi Bici and Jack Feda, as Feda took home a team-high eight tackles and grabbed Greenwich's third interception on the day. Bici picked up five tackles, was part of a sack and forced a fumble.
"A goose egg out there is always a good feeling," Feda said. "We play hard for each other and we are like band of brothers. We always say that we are all we got and all we need. It's great when you play for each other. This was a great win and it doesn't matter who we play in States because we are hyped up. We would love to get a home game and give our home fans another chance to come out here."
Coming into the game, Marinelli didn't know what to fully expect from his defense. Monday's practice wasn't the best for his defensive unit. However the defense was able to turn it around the net two days and it showed during Thursday's Thanksgiving contest.
"To watch them come back out on Tuesday and Wednesday with a sense of urgency was amazing," Marinelli said. "It was the only bad practice that the defense had all year. We have stars on defense that don't act like stars. They don't care who makes the play. They rally around each other and play as one. They are a lot of fun to watch. They hit hard, go after the quarterback and are physical."
On the offensive side of the ball, GHS quarterback Gavin Muir finished 13-for-23 for 180 yards. Tysen Comizio grabbed 40 yards on the ground and found the end zone twice, one was a 1-yard scamper and the other was a 2-yard run up the middle to end the scoring. Comizio also was solid as a receiver for Muir, finishing with four receptions and 52 yards.
A slew of other receivers pitched in, as Lance Large possessed the ball three times for 27 yards, and both AJ Barber and Hunter Clark each took home one reception. Barber's was for 45 yards and Clark's was for 43.
With the victory, Greenwich finished off its second straight perfect season and will be host a first-round playoff game at Cardinal Stadium Tuesday night in the CIAC class LL quarterfinals. However Big Red's opponent is still to be determined.
Friday, Norwalk High School will play Brien McMahon High School in their Thanksgiving Day game that got postponed. If Norwalk comes up victorious, Greenwich will be the second seed in the tourney and host No. 7 seed New Britain High School. If the Senators are the victors, Big Red will finish as the third seed and host FCIAC rival Darien High School, the same Darien team that played Greenwich in the CIAC class LL finals last year.
"Hopefully we are playing here," Marinelli said. "We will see where it goes. If we are on the road, then we are on the road. There are other teams that have gone undefeated and if we go on the road, it is fine. They are deserving of a home game like we are. It is what it is and we can't control it. But whoever we play, we will be prepared and ready to play. It's elimination time now."
Below are some photos from the Thanksgiving contest at Cardinal Stadium: