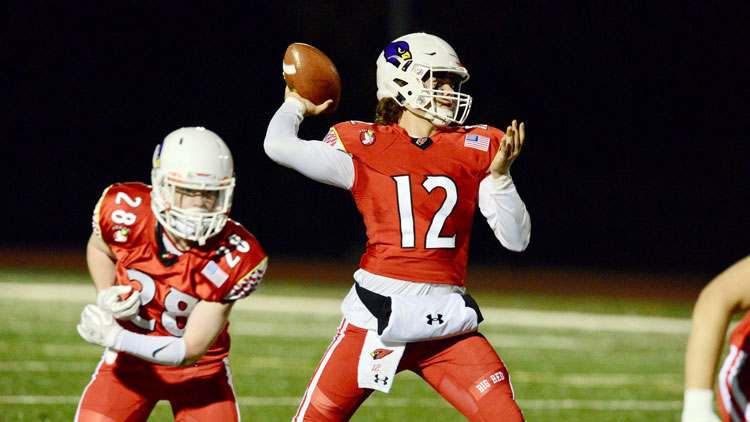 By Paul Silverfarb
Sentinel Editor
The weather is certainly turning colder. Lightweight fleece jackets are leaving the scene and making an appearance are winter coats and gloves. Iced drinks are starting to turn to hot beverages. Yup, Thanksgiving is definitely around the corner.
Although the temperature is dropping, the Greenwich High School football team has stayed hot this season and head coach John Marinelli doesn't expect the team to cool down any time soon.
In a game where Greenwich took the lead 13 seconds into their contest against Xavier High School, Big Red built an impressive 28-0 lead after the opening quarter and cruised to a 38-7 victory Wednesday night.
"We wanted to get some new sets and get some things on film and see what we could do with it," Marinelli said. "We were able to move in and out of formation. Sideline-wise we were in and out. The first quarter was impressive for our offense to do and to get into rhythm, which is something that haven't been able to do recently. Our screen game, our run game and our passing game was on par with each other and that was what we were hoping to do."
Kobe Comizio got the ball rolling when he took the opening kickoff and ran it back 75 yards for the touchdown. The trio of receivers, Lance Large, AJ Barber and Chris Wint each found the back of the end zone. On the ground, Jonathan Alexandre crossed the goal line and starting quarterback Gavin Muir called his own number for another rushing touchdown.
Throughout a portion of the second quarter and the entire second half, Greenwich's bench players got to experience some varsity action at Cardinal Stadium and Marinelli couldn't have been happier for them.
"Those kids put on their shoulder pads and helmets in the same locker room and the same way," Marinelli said. "Our message to the kids at halftime was that these kids have been doing it for three months and we are going to need them for the rest of the season. They give us some great scout looks. Seeing them today is great because it shows the future is bright here at GHS. It's something we are excited for. To get these guys under the lights in a varsity game is pretty awesome to watch and great to see what you have to look forward to."
Although senior Tysen Comizio only had three carries and picked up 20 yards, just getting out on the turf was something that the senior captain was itching to do. After all, he was sidelined for the past three weeks with an injury.
"It's been a long three weeks but it's definitely great to finally be back," Tysen Comizio said. "I wanted to come back slowly because I want to be 100% for next week and the postseason. Everything up to this point has been a build-up. Two weeks ago I started to practice light again and had a heavy week of practice this week. I got to feel and got to hit again tonight. It was exciting to be out here tonight, but I am excited for next week."
With the victory, Greenwich improved to a perfect 9-0, but that's in the rear-view mirror. The victory also guaranteed Big Red a spot in the Connecticut Interscholastic Athletic Conference class LL playoffs, which gets underway next week.
Obviously the Cardinals are psyched for the opportunity to one again try and reach the class LL championship game. However first thing's first and that is a contest against rival Staples High School on Thanksgiving Day.
"It's great," Marinelli said. "It's what Thanksgiving Day football is all about. It's great for the sport and to have the amount of games that we have, whether it's New Canaan and Darien or McMahon and Norwalk or St. Joe's and Trumbull or Stamford and Westhill or Warde and Ludlowe. There are some key rivalries right there and Greenwich and Staples is up there with the best of them. Westport travels really well, so there will be a nice crowd at GHS. We are fighting for a home game in the playoffs and to play another game here. They are fighting for their playoff lives. So I think you're going to see two heavyweights just taking blows."
Game time is slated for 10 a.m., which senior day festivities starting 30 minutes before the opening kickoff.
"We are really excited for Thanksgiving," Tysen Comizio said. "I've been waiting for this one for a long time. Staples is a great team and a great rivalry. It's the best they've been in the four years that I have seen them. It's going to be at Cardinal Stadium and will be a lot of fun. I'm looking forward to it."
And this game has plenty riding on it for both teams. At 9-0 overall, Greenwich one of five teams (Shelton, Darien, Southington, Newtown) that are perfect on the season. As of pres time, the Cards are seeded fifth in class LL and a victory against Staples High School on Turkey Day would most likely give Greenwich a first round home playoff game.
The Wreckers are on the outside looking in. New Britain and Fairfield Prep are both teams with only one loss on the season, while New Canaan, Staples and East Hartford are all teams with two losses as of press time. With the rankings, Staples is currently ninth in class LL. With a victory against Big Red on Thanksgiving and losses for either New Canaan against Darien or Fairfield Prep against West Haven in their Thanksgiving Day clashes, the Wreckers could reach the playoffs.
"If I was coaching that team, I would tell them to go in there and take care of business and to play your game," Marinelli said. "I don't think they have to do anything special or extra. They are a great football team. I think they are going to give us a bunch of problems. They are big and physical. Their quarterback is a tremendous athlete. They were really close against St. Joe's, which is a top team in the state. They were in it with Darien as well, as a couple of balls bounce the other way and you never know what would happen. We have our hands full."
For Marinelli's team, the head coach said that Greenwich needs to stay focused and play the way that they've been playing all season.
"We need to stop creating our own adversity at times," Marinelli said. "Defensively, I think our best defense sometimes is our offense. We don't have to score on every possession, but we need to move the chains and make sure we aren't putting our defense in bad situations. When we are able to do that and protect our defense. They are very good. I think we are on a mission. Just because we have a playoff spot doesn't mean we are not going to try on Thanksgiving. We want to earn home field advantage and beat our rival."
And it will feel every bit like Thanksgiving football on Thursday. Actually, it might feel like playing on Christmas Day. By kickoff at Cardinal Stadium on Thanksgiving, it will be sunny outside, but chilly will be an understatement, as the temperature won't make it out of the 20's.
"It's playoff football and playoff weather," Marinelli said. "My only year where I wasn't in the playoffs was my first year here in 2015. In all my years coaching in New Canaan, that was the only time I have ever missed a playoff. I am used to this weather and I want to keep it like this. We are going to practice every day and keep doing what we do."