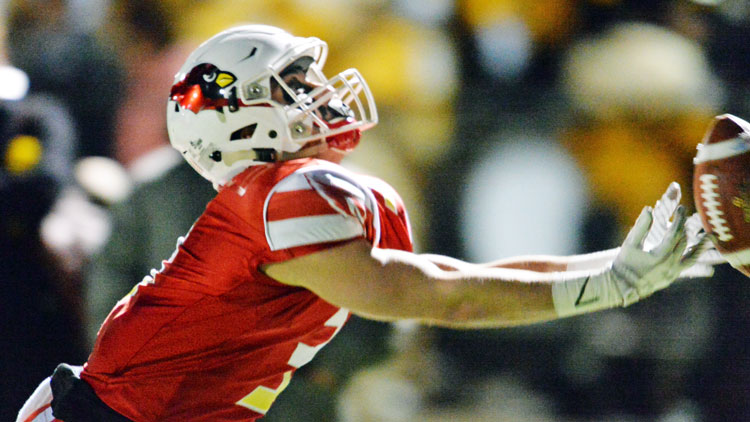 By Paul Silverfarb
Sentinel Editor
For head coach John Marinelli and the rest of the coaching staff, seeing the Greenwich High School football team overcome a tough first quarter in the quarterfinals of the CIAC class LL playoffs and end up routing New Britain and 49-13 definitely put a smile on a lot face.
"It was great coming out here and I am really happy that we got a home game," GHS senior quarterback Gavin Muir said. "We got off to a slow start, but facing adversity we came back and we put up 49 unanswered points. It felt great to do that tonight."
In total, Muir finished going 13-for-22 for 272 yards. He threw for three touchdowns and ran 25 yards up the middle for a rushing score. In those three touchdowns, two were to senior Stephen Bennett, a 27-yard strike and a four-yard pass. The other touchdown reception was when Muir stepped back and fired the ball to Lance Large for a 28-yard strike. When not throwing, Muir was doing his part on the ground, calling his number six times for a total of 52 yards.
Large was Muir's most popular target. In addition to the touchdown, he grabbed the ball four times for 118 receiving yards.
"It's a great feeling," Large said. "I'm enjoying it out here. They came out hot and it was really tough to adjust to them. They tore us apart on offense early and we had to adjust to their hard-nosed, solid playing. It was tough to run the ball against them. Defensively we stepped up in the second quarter."
In addition to Large, sophomore AJ Barber picked up 65 yards on three receptions and senior Tysen Comizio, who took home 44 yards on 18 carries on the ground, finished with three receptions for 56 yards. Fellow senior Stephen Bennett also grabbed the ball three times and netted 33 yard and a touchdown.
Leading up to the game, Marinelli wasn't too pleased with a story that was printed in the New Britain area saying that his standout quarterback, senior Gavin Muir relies too much on the deep ball and is unwilling to check down.
Well, Muir silenced his critics in a big way, as the senior was one of the key reasons Greenwich advanced in the class LL tournament.
"Don't call out my players in the media. And you can quote that," Marinelli said. "I'm very protective, especially of kids that do it the right way. Gavin's a great kid and he can do everything as you saw tonight and I hope they write that up there. I took that personally. I took it as a shot to me and there was no way I was going to let someone do that to one of my kids. He threw two touchdowns on short routes."
"We started taking the short routes," Muir said. "I know that their coach said that I probably wouldn't be willing to check down, but I took what they gave me and it ended up working out."
While the scoreboard showed an easy 49-13 victory, that win was far from easy. Early on, New Britain was able to move the ball at will on its first few drives to start the game. After Greenwich fumbled the ball on its opening drive, New Britain came down the field and found the end zone early in the quarter.
"Offensively we fumbled on a very impressive first drive," Marinelli said. "We were moving in and out of sets and doing well. We had a fumble on the exchange and that stuff happens. We felt like offensively that we gave up six because whenever they score on a turnover that's the offense's fault. The had a big play against the secondary. They didn't have guys open. They made those plays and good for them."
And that New Britain lead was short-lived. Greenwich punted the ball on its next possession and pinned the Golden Hurricanes deep to start its drive. With the ball at the New Britain 2-yard line, they fumbled the ball in the end zone and Greenwich senior Larry DeLuca was there to jump on the ball in the end zone for the turnover and touchdown with 6:46 to play in the first.
"That's a really good football team over there," Marinelli said. "The score doesn't indicate how good they are. They are physical. That was a physical game and it was one of the toughest games that we played all year, but with the way our kids are on this mission, there was nothing stopping them tonight."
Muir gave Big Red the lead for good with 9:46 to play in the half, as the GHS quarterback faked the handoff to perfection and darted up the middle for the 25-yard touchdown run.
After the Greenwich defense came up big and stuffed New Britain, the offense for the Cards kept the good times rolling.
It took Greenwich four play to once again find the end zone and extend the lead to 21-7, as Muir capped off the drive with the 28-yard touchdown pass to Large, who caught the ball in stride and walked in two yards for the score.
New Britain didn't tally another point on the scoreboard until late in the fourth quarter, courtesy of the GHS defense. In addition to the DeLuca fumble recovery, Jack Feda picked up two fumbles and Mozi Bici registered two sacks and, along with Evan Weigold, caused fits for the NBHS quarterback all game.
With the win, Greenwich improved to a perfect 11-0 on the season. Whether it was battling adversity or facing immense tragedy, Marinelli's team stuck together like family. And that's something that means more to the head coach than wins and losses.
A little over 24 hours prior to Greenwich's game against New Britain, Marinelli and the rest of the Cardinals found out that the father of senior lineman Andrew Frost passed away.
Marinelli said that he wasn't surprised that his team was a little sluggish out of the gate.
"We had a pretty tough 24 hours," Marinelli said. "The emotional rollercoaster these kids, coaches and parents have been on with the tragic death of one of our senior linemen's father. These kids keep on playing, they play for him and play for each other. My message was that I want to have this family together for another week because I think that's the greatest therapy for us right now. The kids showed up and they played and they absolutely dominated a very good New Britain football team."
And with the victory, Greenwich hosts the CIAC class LL semifinal game against a team with a blue helmet. However it's not FCIAC rival Darien High School, as the Blue Wave were stunned by Newtown High School 26-15 Tuesday night.
"Congratulations to Newtown to knock off a three-time defending state champions," Marinelli said. "I'm sure they are pumped up and fired up over there. I haven't seen any film on them and know nothing about them, but I do know they are a great program, are well-coached and well-respected in the state."
Big Red will host undefeated Newtown High Sunday afternoon, with kickoff slated for 12:30 p.m.
"It's going to be a tough one," Muir said. "We know they like running the ball and they have a great running back. We will go in, watch some film and come up with a game plan."