October 5, 2018
BCA Shows its Support of Breast Cancer Awareness Month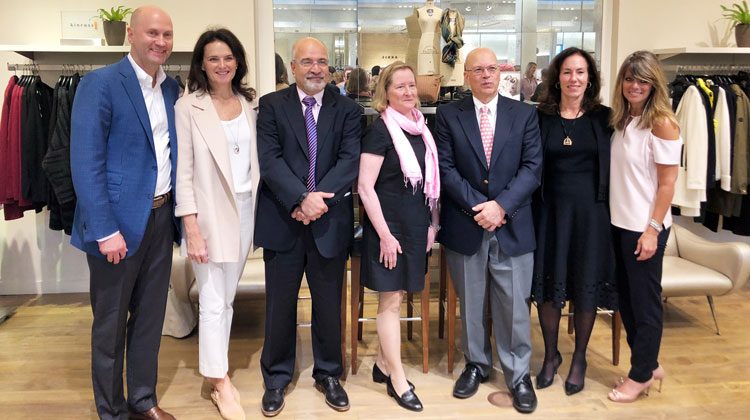 By Michelle Moskowitz
Sentinel Correspondent
The Breast Cancer Alliance (BCA) kicked off its annual GoForPink campaign in effort to draw awareness to and community engagement in the fight against breast cancer, which affects 1 in 8 women.
Founded in Greenwich by breast cancer survivors and a group of friends, the BCA is now one of the largest, private, non-corporate organizations in the country.
Since its inception in 1996, the BCA has awarded over $25 million in grants to support its mission to improve survival rates as well as quality of life for those impacted though better prevention, early detection, treatment and cure.
To commence the month-long crusade, First Selectman Peter Tesei conducted the annual flag raising ceremony at Town Hall, held at 9 a.m., this past Monday.
Shortly following the opening ceremony, the BCA hosted a free educational forum featuring Fairfield County's top-notch breast cancer specialists, hosted at Richard's, a long-time, staunch supporter of the BCA and its plight.
The ample turnout, comprised of mothers, grandmothers and daughters alike, many adorned with a show of pink, banded together over mini-croissant sandwiches and coffee, some survivors themselves.
Executive Director of the BCA, Yonni Wattenmaker rallied the audience and thanked community partners for their support before introducing the panelists, including: Dr. Barbara Ward, Medical Director, Greenwich Hospital Breast Center; Dr. Linda LaTrenta, Director of Breast Imaging, GHBC; Dr. Frank Masino, Medical Director of Radiation, Oncology Bennett Cancer Center, Stamford Hospital and Dr. Richard Zelkowitz, Medical Director Smilow Family Breast Health Center at Norwalk Hospital.
Dr. LaTrenta first addressed the audience by emphasizing the importance of breast imaging with mammography, stating that 75 % of women who develop breast cancer have no risk factors whatsoever.
"I feel strongly that screening should be annual, starting at the age of 40," said LaTrenta.  "Screening is our best defense in picking things up early and when they are small."
She also discussed the benefits of utilizing 3-D mammography, used at the Greenwich Hospital Breast Center, which has increased detection rates by one third and reduced the call back rate by 20%.
LaTrenta also referenced the use of Breast MRI, typically reserved for high-risk women and BRCA gene positive women. For women with a strong family history, there is genetic counseling available at Greenwich Hospital, as well.
One woman from the audience questioned the potential harm in having a mammogram due to the radiation incurred — for which LaTrenta compared the once-per-year exam to taking a flight to Los Angeles.
"It's a very small amount compared to what we experience every day."
LaTrenta also addressed the importance of supplementing a mammogram with an ultrasound test for women who have dense breasts, particularly for women who have a family history, as the exam has also contributed to increase rates in breast cancer detection.
Dr. Ward, who first began her comments by reiterating the importance of having an annual mammogram, was eager to share some exciting new developments in the surgical world — such as the pre-pectoral breast implant surgery, (which places the breast implant over the chest muscle) and is said to be less painful yet have great cosmetic results.
Ward also discussed great strides in the usage of magnetic and radar technologies used to localize and pinpoint tumors.
Dr. Masino was thrilled to report how technological advancements have played a pivotal role in shaping the course of treatment when responding to the myriad types of cancers and variables that exist for each patient.
"The greatest advancements today by far have been because of technology," said Dr. Masino, who discussed improved techniques for example when removing tricky tumors in the left breast, often located near the heart and lungs.
Masino also touched upon the advances in immunotherapy, a treatment that uses certain part of a person's immune system to fight cancer.
Lastly, Dr. Zelkowitz discussed how improved diagnostics have enabled physicians to better assess the risk factor of a tumor, thus providing a more targeted and conservative course of treatment whenever possible.
As a result, some patients are able to use hormone therapy (instead of chemotherapy) while the use of chemotherapy in patients has been reduced by up to 30%.
While the panelists were optimistic on the significant advancements in the field, there is still work to be done.
"While survival rates are at an all-time high, 30% of those diagnosed with breast cancer still face metastatic disease. BCA will not rest until that number is zero," said Mary Jeffrey, BCA President.
This reporter inquired as to what, if any data currently exists in the prevention of this pervasive disease.
"I tell my [screening] patients who ask me this question all the time, just do everything in moderation, but cancer is multi-factorial," said LaTrenta.
"We can only control how we take care of ourselves."
GoForPink will run throughout the month as participating merchants, such as Madewell, Katie Fong, Stuart Weitzman, EastEnd restaurant, and many more, will provide special shopping and dining offers in town, donating a percentage of their proceeds to the BCA.
Penny Goffman, proprietor of Jolie Gotique, a fashion truck and online boutique, is a participating merchant in a special shopping event to be held on Oct. 18, and 20% of her sales will be donated to the BCA.
"The number one thing for me personally and professionally is to give back to the community," said Goffman.
"I feel directly impacted by the BCA through friends and family, especially since the organization grew its' roots in our community. Knowledge is power, and we all need to be proactive with this disease, so I try to go to as many of their events as possible."
The BCA invests in innovative research, breast surgery fellowships, regional education, dignified support, and screening for the underserved and has funded cutting-edge research and one-year postgraduate breast surgery fellowships at more than 25 of the nation's leading research institutions.
Visit breastcanceralliance.org and BCAgoforpink.org for event details, participating merchants and restaurants, as well as information on how to get involved in the cause.
Tags:
BCA
,
breast cancer alliance
,
breast cancer awareness month
,
GoForPink