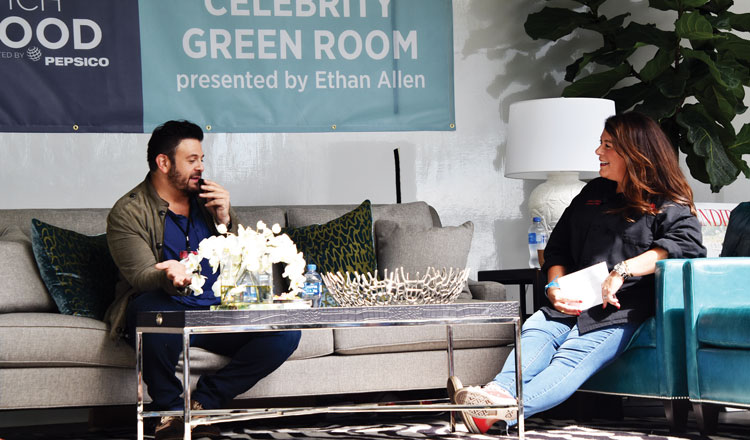 By Paul Silverfarb
Sentinel Editor
For the eighth straight year, Greenwich's Roger Sherman Baldwin Park was transformed into a food and beverage heaven, as the Greenwich Wine + Food Festival displayed some of the best that Greenwich, and the surrounding area, has to offer.
"Our 8th Annual Greenwich Wine + Food Festival was our best festival yet," said Founder and CEO of the Greenwich Wine + Food Festival and Serendipity Magazine Suni Unger. "With the support of fantastic partners like presenting sponsor PepsiCo and the talent and efforts of the entire Unger Media team, we brought over 6,500 foodies to Greenwich for a truly memorable weekend of wine, food and music—including country legend Tim McGraw. What an awesome weekend."
For two days, vendors displayed their products to a massive crowd, eager to sample some of the finest cocktails and cuisine around.
"It's always so nice being asked to be a restaurant at the festival — it's a great event for the town and to bring all the restaurants together for the weekend," said Dana Cifone of Gabriele's of Greenwich, who appeared in the grand tasting tent on Saturday. "This event is a great outlet for our guests to taste the food, something that's not on our regular menu, meeting the managers, and especially the chef, to really get a vibe of the personalities behind the restaurant."
In addition to the tasting tent, food and drink trucks, celebrity chef demonstrations, interviews with the chefs and lawn games, as well as contests and events, took place throughout the event.
During the seventh-annual Burger Battle, hosted by celebrity chef Adam Richman, and judged by celebrity chefs, Scott Conant, Alex Guarnaschelli, Christian Petroni, Robin Selden, Matt Storch and Bill Taibe, the Judge's Choice for best burger went to Cask Republic. However, it was Bobby V's Restaurant & Sports Bar that took home the People's Choice Award.
Not to be outdone was the fourth annual Bartender's Showdown, presented by Ketel One. The event, hosted by Greenwich resident Gary Dell'Abate, had two clear winners, as Kate Flore from Match took home the Judge's Choice Award for her drink titled, "A Moment in Clarity." When it came to the People's Choice, it was Village Social's Catherine Larkin's "Lua Keke" that took home the gold.
"This area — from the world-class culinary scene to the natural beauty of its waterside — has so much to offer," said Unger. "It's a privilege each year to celebrate it with locals and introduce it to visitors from around the country who attend the festival."
Capping off the evening was a concert to remember, as local celebrity and country music star Caroline Jones took to the stage. Following was an epic performance by country music legend Tim McGraw, who tore the house down with his legendary hits.
"Over the years, we've had some amazing talent, and this Saturday night's lineup of country superstar Tim McGraw with opening act, and Greenwich local, Caroline Jones, was simply amazing," said Unger.
And during Friday's opening night event, VIPs were able to interact with local chefs and celebrities in a much less crowded atmosphere.
"It's always an honor to be invited," said Lisa Maronian, chef and owner of Sweet Lisa's in Greenwich. "It's a lovely event that is so well-organized. I see a lot of people that I already know, whether it's the chefs or some of my customers. You also get to meet a lot of new people, which is a lot of fun. It's great for people that are out of town to come to the event and get to know both Greenwich and the local businesses that are here."
For Maronian, who oversees the family-run specialty bakery in town that is celebrating its 25th year in Greenwich, the interaction between the celebrity and local chefs is a special experience.
"It's nice that they have the celebrity chefs that interact with the local chefs," Maronian said. "It's a nice mixture of both. It's great for the guests and also for the chefs that participated. It's a lot of fun. It's a great mix of food and alcohol and cooking demonstrations. There's all kinds of stuff going on. It's funny because I took a photo of myself with some of the celebrity chefs at the event and posted it on my Instagram account. Wow, the phone calls and texts that I got were amazing."
This year's event benefited the Multiple Myeloma Research Foundation, Town of Greenwich Parks & Recreation Foundation and Ment'or.
"The Greenwich Wine + Food Festival always gives back to charity. This year, we supported primary festival beneficiary, Multiple Myeloma Research Foundation as well as Ment'or and the Greenwich Parks & Recreation Foundation," Unger said. "I am also so proud to support the many vendors that are highlighted to thousands of foodies during the weekend and am thrilled to shine a spotlight on Greenwich to the many visitors who travel here to attend."