September 28, 2018
A Day in the Life of Greenwich's First Female Firefighter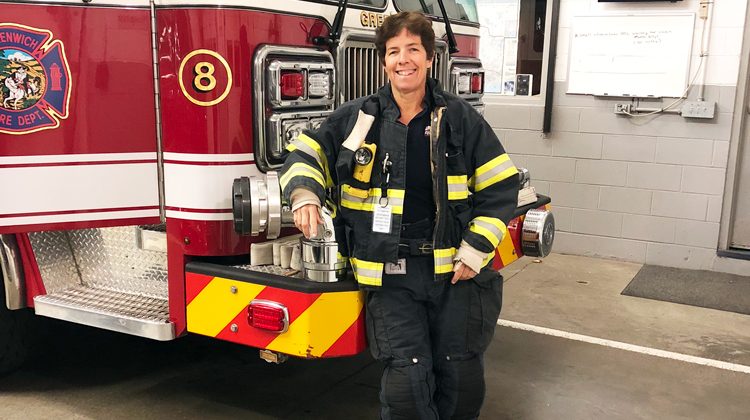 By Michelle Moskowitz
Sentinel Correspondent
On February 6, 1989, Whitney Welch made local history by becoming the first female firefighter in Greenwich. On that day, she set the gold standard for women to serve their community in the same capacity as men.
Growing up in Greenwich, having attended the Greenwich Country Day School and then boarding school before returning back to her hometown, Welch always knew she wanted to work with people in a palpable way. A competitive swimmer since the age of five, for the Sharks swim team, and highly involved in town sports, she knew she wanted a career that would suit her active lifestyle.
In the early 1980's, she tried the corporate route working at the Putnam Buick, but one year later she intuitively changed her life's path when she volunteered at the Glenville Fire Department.
Soon thereafter, Welch became a certified Emergency Medical Technician (EMT) and joined the Greenwich Emergency Medical Service (GEMS) full-time in 1986.
Due to her affable, yet steadfast nature, combined with her ability to work well under pressure, Welch was encouraged to join the Greenwich Fire Department (GFD) as a full-time firefighter, a male-only team at the time.
While Welch may have been apprehensive at first, it is no surprise that she ranked 20th out of 400 applicants on both the written and physical agility test.  Undoubtedly, it was her underlying mission to serve the town that she cherished, utilizing her capabilities and good nature.
Taking a break from her 24-hour shift at the firehouse, Welch sat down with The Sentinel to share a glimpse into her life, and in doing so, revealed how her daily contributions make Greenwich a safer place to live.
While talking with Welch outside the CFCF coffee shop with her beloved Bernese therapy dog, Cinder, known to many through the READ-TO-A-DOG program in Byram, numerous passers-by stopped to say hello, including friends from Soul Cycle, Welch's admitted fitness fix, and locals from the community where she has served for so many years.
GS:  You made local history by becoming Greenwich's first female firefighter on Feb. 6, 1989. What does that mean to you?
WW: It was very exciting being chosen to be a part of the GFD back in 1989, as I was very proud that I passed the same tests as everyone else and was offered the job based on my abilities. I was a bit worried at first, because the firehouses were not set up for a female (i.e. bathrooms, dorms, showers, etc. (but I didn't let that bother me.) Having been born and raised in Greenwich, I am very proud for starting such a great career in town.
GS: Can you walk us through an average day at the GFD and tell us your vast responsibilities as a firefighter?
WW: There are three of us assigned to the station. We start our shift at 8 a.m. and have to check the truck to make sure all of our equipment is in working condition and that we have enough fuel for our shift.
We respond to fires, motor vehicle accidents, automatic alarms, hazardous materials spills and many other calls as well.
Our responsibilities include driving the truck, using all the tools, including chain saws, jaws of life (aka, cutting people out of mangled cars), air bags, first aid equipment, and more.
Also, part of our daily routine entails hours of on-going training required to upkeep our certifications, including EMT, trench, confined space, hazardous materials, bloodborne pathogens and bail out training.
We also have to keep current on ladders, meters, basic firefighting skills, and more. Each of these training shifts cover a different topic.
In addition, we all have chores that need to be done, as firefighters live at the firehouse for 24 hours, so we need to keep the place clean, which includes vacuuming, cleaning the kitchen, bathrooms and floors.
I am also a certified car seat technician which means I can install and inspect car seats for parents.
GS: Having served for almost 30 years, what stands out as the best day on the job and the worst day on the job?
WW: It's hard to pick a best day and worst day because so much is happening on a daily basis. However, there are a few calls that always stand out.
Any type of call involving children is always emotional, whether they are hurt in a motor vehicle accident or at home during a fire. I hate seeing kids get hurt, and I also hate when pets get hurt! It is always hard when someone has a fire in their house, as the homeowners are emotional about losing their belongings, but we try to reassure them that if nobody is hurt, that's all that matters.
Most of my memorable calls have been motor vehicle accidents either on the parkway or I-95.
GS: Six years ago, another woman joined the GFD. What was that like for you, and what advice can you give other women who might consider joining?
WW: I was very excited to learn that Lisa Constantino was being hired. I went to her swearing in at Town Hall to show my support and meet her family. I have always encouraged young girls to pursue their dreams. I tell them to finish their education first, then find a job that you love. It's not considered work if you love what you do.
GS: As a Greenwich native, what do you love most about Greenwich and what could use some improvement?
WW: I was very lucky to have been raised in Greenwich. I have three sisters, and our parents were always very supportive of any activity or sport we participated in, of which there were many.
I love the small-town feel of Greenwich. It is almost small enough where everyone knows everyone. It is, however, much too expensive for young people to live here.
GS: How can young people who want to serve our community, in particular the GFD, get involved?
WW:  Young people can get involved in our community in many different ways. Volunteering for an organization that interests you is very important. There are many different places to volunteer, including the fire department where you can really learn how we operate and what firefighting involves.
GS: You said you were always an athletic person, swimming since you were young. How do you stay both mentally and physically fit in order to combat potential risks on the job?
WW: I stay in shape by exercising 5-6 days per week. I love my morning Soul Cycle or CrossFit class and, as a morning person, love how I feel for the rest of the day when I exercise early on in the day. I eat healthy most of the time, but not always! I stay mentally sharp by reading and doing yoga.
GS: What is the last thing on your mind before you go to bed at night?
WW: The last thing on my mind is always my therapy dog, Cinder. She is my second Bernese Mountain dog and I love her. She has been by my side every day for the last 6 1/2 years, and we have a very special bond. She is usually on my bed, unless it is too hot!
GS: What kind of fire prevention tips can you offer?
WW: The department does a lot of fire prevention talks in the schools, particularly in October, which is Fire Prevention Month. We talk to the kids about Stop, Drop and Roll, dialing 911 and having a fire escape plan. We hope that the kids will go home and teach the rest of their family what they learned in school.
One thing we talk to adults about is making sure their homes have working smoke and carbon monoxide alarms.  Many homes that we go into have alarms without batteries or expired alarms that have not been tested. The most important fire safety tip for parents is to have a plan in case of a fire, and to include the kids when making the plan.
Thirty years later, it is evident that Welch has been an instrumental part of the department's success.  She professed that one of the things she values most is how every day on the job presents a new challenge for which she is more than ready to tackle.
"The challenge every day is different, but we are like brothers and sisters, anyone of us would do anything for each other," said Welch who suits up in 30-45 seconds for any emergency call.
"But, more recruiting of women would be great," said Welch. "There is no reason why more women can't do it."
"If there is something you want to do, don't let being a female be a barrier. Just go for it; you have nothing to lose.
Visit greenwichct.gov for more information.
Tags:
female firefighter
,
fire
,
Firefighter
,
GFD
,
greenwich
,
greenwich fire department
,
Whitney Welch