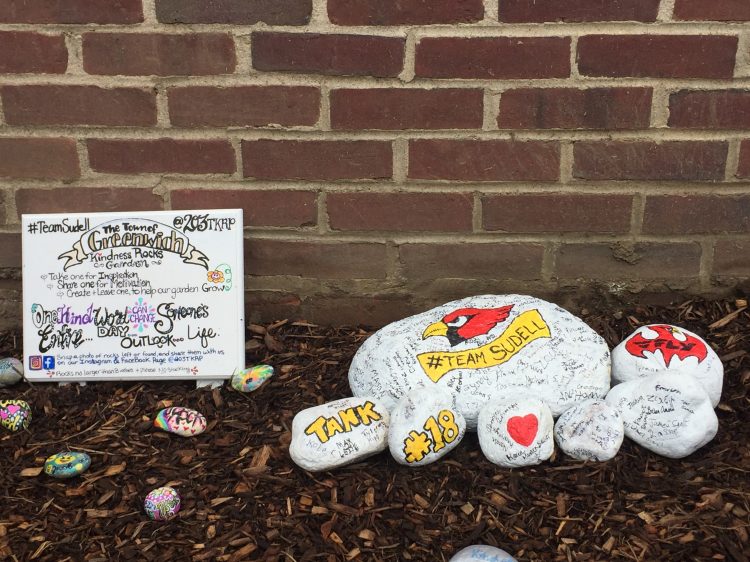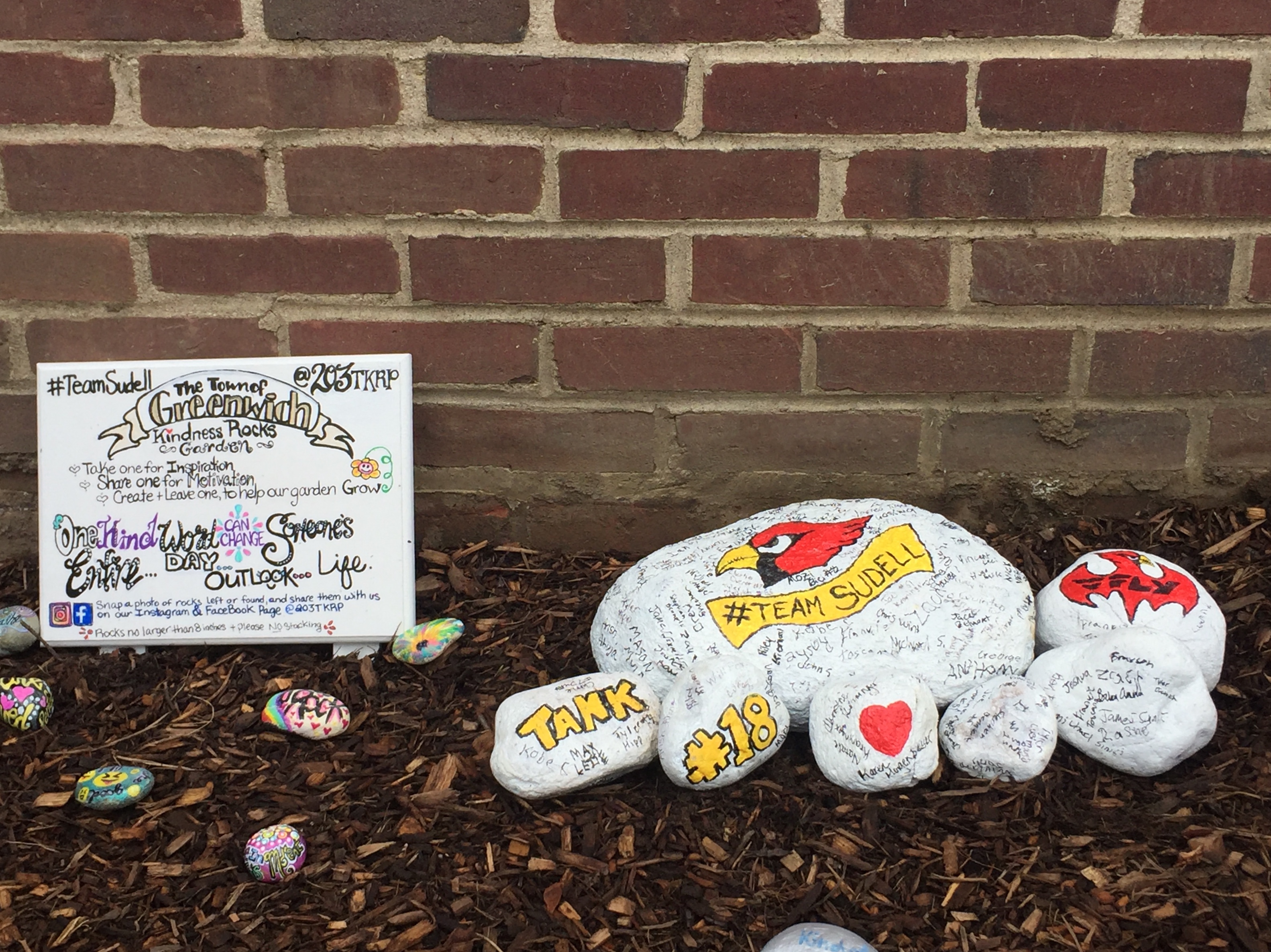 By Richard Kaufman
From now on, those strolling into Greenwich Town Hall will be greeted with messages of kindness, hope and inspiration.
Last Friday, residents, along with state and local elected officials, gathered outside of Town Hall for the dedication of a Kindness Rock garden, which is nestled up against the building just across from the parking lot near the sidewalk to the main entrance.
Also in attendance were family members of Steven Sudell, a 14-year-old Greenwich teen battling terminal cancer.
The viral initiative, meant to inspire and spread hope and positivity to others through messages colorfully painted on small rocks, originally began in Cape Cod by a woman named Megan Murphy, and it has exploded across the country and the globe since 2015.
Maureen Baldino, founder of Smilow Rocks, a local chapter of The Kindness Rocks Project at Smilow Cancer Center, in New Haven, spoke at the dedication ceremony at Town Hall, last Friday.
Baldino broke down when describing her family's history with cancer, and how she just recently placed her brother, who is battling cancer, in hospice care.
Nine-year-old Ava Perez immediately comforted her with a hug. Ava and her mother, Elisha, helped bring The Kindness Rocks Project to Greenwich.
"This is what it's all about," Baldino said after Ava's embrace. "It's about connections."
Baldino went on to describe the impact the rocks have had on people since she began a garden at the Smilow Cancer Center, in New Haven.
"A rock happens to be the most inanimate object in the world. It's just a rock. Once you paint it with intention, it gets infused with some kind of energy that people can feel and people can connect with," she said. 
Baldino said that through her garden at Smilow and her social media presence, she was able to meet Steven Sudell, who has inspired so many people with his story.
"Steven is one of the people that was most inspirational for me to meet over the past year," Baldino said.
Elisha Perez said she and her daughter wanted to bring these rock gardens to Greenwich to not only help heal her family, who was dealing with personal loss at the time, but to also reach the community. Rock gardens began to pop up at Cos Cob School and Cos Cob Park.
Elisha said that she was able to connect to Steven Sudell and his family, and that Steven's story motivated her to try and reach more people.
"That kind of brought my motivation to another elevation. Not only was I doing this to kind of help myself heal, but now there's someone I can touch in the community," Elisha said. "This social movement has allowed us to connect with others and ask them to pay it forward. Steven Sudell and his family are perfect examples. It's through their experience and present journey that we were able to connect, sharing our love for all things positive in heartbreaking situations."
First Selectman, Peter Tesei, said there needed to be a home for the rocks, so Town Hall was a good fit for the garden. He said the dedication of the garden has deep perosnal meaning to him because he has known the Sudell family since he was a child.
"[This rock garden is] expressing something we need more of in this time, which is kindness," Tesei said. "It's really quite a movement that's begun here in town, and I'm very proud of it."
Greenwich High School head football coach, John Marinelli, spoke at the dedication ceremony as well, and said that he wished he could have coached Steven, who participated in youth football growing up. 
"I really wish I would have had the opportunity to coach such a great young man because of the inspiration he's given not only to young teenagers, not only to me, but everyone of all ages," Marinelli said. "I think that speaks volume about the kind of person that he is, and also about the parents that he has."
Marinelli added that Steven's fight will continue to inspire this year's Cardinals team.
"This year, he's given us something to play for, something a little bit extra. He's given the town and the community something to come together about," he said.
Marinelli then placed a large rock, which is decorated with the Cardinals logo, the hashtag #TeamSudell, and numerous signatures from those around the community, into the garden in Steven's honor. Several other rocks were placed around it, painted with Steven's nickname, Tank, and his number 18 painted.
Other rocks were delicately placed in the garden after the ceremony. A sign was planted reminding those of the garden rules: "Take one for inspiration, share one for motivation, create and leave one to help our garden grow." 
Ava Perez then left everyone with some advice before the crowd dispersed. She said,  "Kindness is contagious, so pass it on."
For more on Greenwich's involvement in The Kindness Rock Project, go to facebook.com/203TKRP, or go to @203tkrp on Instagram.