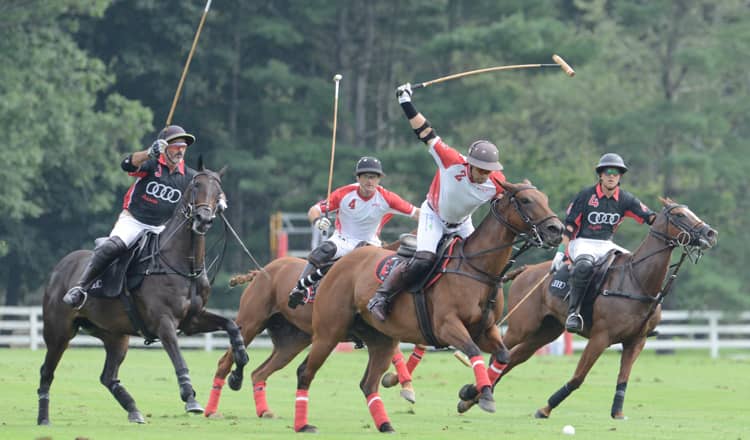 By Liz Leamy
Sentinel Correspondent
Last Sunday, some of the finest polo players battled it out against one another in front of a crowd of more than 3,300 spectators at the Greenwich Polo Club in hopes of racking up an all-important win in the first round series of the East Coast Open, known to be one of the most prestigious tournaments in the high-goal (world-class) level of the sport.
In the end, Audi, based out of Wellington, Florida, a major U.S. horse equestrian and polo capital, wound up at the top of the leaderboard, defeating Postage Stamp Farm (PSF), also from Wellington, by a three-point margin, 11-8.
Audi, whose roster featured such decorated athletes as Mariano Aguerre, the world-renowned Argentinian eight goaler, Toro Ruiz, the Argentinian six goaler reputed to be one of the sport's rising stars, Joaquin Panelo, the Teflon-tough Argentinian six goaler and Chris Brant, the ever-steady number-one entry whose father, Peter Brant, founded the GPC back in 1981, all worked in effective tandem together to secure victory, an outcome with which they seemed pleased.
"We started off strong, and we managed to keep it that way," said Joaquin Panelo, 24, whos commanding presence on the field is noticeable, as he stands at nearly six feet, three inches tall. "We kept with our plan and strategy out there, and it was a good game."
Clearly, this formula seemed to be effective as all four of the Audi players flew around the field with lightning-like speed on their ultra-powerful horses, exhibiting terrific skill and understanding of the game, as well as of knowledge of how to work efficiently with one other.
"It was a very good game, and it was exciting to be out there," said Toro Ruiz, the firecracker 19-year-old, who earned the Most Valuable Player Award at the conclusion of the match. "The horses were good, we played well and I loved being out there. It was a great atmosphere."
Mariano Aguerre agreed.
"It felt great to be out there, and I think as a team we [just] keep on improving day by day," said Aguerre, a longtime international superstar of the sport, who had been inducted into the Museum of Polo Hall of Fame (based in Lake Worth, Fla.), in 2017. "It's all about finding the right balance with the players and the horses. I think that is key."
Known for his extraordinary playing intelligence as much as his superior skills, Aguerre, who for years helped lead Peter Brant's esteemed White Birch Farm team to countless championship titles (including the East Coast Open victory in 2016), discussed the paramount role of the horses in the sport.
"They are the [driving] force," said Aguerre, whose charge, Machitos Tere (who he had ridden during the sixth chukker) was named Best Playing Pony of the match due to his speed, quickness and agility. (Aguerre is also a partner with two other high-goal polo players, Nick Manifold and Naco Taverna, of Los Machitos, an Argentinian-based breeding and training facility for high-goal polo horses, and also from where Machitos Tere hails.)
Meanwhile, PSF put up quite a formidable fight against Audi, as Tomas Garcia del Rio, the dynamic Argentinian seven-goaler and his three talented colleagues demonstrated great speed and aptitude as well as an impressive series of offensive and defensive moves out on the field.
"It was a good, but tough game and I was [particularly] happy with how we played during the second half," said Garcia del Rio, whose stunning golazo (a big goal) during the second chukker marked one of the most dramatic highlights of the afternoon.
In addition to Garcia del Rio, the PSF roster included Lerin Zubiaurre, the powerhouse Argentinian eight goaler, Brandon Phillips, the ever-solid Canadian four-goaler and Annabelle Gundlach, the team's vivacious No. 1 player.
Notably, many of the players featured in this match and in the East Coast Open have been playing alongside one another at major polo destinations all over the U.S., including Wellington and Long Island, as well as other popular high-goal international venues, for many years now.
As a result, many of them, who are longtime friends, have become familiar with each other's basic playing style, personality and methodology, which makes for a lively and interesting game dynamic.
"We all know each other and have been playing together [at different venues] for a long time," said Garcia del Rio. "It's an amazing group of people who love to get out there and play, and it's just great."
Certainly, the unique social dynamic among the players combined with their world-class polo skills and horsemanship is something that certainly did not get lost on the spectators on this particular afternoon.
"This was such an exciting match and there was a lot of action," said Sable Roesch, a Darien resident who has been attending matches at the GPC for many years now. "I like when the matches are so close. You cheer for both teams and it's always great, no matter who winds up winning. It's such a special and unique experience."
A unique experience
Without a doubt, high-goal matches at the GPC, especially one as exciting as this one, are a unique experience unto themselves.
On this particular sunny September afternoon, there were thousands of beautifully dressed spectators watching the game from under one of the massive white tents, wooden grandstand and from along the sidelines, as they loudly cheered on the players and ponies, which further helped elevate the high energy of the whole environment.
"Everybody is so friendly, supportive and receptive here. It's a special and vibrant community of people," said Roesch. "I was really happy to see so many new faces here, too. Everyone was very nice and seemed to want to understand the game, which also made the day really fun."
Meanwhile, there were also a few celebrities on hand at this match as well, including Cary Joji Fukunaga, the acclaimed American producer, director and writer who helped produce and direct the award-winning first season of the HBO hit series, True Detective, as well as the American war drama, Beasts of No Nation. He is said to regularly play at the Haviland Polo Club in Patterson, N.Y., just north of the GPC.
In addition, Nacho Figueras, the celebrity Argentinian six-goaler who rose to worldwide media fame due to being featured as the "face" of Ralph Lauren's Black Label line starting back in 2005, was also there in attendance and helped present some of the awards to the teams at the conclusion of the game, which generated a lot of excitement among the crowd.
(Last July, Kate Walsh, a star of the longtime running television series Grey's Anatomy and Netflix show 13 Reasons Why also showed up at one of the GPC matches.)
At the same time, dozens of spectators were said to have posted dozens of colorful, fun pictures of themselves at the match that went up on such major social media newsfeeds as Instagram, Facebook and Twitter and which were visible all over the internet that afternoon and all throughout much of the week.
Without a doubt, the GPC has come to represent a main summer destination for so many individuals (of all ages and backgrounds) and families from all over the New York metropolitan area with good reason.
"It's always a great time here. Everyone is so friendly," said Steven G. Magnuson, a realtor for Sotheby's International Realty in Greenwich who wowed the crowd with his powerful rendition of "The Star-Spangled Banner" at the start of the match. "It's always an honor to sing here and to be here."
Vendors at the match agreed.
"I love the whole atmosphere here. Everyone always seems to be having such a good time," said Louise Joseph, proprietor of the popular Dough Girls Mobile Wood Fired Pizza Truck, a popular hotspot at the GPC. "The sport is amazing. The players are so talented and accomplished, the horses are stunning and the grounds are beautiful. I'm in awe every time I come up here."
Joseph, who has been setting up shop at the GPC for three years now, said she also enjoys seeing the fashions of the spectators as well as the notion of participating in the divot stomping during halftime.
"If you show up, you'll have a good time for sure," said the amiable Joseph, who said she often leaves her truck during halftime so she can participate in the divot stomping (there are others who work with her at the truck to make sure customers are taken care of). "I love the whole experience of being here. There's a lot happening and everyone is so wonderful and friendly."
In addition to the diverse lineup of food trucks, a host of major sponsors and businesses have been working in tandem with the GPC this season.
This heavy-hitting contingent includes Ketel One Vodka, who offers tastings at the picturesque Pony bar situated next to the grandstand, Argentina Tourism, Saks Fifth Avenue, Veuve Clicquot, The Macallan (distillery), Connecticut Cottages and Gardens Publications, Design Within Reach and Audi of America and its 29 tri-state Audi dealers, who is a partner with the GPC at this esteemed event, among others.
On Sunday, Sept. 8, the East Coast Open, which has been live-streamed and available for on demand viewing through the USPOLO.org network since the kickoff of this esteemed 20-goal tournament several weeks ago, will conclude with a final match that is slated to start at 3 p.m.
For more information, check the GPC website at Greenwichpoloclub.com.