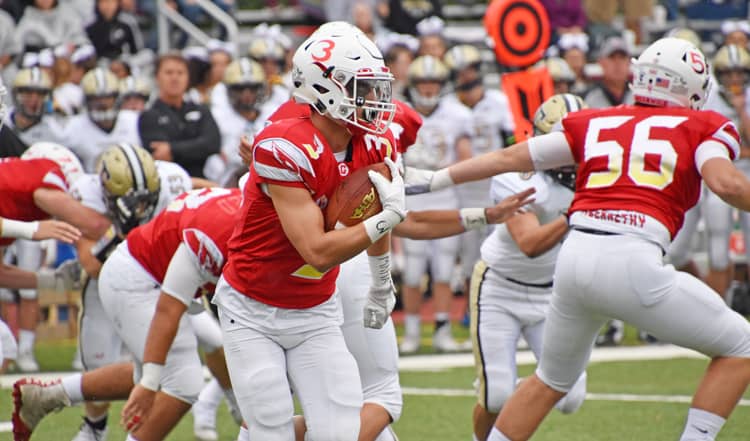 By Paul Silverfarb
Sentinel Editor
The Greenwich High School football team started its quest for a repeat run at the state championship game in grand fashion Saturday afternoon, beating a new-look Trumbull High School team 44-7.
"I'm happy overall," GHS head coach John Marinelli said. "Obviously we overcame all those penalties. Good teams are supposed to overcome adversity, so I am happy with the way that our guys responded in the second half. I am happy that we had less penalties in the second half. I am very happy with the way our guys played. The offensive line did a great job all day long. Gavin [Muir] only got sacked once. Defensively our secondary showed up and did a great job."
The Cardinals, who debuted a stunning new video scoreboard in their home opener, scored 14 points in the first three quarters.
GHS quarterback Gavin Muir threw for two touchdowns and finished 9-for-16 for 159 yards. Not to be outdone was running back Tysen Comizio, as the senior carried the ball 12 times, ran for 65 yards and found the end zone once.
Muir's favorite target on the day was wideout AJ Barber, as the receiver only caught the ball twice, but made the most of it. He gained 64 yards on the day but more impressive was that both catches resulted in touchdowns.
On the defensive side the ball, no one was better than Ryan Raybuck. Raybuck helped extend the GHS lead to 21-7 when he picked off Trumbull's Colton Nichols and took the ball all the way back for the touchdown. He also picked off another pass later in the game and was mere inches away from running that back as well.
"It was so exciting to get out here with my brothers," Muir said. "It was a long preseason, doing all that lifting in the summer and training and finally coming together today. We are all satisfied with the win today, but we definitely have a lot to improve on."
One of those improvements for Greenwich has to come from its discipline, as Big Red was penalized 16 times for 145 yards.
"We were sloppy and undisciplined and we're not going to win many games that we want to win like that," Marinelli said. "That's the takeaway that I have from it. We reiterated it to our guys that it's the exact opposite of everything that we have been preaching. I was told that we had 14 penalties in the first half and I don't know we had a game last year with 14 penalties. That's got to change and it will change in practice. We have to go back to the drawing board as a staff and obviously reiterate and try to refocus our guys on what's important."
To read much more on the game, including more stats and quotes from players and coaches, check out Friday's Greenwich Sentinel.