June 22, 2018
Oil Spill Endangered Horseneck Brook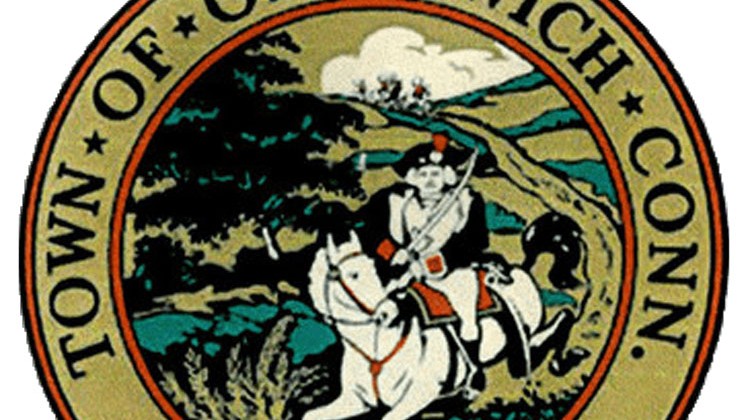 By Richard Kaufman
Earlier this week, crews were still working to clean up last Wednesday's oil spill that flowed into Horseneck Brook.
On June 13, just before 2 p.m., Greenwich Fire Department units were dispatched to New Country Motors, a repair facility used by both Audi Greenwich and New Country Porsche of Greenwich, on reports of an oil spill. The call was generated by the Connecticut Department of Energy & Environmental Protection Agency (CT-DEEP).
Upon arrival, it was determined that an outside contractor, who was pumping used motor oil out of a full oil tank fixed inside the building, had a mechanical error with his vehicle, causing the toxic material to discharge and flow into Horseneck Brook.
"It was not an unknown source. We were able to identify right away where the source came from; everything was right there on site," said GFD Deputy Fire Marshal, Rob Natale, who was assigned to the incident.
The department was able to deploy recovery booms, which act like a speed strip, to catch the oil sheen on top of the water as it flows by. Booms were placed at the source, and far downstream, in order to get ahead of the flow.
The oil traveled about a third of a mile downstream near the temporary Horseneck firehouse, across from the Boys & Girls Club. After the site was contained, Natale was the last GFD unit to leave the scene at around 7 p.m., that night. 
CT-DEEP arrived with their own cleanup contractor to clean the affected areas, and stayed late into the evening. The Coast Guard was contacted as well, since there was the potential of oil entering the harbor way. 
CT-DEEP has been checking the area since the incident occurred. They usually leave recovery booms in place until significant rainfall events, which help aide in the collection and cleanup process, Natale said.
Overall, several hundred gallons were expelled from the source into the brook.
"We don't like to see these things happen, but accidents do happen. This was a result of human error," Natale said. "The impact to the environment was minimal. It definitely could have been a lot worse."
According to Natale, an egret was discovered covered in oil.
"The fire department was able contain the bird, and wash it down with soapy water. We got all the product off, and we did a release downstream so he didn't fly back to the contaminated water. There did not appear to be any other fish or wildlife that was harmed," Natale said.
Egrets are prevalent in Greenwich, thanks in part to Great Captain's Island which is located just off the coast. The island is home to the largest heron and egret rookery in Connecticut, with over 300 nesting pairs of nesting egrets and night herons, according to Audubon Connecticut.
Ted Gilman, senior naturalist and environmental education specialist for Audubon Greenwich, said oil is not only toxic to birds if ingested, but it can impact the insulating capability of their feathers. 
Gilman noted that areas along the shoreline of Greenwich, as well as inland ponds and sections of rivers, serve as important feeding and hunting areas for egrets.
"Egrets will carry the fish or other foods they've captured out to their nests on Great Captain's island," Gilman said. "Our area is important particularly for egrets in the Long Island Sound system."
Gilman said it's the Year of the Bird, at Greenwich Audubon, which is a joint initiative of the National Audubon Society, National Geographic, the Cornell Lab of Ornithology, and BirdLife International, with more than 150 other participating organizations to help protect birds today and into the future.
Gilman said residents should be cautious about maintaining their cars or other machines that use oil. People should also take note of the chemicals they use around their houses. 
"Proper disposal of oil or gasoline [is important], because once something gets spilled on the ground or on the street or into a storm drain, ultimately those materials could make their way not only into local streams, ponds, rivers, but to the Sound as well."
For more information on how to get involved with the Year of the Bird at Audubon Greenwich, and to get more information on cleanup efforts in ecosystems around town, go to greenwich.audubon.org.
Tags:
audubon greenwich
,
greenwich
,
greenwich fire department
,
Town of Greenwich