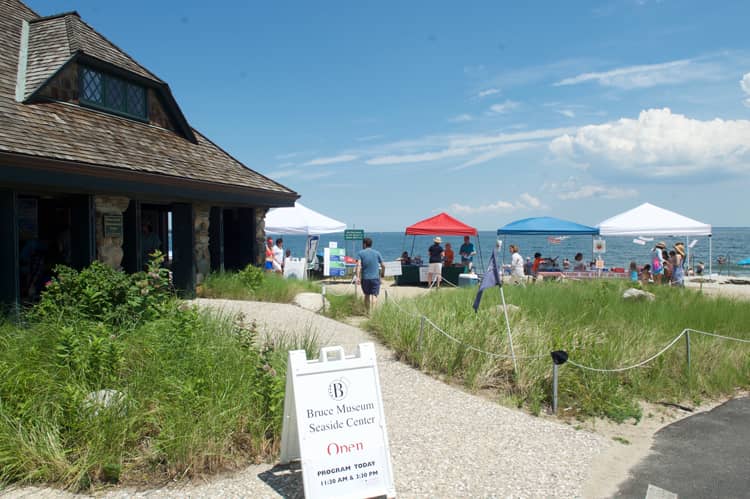 This Sunday, June 24, the Bruce Museum Seaside Center celebrates their annual Grand Reopening from 1 to 4 p.m. The opening is part of the Greenwich Shellfish Commission's "Experience the Sound" event, bringing together scores of community groups and organizations in Greenwich and the surrounding area that organize water sports and other environmental pursuits.
The Seaside Center is located in the Floren Family Environmental at Innis Arden Cottage at Greenwich Point Park. The Bruce Museum provides a staff of two full time Naturalists in addition to volunteers and interns, who educate visitors about the ecology of the Long Island Sound.
Summer hours for the Seaside Center are 11 a.m. to 5 p.m., Tuesday through Sunday. Daily drop-in activities include animal feedings, seining, arts and crafts, environmental action for kids, coastal critters, and beach scavenger hunts.
In addition, the Bruce Museum will continue the environmental education series for all ages, the Fred Elser First Sunday Science at the Seaside Center programs. These events feature free family activities throughout the afternoon and a presentation for adults and older children focused on a topic related to the Long Island Sound environment. On July 1, Nick Dorian will present "Everything Except Honey: The Diversity of Wild Bees" and lead a tour outside to search for bees in our gardens. The First Sunday Science programs are free and open to the public, no beach pass needed.
For daily programs at the Seaside Center, visitors must have a beach pass and parking permit to enter the park. See the Town of Greenwich website for more about access to Greenwich Point Park.