April 13, 2018
Greenwich Town Party Tickets Sell Out in Four Minutes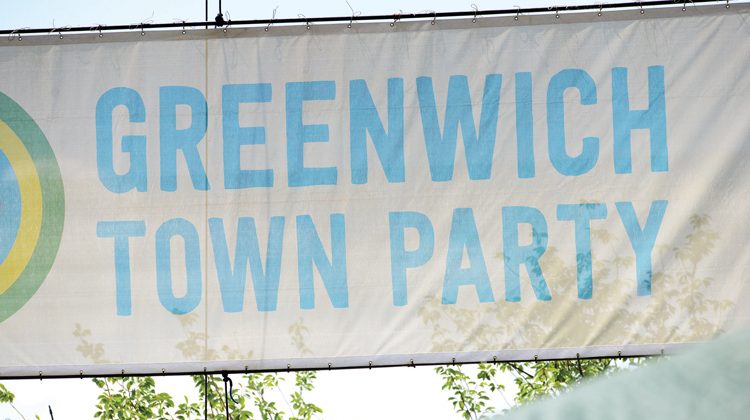 By Paul Silverfarb
Sentinel Editor
Every year, The Greenwich Town Party is one of the hottest tickets in town. This year, the demand for tickets has skyrocketed to a new level.
With music icon Eric Clapton headlining an already impressive lineup of musical talents, including Tedeschi Trucks Band, Preservation Hall Jazz Band, Trout Steak Revival and Charlie Scopoletti & The Truth, it's easy to see why the event on May 26 is a must-see.
Last week, $85 general admission tickets went on sale on the GTP website and within four minutes the nearly 6,000 tickets sold out.
"I wasn't surprised," said Ray Rivers, one of the founders of the Greenwich Town Party. "Every year the event sells out and we have seen it sell out in four minutes before. Given the lineup this year, it's not really surprising that we would have so many people trying to get tickets."
Shortly after the tickets sold out, disappointed Greenwich residents voiced their frustration.  Irate people took to social media and let the Greenwich Town Party know how frustrated they were that tickets had sold out at such a fast pace. They let the GTP know that they've been going since the party kicked off nearly a decade ago and now they can't. Some people were even convinced that shenanigans had transpired at some point through the process.
"We have a process in place," Rivers said. "We have one of the leading ticket agencies in the country that handles ticketing for much bigger organizations and events than the Greenwich Town Party. We interviewed all of the top ticketing agents and decided on one we thought would do the best for us. Afterwards, we reviewed their performance and they performed perfectly. Frankly, the ticket process worked flawlessly."
The ticketing agency, ShowClix, was used by residents to obtain tickets.
Once a person buys his allotted tickets, up to six per person, that doesn't mean that the ticket is theirs. The GTP verifies residency and employment before electronically sending tickets to purchasers. If the purchaser's billing zip code is not within the Town of Greenwich and residency or employment can't be verified by driver's license, lease, utility bill, letter of employment, pay tub or tax form, the GTP reserves the right to refund the entire ticket purchase, excluding any service fees.
"Frankly, the ticket process worked flawlessly," added Rivers. "The only way to not disappoint people is to sell 50,000 to 60,000 tickets. And we only had just under 6,000."
Because of the four minute sell-out, residents couldn't believe that so many tickets went so quickly and that it had to be impossible. Some people were convinced that bots, resellers or third-party ticket agencies were scooping up the tickets before Town of Greenwich residents could get their hands on them.
Rivers said that the reality is that the GTP had extra bandwidth and extra servers allocated and ready for the demand. Even if the Greenwich Town Party had 250,000 people online, Rivers said that they could have processed everything without an issue.
"I can tell you, categorically, and without any reservations whatsoever, there were no bots or ticket resellers," Rivers said. "What we did have was a significant portion of the Greenwich community online, trying to buy those tickets. We now know who bought every single ticket and they are in our target audience. No one bought large numbers and nobody had advanced purchases."
The biggest complaint disappointed ticket purchasers had is that tickets went so fast that people in town couldn't buy one. On one hand, it's a very nice problem for Rivers and the GTP to have. On the other hand, they also don't want to disappoint people. So the GTP wanted to be creative and try to find a way where tickets would sell out slower.
Starting in mid-August and running through November, that's where the Greenwich Town Party's early bird sales came to play.
"We really encourage people that really want to come to the party in the future to look for our early bird specials," Rivers said. "We had a period for over two months where we sold general admission, neighbor and sponsored tickets. We created the early bird program so people would have ample time to buy a ticket. Early birds had over two months, not two minutes."
And the early bird specials weren't something that the Town Party kept under wraps. In fact, it wasn't hard to find an ad in local newspapers, email blasts, online publications, on social media, on the GTP website and on banners throughout Greenwich.
"Clearly we got the word out about the ticket sales," Rivers said. "I think we did the exact same thing for the early bird tickets. Hundreds of people took us up on those offerings but thousands didn't. We were somewhat disappointed by the participation rate because we thought it would be a great way to slow down ticket sales. Once we picked the lineup and announced it, it's impossible, considering the lineups that we are trying our best to get year after year, to not make it a hot ticket when we are selling it at a price that is 75% below market price. People need to realize we would have sold out Madison Square Garden in about the same amount of time."
With the ticket prices severely reduced, courtesy of the generous donors that support the Greenwich Town Party, it's easy to think that scalpers will make some major cash from this event. However, that can't be further from the truth.
"To the best of my knowledge, those tickets are fraudulent," said Rivers. "If someone can prove to me otherwise, I would be happily proved wrong. But we don't tolerate scalpers. If we find somebody scalping tickets, I can assure you they will never be allowed to buy another ticket to the Town Party. Period. We haven't delivered tickets yet, so I don't know how they would sell them. Last year and the year before, we had quite a number of people that bought tickets on Craigslist and one or two other sites and those turned out to be fraudulent tickets."
And throughout this ordeal, Rivers has done his best to engage as many disappointed people that he can to talk about the ticket processing. While the event is taking place at Greenwich's Roger Sherman Park, it's not a Town of Greenwich event. The event is run through the Greenwich Town Party, so calling or emailing Town Hall or arguing with First Selectman Peter Tesei won't accomplish anything.
Throughout his discussions with people, the most common complaint Rivers heard was that residents wished they had more time to sign up. However, he also noticed that people still weren't using all the avenues to find out about the Greenwich Town Party's upcoming event.
"I talked with one person and discussed what he thought would be a fair plan," Rivers said. "His plan was almost identical to the early bird plan, so I told him that it's exactly what we did. Ultimately, he admitted he didn't know about the early bird. I asked if he was on our email distribution list and he said he wasn't. Ultimately, he acknowledged he had ample opportunity, but he was still disappointed and I totally understand.
Despite the ticketing issue, Rivers still couldn't be more excited for the Town Party.
"I am really excited and it's going to be the best Town Party yet," Rivers said. "It's going to be a great time."
Tags:
concerts
,
Eric Clapton
,
greenwich
,
Greenwich Town Party
,
GTP
,
memorial day
,
Memorial Day Weekend
,
Roger Sherman Baldwin Park