April 13, 2018
Bocchino Has Reelection On His Mind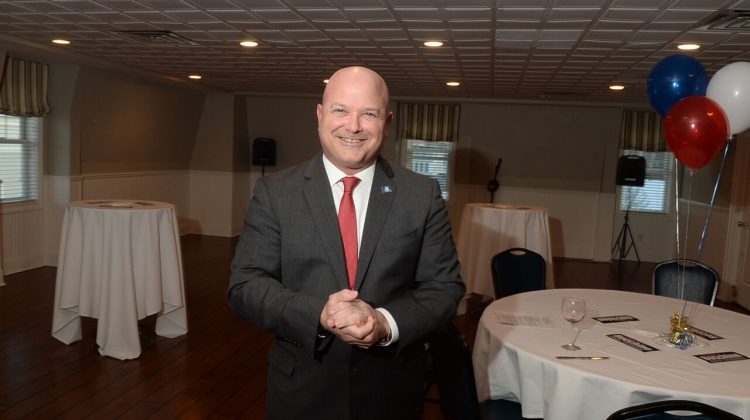 By Richard Kaufman
Last Thursday, at the Greenwich Water Club, the Republican Town Committee held a campaign kick-off event for State Rep. Mike Bocchino (R-150), who will seek a third term in office this coming fall. 
The 150th District encompasses Greenwich's shoreline, from Byram, which is where Bocchino lives, up through parts of Old Greenwich.
Along with family and friends, 50-60 supporters attended throughout the evening. Bocchino said he was both humbled and honored to see such a great turn-out, and that it reinforced his decision to become involved with public service several years ago.
"It's a good validation of the achievements that you've had and the strides that you've made since you were originally elected to office," he said. "We were very happy and very pleased and so honored at the outpouring of support."
During his second term, Bocchino has been involved on three committees — Energy & Technology, Housing, and Labor & Public Employees —  which are especially important to Greenwich. Through these committees in the general assembly, Bocchino has been able to help serve his constituents and address their concerns, and hopes to continue his work with them in the future. 
"Sometimes it's not all about passing good legislation, but it's about knowing bad legislation," Bocchino said, noting that the Labor Committee has been very successful during his second term in making sure that certain legislation isn't instituted, such as the State Employees Bargaining Agent Coalition (SEBAC) agreement. 
Bocchino also pointed out that he's worked hard to keep Connecticut moving forward towards using renewable energies through his involvement with the Energy & Technology Committee. On the Housing Committee, he's made it a point to make sure that those in public housing still have their voices heard.
"Not only do I represent the shoreline of Greenwich, but I also represent two of the larger public housing units in the town of Greenwich," he added. "I've got a very diverse group economically, and, fortunately, I've been able to talk to both of those ranges of constituents and really understand where everyone is coming from and making certain that we move Connecticut forward in a direction that works for everybody, especially in the 150th [District]."
Bocchino said that each member of the delegation to Hartford, which includes State Reps. Livvy Floren (R-149), Fred Camillo (R-151) and State Sen. L. Scott Frantz (R-36), works on different committees, and that everyone feeds off eachother because of their diverse backgrounds in different fields. 
Bocchino credits the Greenwich delegation to Hartford as being a very cohesive unit, one that the people of Greenwich are fortunate to have.
"They're without a doubt the best of the best," he said. "I'm honored to work alongside them."
Looking back on his three-and-a-half years in office, Bocchino said securing funding for the new Lebanon School is one of his favorite achievements. 
"When the entire administration of the state of Connecticut tells you you're not going to receive any reimbursement funding for New Lebanon School, and you've got a group of kids who are really in desperate need of a school, it's pretty rewarding when your hard work and efforts pay off," he said. "When we look at these kids, we know that we've done exactly what needed to be done to improve upon their educational experience in the town of Greenwich."
With New Leb. under construction, Bocchino said it's time to concentrate on other projects, notably the Sound Beach Railroad project and work along I-95 and the transportation corridor, and make sure they're getting the attention they deserve.
"We're keeping to the grindstone," he sad.
Bocchino's view of the trajectory of the state is optimistic. He said the Republican Party has a plan and knows what will work to move the state forward. 
"It's just a matter of people in the state of Connecticut putting us in a position where we're able to govern to the best of our abilities and we're able to make these structural changes that are needed so that we can move this state forward and bring it back to the level of economic competitiveness where we were once at," he said.
Bocchino mentioned a desire to repeal the estate tax, and the need to place a constitutional lockbox on the special transportation fund, so money and revenues that are raised remain specific to infrastructure on the roadways.
"Most importantly, we want to make certain that we're able to create jobs and bring businesses back and give people a reason to stay here in Connecticut. People love this state, but we want to make certain that they love the policies that are in place," he said.
But right now, Bocchino said, Connecticut's fiscal economy is in trouble, and changes are needed for future generations.
"I have two young kids, a 12 year old and a nine year old," he said. "I would love more than anything else to make certain that we have a state that's one that will take care of the next generation," he said.
Last Thursday at the Greenwich Water Club was the first step for Bocchino to try and make that happen. 
Tags:
greenwich
,
Greenwich politics
,
Greenwich Waterclub
,
Mike Bocchino
,
Town of Greenwich