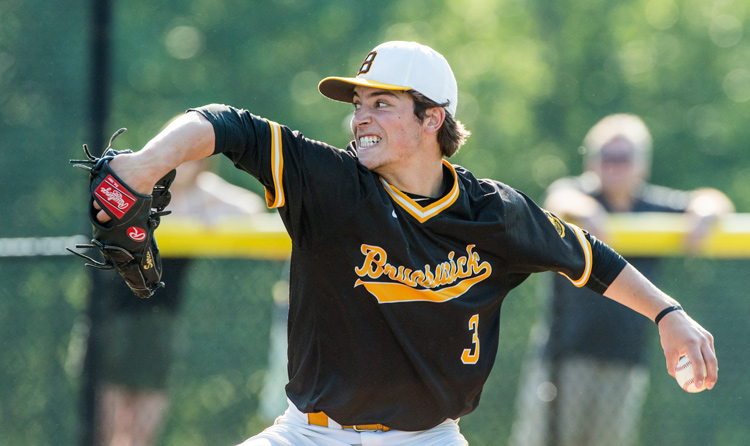 By Paul Silverfarb
Sentinel Editor
With a solid mix of veteran leadership, talented underclassmen and skilled athletes up and down the roster, the Brunswick School baseball team will be looking to turn some heads this season.
"We have a great combination of upperclassmen, underclassmen, youth and experience," said head coach Johnny Montanez. "The thing I love about this group is that they love each other, and they are great to each other. They are there for each other. They've all been a part of the program for years and there's an understanding of pride. They love to get better every day and are about the process."
Last season Brunswick ended the season with a 14-6 record and advanced to the Fairchester Athletic Association championship game for the third consecutive season. While they didn't come away with the fifth conference crown since the 2012 season last year, Montanez and the rest of the Bruins have high hopes this season.
Leading the Bruins this year will be senior captains Ethan Hynes, Tyrstan Sarcone and Aaron Sabato.
"There are a lot of guys that have a lot of talent," Sabato said. "I am really excited to see this team progress throughout the year and I can't wait to play more games with them. I
"It feels good that the guys have faith in me and that they believe in me to show them what's right and lead them through what we hope will be another successful season," Hynes said.
On the field is the easy part for Montanez, who wants his captains to give their all and show the way things are done in the program. He wants them to each carry that hard work and passion that they display in practice onto the field and show the rest of the team their love and respect for the game of baseball.
Off the field is equally as important.
"They are great kids and great teammates," Montanez said. "They have all gotten close over the years on the team. I need them off the field to take those who have role modeled before them and continue that, but also add their own relationship building and bonding to the mix, while still holding and respecting the pride of what we do here. They are constantly under a microscope because they are tremendous ball players who are also tremendous teammates who love life. The three of them have been amazing for us and we are lucky to have them."
Brunswick's pitching will once again be one of the team's biggest strengths. And leading the way will be Sarcone, who Montanez said is one of the best pitchers that has come through the program.
"I am just really excited to be out there with my teammates," Sarcone said. "This offseason I spent countless hours in the gym and countless hours hitting baseballs and throwing. I We have a lot of young talent on this team. We have a few guys who have a lot of experience and a few guys that have way less experience. But those young guys that have the potential to be awesome and produce for us this year."
Montanez said that what makes Sarcone such a threat is his understanding of the game.
"He really pounds the strike zone and could throw four pitches for a strike," Montanez said. "He gets ahead and puts hitters in positions to hit pitches that they don't want to hit or have to chase. He is a hard-working kid who is never satisfied with yesterday's performance. We are lucky to have such a rocksteady performer on the mound. He's taking his talents to Dartmouth and I couldn't be happier for him. When he's on the mound, we have a shot to win."
In addition to Sarcone, junior Reed Mascolo will be an addition to the program this year and will be looked upon to keep the good times rolling after Sarcone. Sophomore Joe Henry has worked hard in the offseason and has turned into one of the best young prospects in his class.
"I believe that we have the three or four best pitchers in Connecticut and I have so much faith in all our pitchers," Sabato said.
Joining the trio will be John Sparks, a senior, who picked up the game of baseball as a ninth-grader and has committed to Washington College for baseball. Returning for the Bruins is senior reliever Liam Benjamin, who Montanez will lean on for his experience competing in a tough league. Junior Jake Hyde has the ability to both be a starter or take care of things late as a reliever.
Other pitchers will be freshman Cole Mascolo, sophomore Luke Fisher, freshman Nick Giannuzzi and senior Gordon Kamer.
"We are going to be a lot stronger on the mound than we were last year," Montanez said. "We have a pretty deep pitching staff and we are excited about it. And they are led by [assistant coach] Tim Daly and we are excited about that. He's an amazing pitching coach and we are very fortunate to have him in the program."
Backing up the pitchers will be a slew of talented defenders. Making the transition from the middle infield to first base will be Jake Hyde.
"He has tremendous hands and we all know that when you have a reliable first baseman, you have a reliable infield," Montanez said. "He's extremely hard-working and really wants to become a veteran at that position."
At second base will be freshman Aidan Redahan, the younger brother of Brunswick standout and alum Connor Redahan. Sabato has been in the program for the past four years and will be playing shortstop. Playing the hot corner when not on the mound will be Fisher. Senior James Sassi is the team's designated hitter, but will also see some quality time playing third base this season.
Behind the plate will be Hynes, who Montanez believes is one of the team's biggest strengths in the field.
"He's fantastic back there," Montanez said. "He throws people off who are taking big leads and throws people out who are trying to take an extra base."
"There's a lot of potential out there for us," Hynes said. "I think a lot of people see us and we aren't the biggest team and we don't have the most overpowering hitters and we don't have the fastest throwing pitchers. But I think that the potential is there for this year to do some great things. We have some returners from last year and brought in some new guys."
Backing up Hynes will be senior Lachlan Rosato.
In addition, Charlie Wall and Daniel Lauter will see some time in the infield this season for Brunswick School, while teammate Marc McGuire will be a utility player and help out in a handful of spots.
When not on the mound, Sarcone will play center field, while Cole Mascolo will take up the position when Sarcone is hurling strikes.
"We have to outwork every team we play," Sarcone said. "I believe that one through nine we have some of the best hitters in the league, but that's not the key to everything. Talent doesn't win games. It's hard work that wins games."
At left field will be sophomores Jack Griffin and Thomas Doster, while the group to Sparks, Reed Mascolo and Benjamin will occupy right field.
"For us to be successful, we have to play smart and mistake-free defense," Montanez said. "That's been one of the most successful things for this team since I have been here. We stress solid defense and keeping games close. That gives our offense a chance and our pitchers a chance. I honestly think that defensively we are a really tough team. That gives us an edge because although we have a bunch of young and unproven players, they are talented, smart and they are focused on the process. As a coach you can't ask for anything more."
Offensively Brunswick will have a little bit of everything, with the goal of hitting the ball hard every at bat.
"We have kids that can hit it over the fences, but we emphasize that guys need to know their roles in the lineup," Montanez said. "We don't need our one hitter, our eight hitter and our nine hitter swinging for the fences. We need our one hitter to get on and we need our two hitter getting a solid at bat and making sure he puts the ball in play. We need our three, four and five hitters to hit the ball hard. I need our hitters to execute the task at hand. That's how good teams become great teams."
The goal for Brunswick is going to be simple, as Montanez needs his team to mature at a fast rate. They have 22 games to play in only seven weeks.
"The competition is always going to be tough and the cool thing is that we put ourselves in position where we are going to see everybody's ace," Montanez said. "No one is going to throw their number two guy at us. They know that when they face Brunswick that they are facing quality baseball and facing kids who are going to play and fight to the bitter end. We are proud of that and it's great that teams know that we are never going to quit."
"I would love to win the FAA, but I also want to prove to everybody that we are a young team, but can play against any team that we see," Sabato said. "It's baseball. Anybody can beat anyone on any given day. Last year we played a team and beat them 18-0 and they came out and beat us 12-5 later in the year."